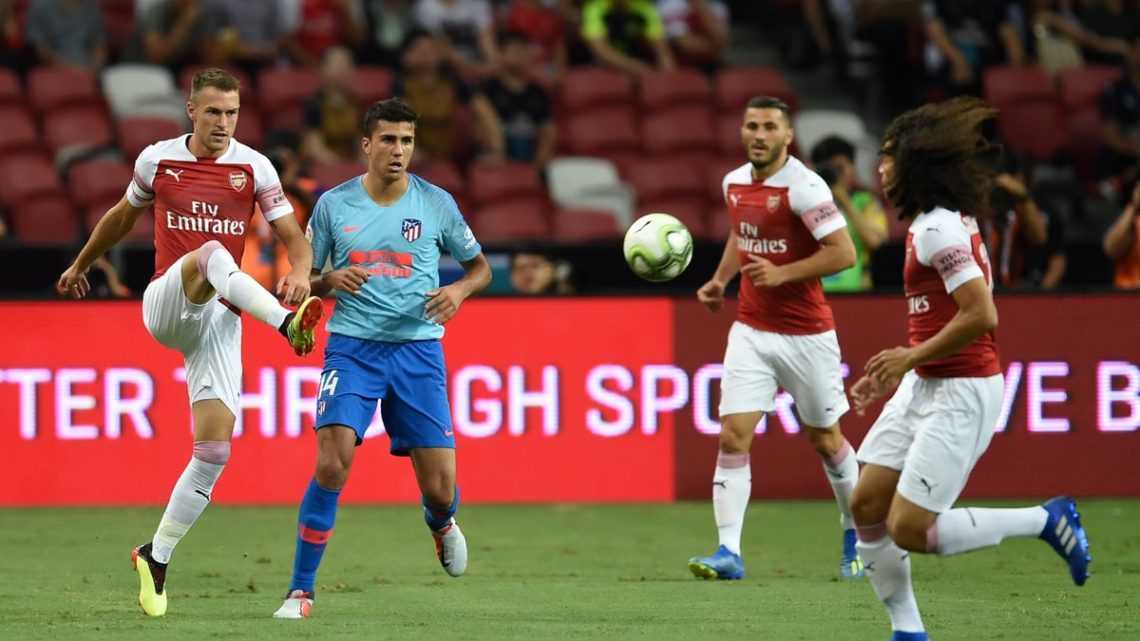 Atletico Madrid 1 Arsenal 1 : Match Report and Player Ratings | Pre-season friendly
Arsenal started the Singapore tour with a penalty shootout loss to Atletico Madrid, with the game ending 1-1 after 90 minutes.
While the game ended in defeat for Arsenal,  there were definitely some positives to take. Firstly, the team's intensity was great. The pressing was relentless and very often, especially in the first half, Arsenal found themselves winning the ball back, high up the pitch. The ball was being moved quickly in transition as well,  what was lacking was the cutting edge in the final third. The defence looked shaky at times, but it would be too early to say that it is a worry. It is important for people to understand that out of the three midfielders Arsenal started off with, two were teenagers in Matteo Guendouzi and Emile-Smith Rowe. There were also a couple of careless sloppy individual moments at the back, but overall the display was encouraging.
PLAYER RATINGS:
1. Bernd Leno: 7/10 : Did not have much to do in the first half , to give a proper judgement. Looks calm on the ball, so that is a positive. It will help the team play out from the back more effectively.
2. Hector Bellerin: 6.5/10 : Always tried getting forward, but his final ball was underwhelming and had a few sloppy moments too.
3.Shkodran Mustafi: 8/10 : Put in a solid, commanding display and shut out Atletico's threat for the most part.
4.Rob Holding: 7/10 : Was solid overall. Good distribution of the ball from the back. However, he should have done better to prevent Ángel Correa's cross that lead to Atletico's goal.
5. Sead Kolasinac: 7.5/10 : Played the full match and was solid in defence. Pushed forward nicely and had some nice combinations with Aubameyang on the left, but his final ball was not precise enough.
6. Matteo Guendouzi: 8.5/10 : The 19 year old put in a fantastic performance at the heart of midfield. He helped start Arsenal's attacks and intercepted the ball efficiently. Brave and energetic game from the youngster.
7. Aaron Ramsey: 8/10 : The Welshman pulled the strings in midfield. He was playing with two teenagers and and marshalled them nicely. Created a chance for Lacazette and was always a threat with his forward bursts.
8. Emile Smith Rowe: 9/10 (MOTM) : The talented teenager put in a technical masterclass in the middle of the park. His quick feet, passing range and powerful shot were all evident today. At just 17 years of age, this kid looks the real deal.
9.Reiss Nelson: 8/10 : His pace and dribbling was there for all to see. Caused Atletico some problems in the first half, although an end product was not to be seen.
10.Pierre-Emerick Aubameyang: 7/10 : Did not look too comfortable cutting in from the left hand side, but still always a threat with his movement.
11.Alexandre Lacazette: 6.5/10 : Not his best game. He was quite sloppy, did not hold the ball up too well and went near post on two occasions when going far post would have been the better option.
12. Petr Cech: 8/10 : Made a fantastic close range save and also saved a penalty.
OTHERS:
13. Eddie Nketiah: 6/10
14. Joe Willock: 6/10
15. Lucas Perez: 6/10
16. Calum Chambers: 6/10
17. Sokratis Papastathopoulos: 6/10
18. Henrikh Mkhitaryan: 6/10
19. Ainsley Maitland Niles: 7/10
20. Jordi Osei-Tutu: 7/10
21. Konstantinos Mavropanos: 6/10
Arsenal will face PSG next this coming Saturday (28th July) in their second and final game of the Singapore tour.