The Rival Fans View – Current season, Arteta's impact, Arsenal POTY, Arsenal's best talent and MORE | Part 1
Hello everyone. I have with me 5 accounts who will discuss about their respective season till now, Arteta's impact in his short time at Arsenal, Arsenal POTY, Arsenal's best talent, their favourite Arsenal player ever and a lot more, from a Premier League rivals' perspective. People's Twitter handles are linked to their names where they've given their justifications, so feel free to shout at them directly.
Q1) Hope you guys are doing well and everyone at home is safe and sound. My first question would be do you think the current league table standing is a fair reflection of your season so far?
SAF(Man city fan account): I believe that 2nd is quite fair, mainly based off City's performances this year. Mahrez, KDB and Agüero have been excellent, but the rest of the side haven't really matched that form consistently to challenge for first this year.
James(Spurs fan account): In all honestly, yes. I wish I could argue differently but with everything that's happened this season, including the sacking of Pochettino, the appointment of Mourinho and the injuries which have riddled us, it's been one of the toughest times to be a Tottenham fan. To think that we were in the Champions League final less than a year ago and to see us fall to such low standards since is utterly disappointing.
Dillon(Liverpool fan account): I believe Liverpool deserve to win the Premier League looking at how well we have done over the past two years or so.
Sripad(Chelsea fan account): Yes. 4th is ideal for Chelsea given the slip ups here and there throughout the season. However, taking into account the changes in the squad and Lampard still being relatively new in the management scenes, this is easily a great position to be in.
Supreeth(Manchester United fan account): I'm happy with our current standing. It reflects our season perfectly. We've got good results against big teams but have struggled to beat the lower ones. We still a long way to go to become a credible team.
Q2) What were your thoughts on Emery and do you think he should have been sacked/let go earlier or given more time?
SAF: I believe that Emery was rightfully sacked, I still think that he's a good manager but also think that Arsenal was a club too big for him and that he was out of his depth.
James: Personally I quite liked him but I think we can all agree that he was no Arsène Wenger.
Given his accomplishments at Sevilla and PSG, I like many, thought he would be the answer to all Arsenal fan's prayers, especially after going 22 games unbeaten with 11 straight wins at the beginning of the 18/19 season. Unfortunately for Arsenal fans though, it wasn't to be. Following the footsteps of arguably one of the greatest football manager's to ever grace to game, Unai Emery tried to change a tactical culture which Arsène Wenger had ingrained over multiple decades and in doing so, failed miserably.
To add to that the Europa League failure. By the start of the 2019/20 season, he'd begun to lose the dressing room. I think it was the correct decision to let him go.
Dillon: I think he was sacked at the right time.
Sripad: Emery was let go at the right time. Was given a few chances to prove himself but he clearly lost the dressing room in the end.
Supreeth: Emery probably a bit struggled to adjust to PL and players as such didn't help him to adopt to his philosophies. Every manager should be given time to adjust to the league and understand the players. His record has been decent and you can't expect every manager to come and replicate "WengerBall". I feel he could have been given time but sacking wasn't a bad option in the end.
Q3) What does your club have/do that Arsenal don't or aren't doing?
SAF: Arsenal are playing more players from their youth academy, which I'd love City to do with players like Foden and Garcia and also start playing players like the talented, Jayden Braaf, in the first team.
James: This is a extremely tough one to answer as both clubs are on very similar levels as of right now.
Dillon: Klopp has always been more consistent with his line-ups and formations, whether it is against a relegation favourite team or a title contender, Klopp doesn't take unnecessary risks. I think Arsenal need more to be more consistent when it comes to line-ups, formation and system.
Sripad: Scouting youngsters I would say. Chelsea have a ton of talented youngsters joining us early in their teenage years.
Supreeth: I would say Arsenal are taking the right steps as of now. Infact I would say my club has to learn something from Arsenal where they have setup a system for footballing side to work. In modern football we need assistance to the manager as he alone would brun out bearing the expectations of big club.
Q4) According to you, who is Arsenal's best talent/youngster? Where does he need to improve?
SAF: I believe it is Saka, and I believe that he has all the ability in the world to become a top player. Needs to work on his consistency.
James: I've got two players in mind but if I had to choose one, I'd have to go with Gabriel Martinelli because let's be honest, the kid's a star in the making. He's got everything you want in a striker. He's quick, he's skilful and most importantly, he's a goalscorer. At only 18 years of age, his potential is unlimited and you can already tell he's going to play key part in Arteta's Arsenal. The second player is Bukayo Saka.
Dillon: I think Martinelli, he has been been quite a surprise this season as very few had high expectations from him but he's really established himself as a first team player and a constant goal threat. I think in the next few seasons you'll see him evolve into a more complete player.
Sripad: Bukayo Saka for me. He can become the next Ashley Cole if he improves his mentality (and also moves to Chelsea).
Supreeth: I believe it would be Guendouzi. He's working hard and trying to adjust to the league. If he keeps working on his game and physicality he would be a great player for Arsenal.
Q5) If given a choice which player from Arsenal would you take and why?
SAF: I would personally choose Saka given that he can fit the home grown quota and that also he is a versatile player and can play on the left and would be an immediate upgrade to Zinchenko in the squad.
James: Though technically not an Arsenal player, he is on loan there so the player I've chosen is Dani Ceballos. Making 24 first-team appearances for Arsenal this season, with only injuries prevent him from playing more, you can just tell the guy oozes class. With a style of football that resembles that of ex-Gunners favourite and fellow Spaniard, Santi Cazorla, any club in the top 6 would be lucky to add him to their ranks.
Dillon: It would definitely be Saka, he's got a great future ahead of him and his versatility and attacking mindset would be so key in Klopp's system.
Sripad: Again, Saka. Highly talented left-back.
Supreeth: I would take Aubameyang with my eyes closed. He's a natural striker and would be perfect fit for us. His movements are so good & could help our young strikers as well.
Q6) Who do you think deserves to be the player of the year for Arsenal this season and why?
SAF: I think that it's a choice between Xhaka, Pepe and Auba, as all three have had a major impact on Arsenal's season. Leno has also been amazing this season for Arsenal and he possibly deserves a shout.
James: Bernd Leno. Goalkeepers often get overlooked when it comes to the 'Player of The Season' award. Probably the most underrated goalkeeper in the Premier League this season, Leno never gets the credit he deserves. He is the backbone of Arsenal's defence and they wouldn't be where they are without him.
Dillon: It has to be the captain Pierre-Emerick Aubameyang easily. He has really taken on the big game player role this season compared to last season where it seemed like Lacazette stepped up more in the big games. Without his 17 goals that have won you an extra 16 points, you would be in a worse position than you are currently.
Sripad: Aubameyang. Single handedly carrying the team this season.
Supreeth: Your captain Aubameyang. I think he has been a level above everyone in this inconsistent and uncertain season for Arsenal.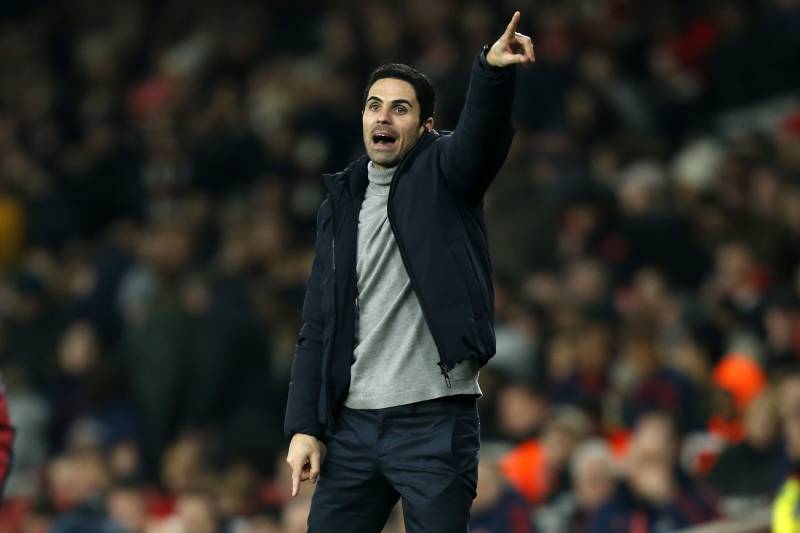 Q7) What are your unbiased thoughts on Mikel Arteta so far?
SAF: I believe he is a great coach and works very well with players, time will tell how good he can be but I believe that he's already had an amazing impact at Arsenal in a very short period.
James: Spoken highly about by Pochettino, Pep Guardiola, his team mates and most importantly, Arsène Wenger, it will be interesting to see the style of football he implicates at Arsenal. It's already clear that his knowledge of the game goes beyond that of your average professional footballer/manager and I look forward to seeing where he takes your club over the next few years.
Dillon: We've seen glimpses of what Arsenal under Arteta could be in the future against United and Newcastle but I think it will take some time for Arteta to implement his style on the players. You've got the best youth players (U23) in the league. Hope he develops them and utilizes them in the future as I rate him highly as a coach.
Sripad: At first I thought he jumped into the job too quick. Needed to start with a pre-season but he's proven to be good so far. Knows how to use the players instead of forcing them to use his tactics alone.
Supreeth: Good decent manager. Good coach and has a vision on how to play football. He's learnt from one of the best and played under one of the best. He needs to be given time and he'll be good enough to take Arsenal to next level.
Q8) Where do you think Arsenal will finish next season in the league?
SAF: Depending on who comes in and who goes out, I think Arsenal will definitely finish in the top 4 next season.
James: Top six.Possibly top four.Hopefully below Tottenham.
Dillon: I think Arsenal will finish 6th next season.
Sripad: Europa League spot at least. Depends on how much Arsenal improve and how others do in the market.
Supreeth: I believe if your manager's given time and a bit of money to spend(Although due to covid it might be difficult) he'll have a good chance to have a crack at top 6. During hard times like this when the budgets are uncertain for transfers, this is when a manager's coaching skills come into play and you guys are in good hands i believe.
Q9) And finally,your favourite player to ever play for Arsenal(if any) and what did you like about him?
SAF: My favourite player to ever play for Arsenal has to be Thierry Henry. the aura he had about around him was insane. Özil is a close second, as I really enjoy watching him. On his day he's expectional.
James: Thierry Henry…
Do I need to say more?
Dillon: Has to be Robin Van Persie, he was an absolute joy to watch especially in the 11/12 season.
Sripad: Close call between Henry and Bergkamp but I would go with the Dutchman.
Supreeth: Everyone would pick Henry but I'll go for Vieira. I love a leader and fighter like him. He's physical, demanding and a example for young players.
I would like to thank all the fans above for giving me their time and answering the questions. Thanks you all for spending your valuable time on reading this. You can find me on Twitter. Take care, stay safe.