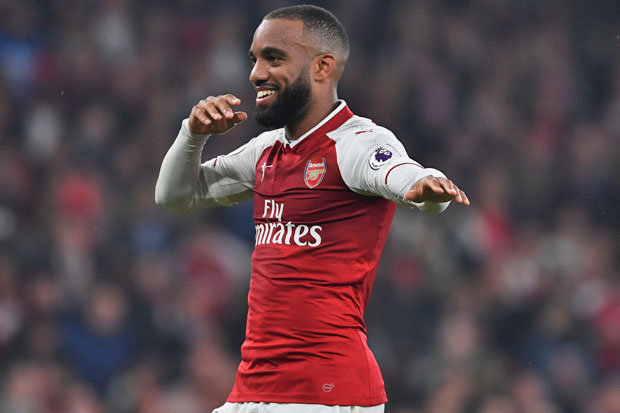 Why this is Lacazette's season
Ah, Lacazette. Yet another in a long list of Arsenal players that completely divides the fan base. Is it truly fair to cast aside a player after a mediocre-at-worst, first season in the Premier League?
If you answered yes to the question presented above, you might need to re-evaluate your expectations. The French league's standards are not up to those of the Premier League, and as Arsenal fans, we should be well aware of this by now. Over the years, we have endured the frustrations of many players that have crossed the channel, and while lots of those arsenal careers ended in disappointment (Gervinho), you cannot ignore some of the successes (Pires). Lacazette is not even close to a disappointment at this stage. He scored 17 goals in a season that he missed two months worth of action, due to a knee injury.
The £50 million price tag put a lot of pressure on Lacazette's shoulders. Like any big money signing, fans expect the player to hit the ground running. While his start in the premier league looked promising having scored his first goal, two minutes into his debut, he went on to have a turbulent season plagued by a lack of form and injury. This wasn't the instant world-class addition we had all hoped we'd see, but there were flashes. Some of the finishes were sublime, some of the movement was majestic and I have to say… I bloody love the trumpet celebration- that on its own is world-class.
Lacazette's problem was confidence. He wasn't about to take the Premier League by storm as he might have expected. This wasn't Ligue 1, and his confidence certainly didn't receive a boost when the club went out and broke it's (his) transfer record on Pierre-Emerick Aubameyang. However towards the end of the season, once the pressure had been eased with fans writing off the 17/18 season, Lacazette had a bit of a purple patch. He scored four goals in as many games, with an assist and a man of the match performance to boot. This is not the return of a disappointment in any sense of the word. This, followed by a fairly decent run in preseason, is a reason for optimism. We go again.
Lacazette himself came out and said that his first season wasn't to his satisfaction and that we are about to see 'the real Lacazette'. There's been a change of mentality, a statement of intent, and most importantly a boost in confidence. Along with the apparent bromance with Aubameyang, and a new head coach to work under, it seems like we could be heading into an impressive campaign for the Arsenal front line.
I for one, am all for it. This is Lacazette's season to make the numbers, and hit the heights we've expected of him. This season and not last is where we should be making judgments on Laca, and I think we might just see a different animal… 'The Real Lacazette'.