In the last 20 years, Arsenal have experienced literally everything. From being at the pinnacle in 2004 by going an entire league campaign unbeaten, to facing a barren period trophy-wise when finances were limited due to the repayment of the Emirates stadium loan, to becoming a cup competing side in the mid 2010's, to now starting a new rebuilding project as a consequence of missing out on Champions league football for what could now be 4 years in a row.
We have seen various people in our club hierarchy in charge of decision making – From David Dein, to Ivan Gazidis, to now Raul Sanllehi and Edu Gaspar. There have been several structural changes in Arsenal's top brass over the years.
One man has been with us through it all – His name is Francis Cagigao.
Cagigao has a really interesting profile, which makes him a perfect choice for his current role as head of international scouting.
He was born and raised in London to Spanish parents and played for the Arsenal youth sides of the 80's. His footballing career was far from distinguished and in 1997, aged just 28, he decided to move to scouting – choosing to join his boyhood club Arsenal as an international scout, primarily looking into the Spanish and South American market across all levels.
There is a reason not much is known about him – He is a behind the scenes person whose role is to pass on recommendations. You won't see him sitting next to a player when he is unveiled and he is hardly ever spotted sitting with the men at the top. In Arsenal's old 'Manager does it all model', Cagigao used to liaison primarily with Arsène Wenger. In our structure today however – we have a technical director in Edu, who acts as a mediator between head coach Mikel Arteta and Director of Football, Raul Sanllehi – which would in turn imply that Cagigao would be more closely tied to the technical director as opposed to the manager like it was in the old days.
He is more than just an ordinary scout – He also tries to build a relationship with young players he scouted, as evidenced by Cesc Fabregas' comments speaking to arseblog:
"We met in a hotel in Barcelona. He started talking, explaining the situation, he knew absolutely everything about me. It shocked me, I was still 15. He impressed me very much."
Arsenal are at a stage where we need to sign some top young talents and develop them. The challenge is that several major clubs around Europe are also circling closely around these players. Having Cagigao certainly helps us in this regard, as evidenced in the summer of 2019, when he once again demonstrated his eye for a talent by identifying Gabriel Martinelli.
Remember, this was a player that had trialed with Manchester United who rejected him. But Cagigao obviously had a different view and turns out, it was the correct one. It is a common myth that Edu was the one that recommended Martinelli – It was Cagigao and he had it all wrapped up before the summer window even began.
As per Kike Marin of El Confidencial, Cagigao is also known to have been the person who identified William Saliba. This is quite interesting, as Cagigao hasn't really ventured much out of Spain and South America. It tells us that he is a scout that is only growing even further and expanding his work to more countries. Claude Puel, speaking to L'Equipe confirmed the caliber of player Arsenal have got in Saliba. Speaking to L'Equipe, he said : "It's hard to accept the fact we sold our best player, a young kid, to help fill the coffers."
It isn't just young talents that Cagigao has brought through. He is also credited with playing a part in signing more experienced players – Such as Lauren, Monreal and Cazorla – Who all went on to become great players for the club. That is testament to his growth within the club – How he started off as someone to spot younger talents, which ultimately also extended to having a say in recommending more established players.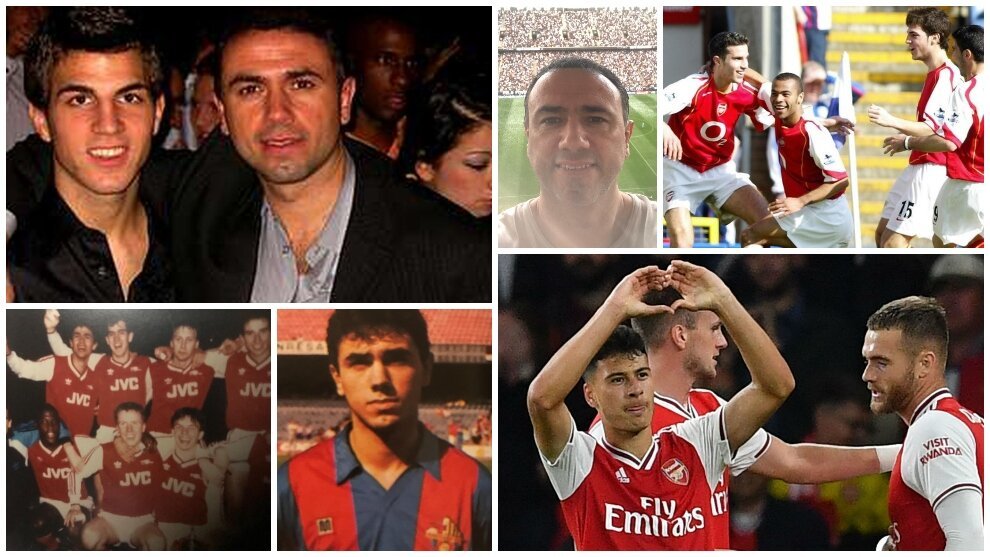 The role of international scout at Arsenal is one that Cagigao has cherished, as his reputation has only gone from strength to strength – At just 51 years of age, Cagigao already has over 23 years of experience in scouting. He was pipped to be the head of recruitment after playing a vital role last year in what was one of our most successful transfer windows in the Emirates era. It was a rather different kind of task for him – One where he was more actively involved in the transfer discussion table for decision making, which he seamlessly stepped up to.
Prior to that, as per an exclusive report from the reliable James Olley for the Evening Standard – He was even considered for the sporting director role Arsenal were exploring back in 2017. Sky Sports News reported in the past, stating other clubs were also looking at hiring Cagigao's services, which tells you he has a great name in the industry.
Once we brought in a technical director, there wasn't a real need for another decision making role in recruitment and Cagigao was promoted as the head of international scouting instead.
On the other hand, have a look at someone like Mislintat who left the club after not being considered for the technical director's post. Loyalty is a rare trait and clash of egos can do no one any good. In that sense, Cagigao has been fantastic for us and has been a great servant over the years to always do what the club wants him to do. Not once has he made any sort of fuss over not being given a decision making role within the hierarchy.
As per The Athletic, Arsenal will look to exploit the South American market as they believe there is a competitive advantage in this region. Edu has already been director of football at Corinthians as well as playing a key role in the Brazilian National team set-up by overseeing various levels. Now combine this with Cagigao's expertise over the region and you would realize we have a competitive advantage here over most European clubs. There are several players of the required quality that can slot into our side and improve us. And the best part is that they will come at significantly lower price than signing a player of similar quality from Europe's top 5 leagues.
In addition to this, Sky Sports reported that Arteta is also eyeing talents from his native, Spain – Yet another region Cagigao is known to possess expertise over.
As a result, I can see Arsenal bringing in gems from South America and Spain this coming window. Due to the ongoing coronavirus crisis, clubs are going to be adversely affected financially, with limited cash flow barring the rich sugar daddy clubs of course. It will come down to a battle of who has the best recruitment team and who can 'outsmart' the market as Raul Sanllehi likes to put it. Arsenal certainly have the machinery, with Cagigao being a key component.
The people at the top taking decisions are only as good as those who assist them in the process. Cagigao will make things even easier for Edu's team, as he has done in the past for Arsene Wenger. People are quick to credit the actual decision maker but tend to forget those who are doing the groundwork on a day to day basis. And that is why, as Arsenal fans we should just take a moment to appreciate the dedication and quality of Cagigao's work. He truly is Arsenal's unsung transfer market hero.