The Arsenal of today heavily juxtaposes the version of the club we saw in mid-December. The atmosphere in and around the camp appears much better, player commitment is no longer being questioned and the actual football itself is much more attractive. The Gunners are scoring at a steady rate and have re-captured the sturdiness at the back which served them so well at the back end of last season.
For Mikel Arteta, the strong form has propped up some pleasant dilemmas. At the back, Gabriel is struggling to re-claim his spot in central defence while some healthy competition has grown between Hector Bellerìn and Çedric. However, the most interesting predicament is the one which concerns Arsenal's forward players.
At the moment, there are quite clearly five players battling it out for starting spots in the front three. Bukayo Saka, Pierre-Emerick Aubameyang, Alex Lacazette, Nicolas Pépé and Gabriel Martinelli all currently have strong cases to suggest they should be starters.
This is a selection issue that Mikel Arteta will welcome, especially in a tough period. Rotation is key. Both Emile Smith Rowe and new recruit Martin Ødegaard are also capable of playing out wide. What'll concern Mikel Arteta more are the respective situations of Reiss Nelson and Willian. Neither player appears anywhere near Arteta's Premier League XI right now.
While it's undoubted that resolutions need to be found for those players, Arteta will be more than happy to focus on those who are performing well at the moment. And he does have task on his hands in that respect. It's very difficult to say which of the five aforementioned players make up Arsenal's best front three right now.
Centre-Forward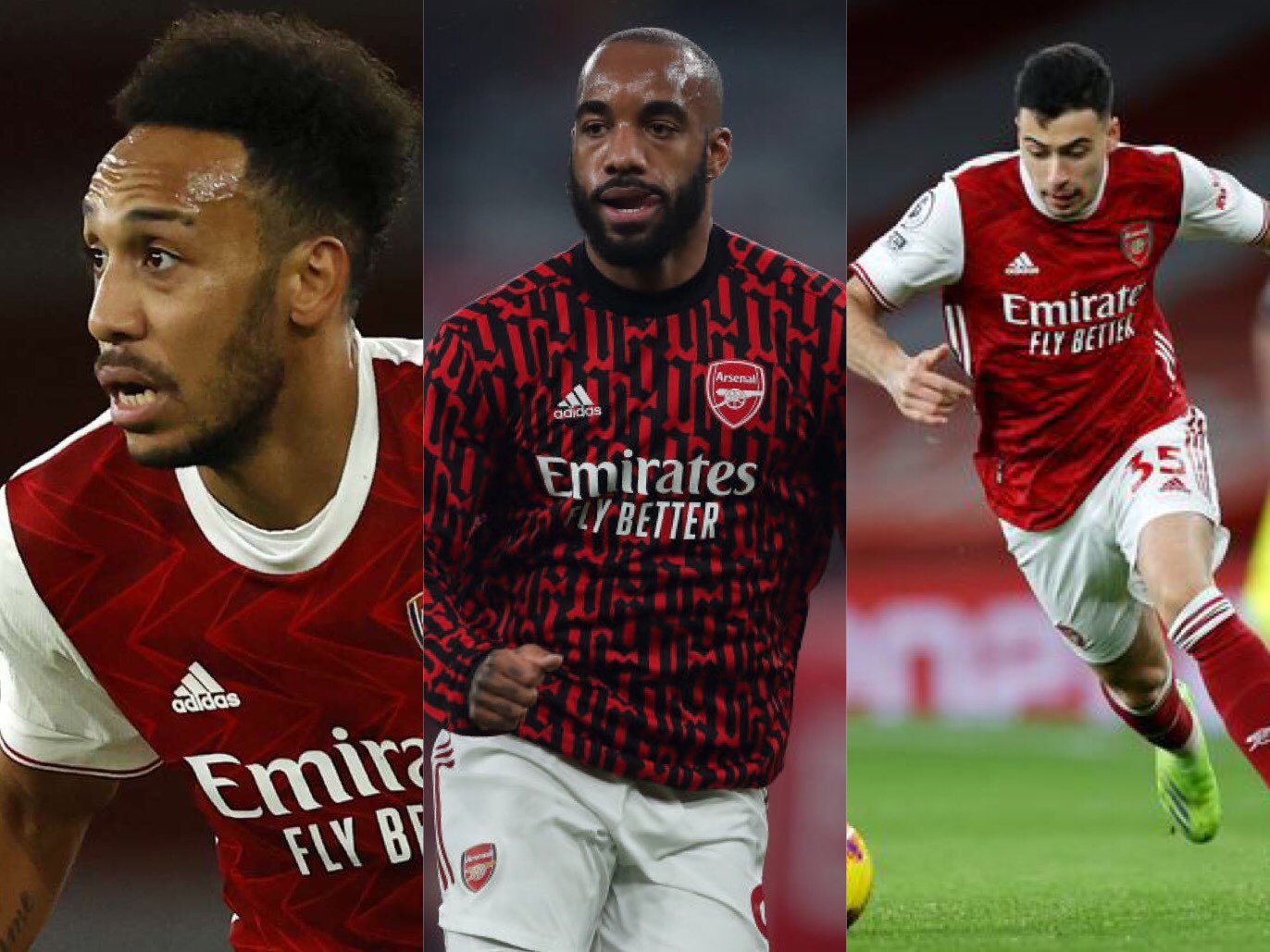 A good place to start would be to assess the central striker role, currently occupied by Alex Lacazette. As suggested by the Frenchman's performance against Southampton on Tuesday and other recent outings, it appears Mikel Arteta prefers more of a complete forward in that role.
Nevertheless, that hasn't prevented Arsenal's manager from experimenting up top. Both Eddie Nketiah and Pierre-Emerick Aubameyang, two players better known for their poaching abilities, have been given chances through the middle. One would expect Gabriel Martinelli to be vying to be given an opportunity in that role too.
As of now, it appears Lacazette is Arteta's best bet through the middle. He's enjoying one of his best seasons in north London to date, as shown by his Arsenal career high of 0.64 goals/90 so far this campaign. Against Southampton, his relentless pressing, his assist and of course his goal were representative of everything Mikel Arteta wants from his #9. A complete striker's performance.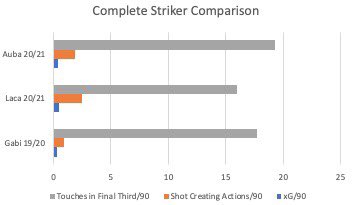 Yet, one senses Arteta will continue to experiment. Pierre-Emerick Aubameyang's 16.5 pressing actions/90 last season compared to Lacazette's 16/90 show the Gabon international is more than capable of meeting Arteta's needs in that regard. Of course, Aubameyang can't offer the same level of link-up play Lacazette does, but in a system which could incorporate two incredibly technical players in Emile Smith Rowe and Martin Ødegaard, the need for the striker to act as a link-man lessens.
One would expect Arteta views Gabriel Martinelli as Alex Lacazette's long-term successor through the middle. The Brazillian is one of world football's best pressers despite his young age as shown by his average of 9.72 successful pressing actions/90 last year and his technical quality is clear for all to see. It'll be interesting to see whether Arteta deploys Martinelli in that #9 role soon or if he opts to keep him on the wing for the foreseeable future.
Right-Winger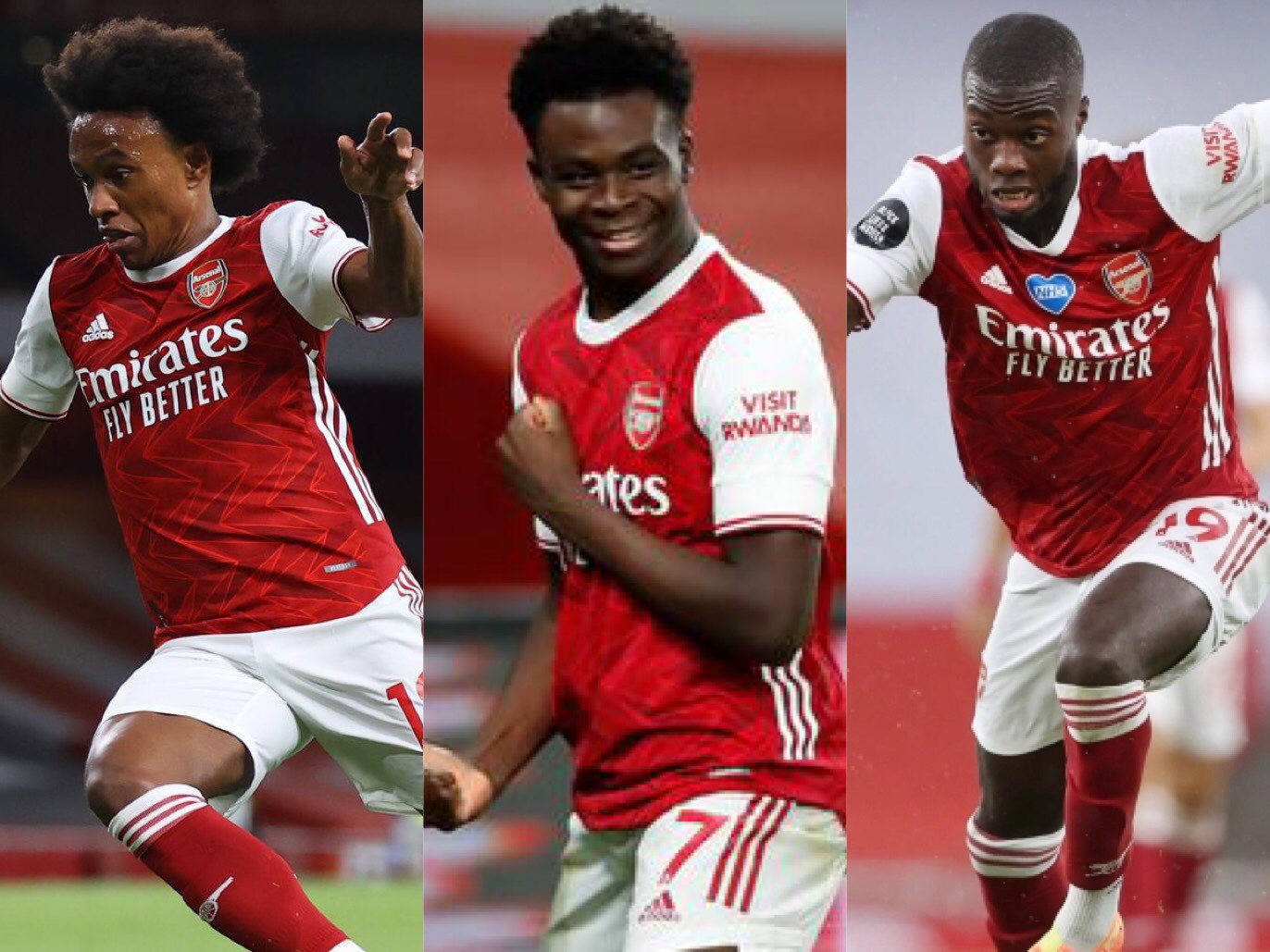 As for the wide players, that's where the real headaches start to arise for Arteta. For the moment, on the right, there appears very little cause for debate. Since being shifted out there against Chelsea on Boxing Day, Bukayo Saka has been an absolute revelation on that side of the pitch.
Saka is simply the perfect option on that side. With Pépé on that side, we're far too predictable due to the Ivorian's constant preference for cutting inside onto his stronger left foot. Saka nullifies that issue single-handedly due to his sublime 'weaker' right foot. Furthermore, Saka appears to combine much better with both Çedric and Bellerin than Pépé and Willian have in previous weeks. Right now, Saka also poses a signifcant goal threat and is thus the most rounded option.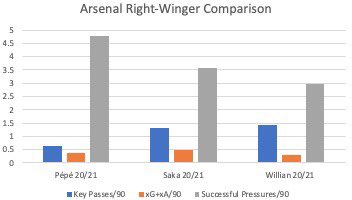 With both Pépé and Saka starting against Southampton on Tuesday, it spoke volumes that the Englishman kept his place at right-wing. That's Saka's position now. Those competing to start in that role have a hell of a task on their hands to displace a man who has registered an impressive 0.3 xG/90 and 3.54 shot creating actions/90 this season.
Left-Winger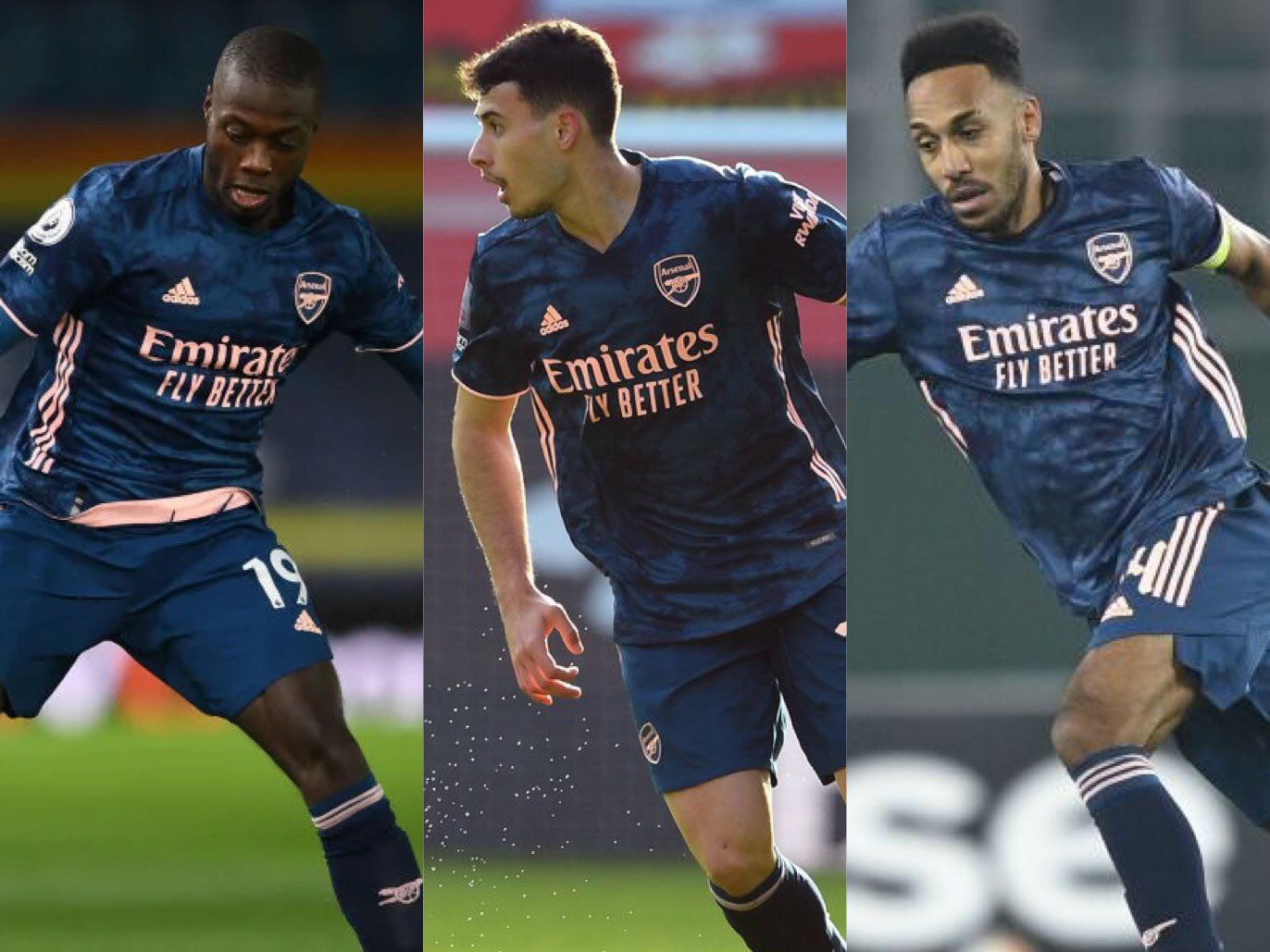 The left-wing is probably the area on the pitch where Mikel Arteta has the most uncertainty right now. Gabriel Martinelli looked good out there against Chelsea and Brighton, but can't be trusted to start every game yet. Most of Pierre-Emerick Aubameyang's best performances in an Arsenal shirt to date have come from that side, but one senses Arteta would still like to see more of him down the middle. Meanwhile, out of nowhere, Nicolas Pépé has thrown his name in the hat to claim the starting role on the left.
What exactly does Mikel Arteta want from his left-winger? Well, it's likely similar to what Bukayo Saka is currently giving the Spaniard on the right. Goals, bravery on the ball and high-work rate off it. None of the aforementioned contenders at left-wing are specialists in all three fields like Saka, so Arteta's task is either to refine the role or find the most rounded player out of the three.
While Lacazette is in form, Arteta will likely refrain from changing things up top, so in all likelihood Pierre-Emerick Aubameyang will assume the spot on the left when he returns to the team following his personal issues. He scored two from that position against Newcastle, so it'd make sense to give him a few games on the flank and a chance to recapture his form.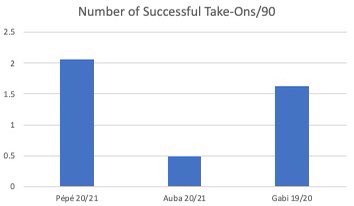 However, with Aubameyang on the left, we can all recognise his limitations as a winger. His work off the ball is adequate, but not on the same level as either Saka or Martinelli who both boast much more impressive pressing stats. Meanwhile, his dribbling ability has never stood out as one his key attributes, as shown by the graph above. Nevertheless, with Aubameyang, you just can't look past his goal scoring record, you absolutely have to find a way to incorporate him into the team.
Until Arteta can comprehensively introduce Pépé into the left-wing conversation, he needs to see consistency from the £72 million man on that side. His performance against Southampton was promising, but overall, he's always looked uncomfortable on the left. However, if he can stake a claim over that role, it would give Arteta a welcome opportunity to begin to convert Gabriel Martinelli into a central striker.
A more surprise option on the left could be Emile Smith Rowe. The 20-year-old spent a lot of time in that role as a youngster and does indeed meet the rounded criteria Mikel Arteta craves from his wide man. Playing Smith Rowe on the wing would allow both him and new signing Martin Ødegaard to work in tandem which could deliver all sorts of creative fruit.
For the moment, it seems Arteta's best bet in terms of his front three is Aubameyang, Lacazette and Saka. However, this article has illustrated there are plenty of options up top for Arsenal and plenty of different ways Arteta can experiment. Considering the fixture list is so congested, it's fantastic that Arsenal have so many viable options in attacking roles.
All Stats seen on graphs and within the main body of the text are courtesy of FBref.com