Pierre-Emerick Aubameyang has played a plethora of roles at Arsenal. Initially starting as a centre forward under Arsene Wenger, he went on to move to the left-hand side to accommodate Alexandre Lacazette.
When Arsenal decided to employ a 4-4-2 diamond or the 3-4-1-2 under Unai Emery, Aubameyang played as one of 2 central strikers.
Under Freddie Ljungberg, the player started as the right forward, but when our results started to go from bad to worse, Freddie decided to shift Aubameyang as the central striker.
All of this changed the day Mikel Arteta took over, however. Arteta used Aubameyang as the left forward, with one of Lacazette or Nketiah up front. The plan was to have Aubameyang in the box coming from out-wide, making it harder for defenders to track his movements.
An interesting combination to note was the use of diagonal balls from Nicolas Pepe to Aubameyang, leading to goals against Newcastle, Everton at home and most notably, that 18+ passing sequence opener in the FA Cup semi-final against Manchester City.
Arteta was completely justified to play him on the left-hand side, Aubameyang did a fantastic job. However, I am of the belief he will do even better as the centre forward – he can improve the team's collective dynamic whilst also maintaining a similar goalscoring rate. Let's have a closer look.
First and foremost, a full back is much likelier to deal with Aubameyang's pace as opposed to a centre back. Aubameyang playing at centre forward would mean teams are going to be more cautious whilst playing a high line against us. You look at the game away to Liverpool for example. It was crying out for someone to occupy the centre backs, play on their shoulders and have them on their toes. Even someone like Lacazette who is not exactly renowned for his movement off the shoulders of defenders was able to find space in behind.
Second off all, I would like to demystify this whole concept of 'hold-up' play. Not every team needs a player like Firmino. It is imperative to understand why Liverpool even use him like that in the first place.
The reason is they don't really have creativity in the midfield per-say. There are box to box players with a good level of technical quality who can ping diagonals and make runs into the box. However, their chance creation predominantly stems from the full backs. Firmino drops deeper into the number 10 position and links the play. Alexandre Lacazette was doing this in the 3-4-3 when we lacked a creative player, which had its merits.
The Athletic have reported that Arteta's plan is to switch to a 4-3-3. In the recent game against Sheffield United, a team that plays a deep block, we played a trio of Elneny, Ceballos and Saka/Willian. Now you add Thomas instead of Elneny and you have 3 midfielders, 2 who are very good at progressing a football and one that can help link the play with the front 3.
When you have that link man (Willian/Saka), do we really need the centre forward to drop deeper to the extent Lacazette was doing when we played a 3-4-3? I don't think so.
My one big issue in the first 58 minutes against Sheffield was the number of times Aubameyang had to be involved in the build-up OUTWIDE. Saka had plenty of crossing situations and whilst I rate Eddie Nketiah highly, you could not help but feel Aubameyang was needed inside the box.
Arsenal tend to build-up out-wide. You need to ask yourself this question. Would you prefer a winger with good technical quality receiving the ball in this area, or a forward who is excellent at getting on the end of all this work?
As soon as Auba moved to centre forward, we were able to retain the ball well and control the game, leading to both the goals. Saka and Willian interchanging constantly, receiving in the half spaces, making it a nightmare for defenders to mark.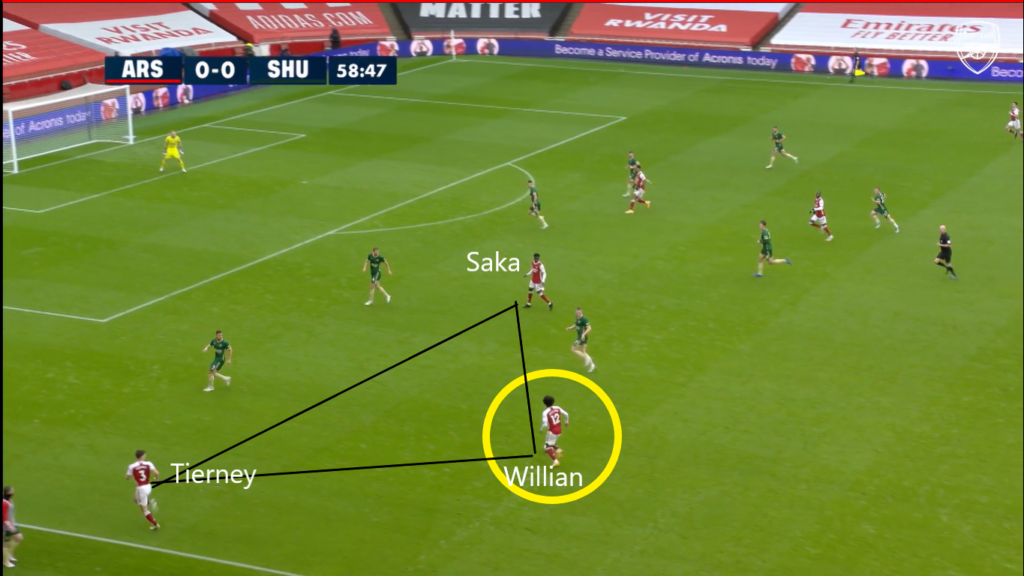 Next, Aubameyang turns 31. Whilst he is an extremely athletic player with exceptional fitness levels, you ideally want him using his energy in the right areas. For me, it is an absolute waste to have this quality of player tracking opposing full backs and wingers over 90 minutes. I'd much rather have him playing further up centrally.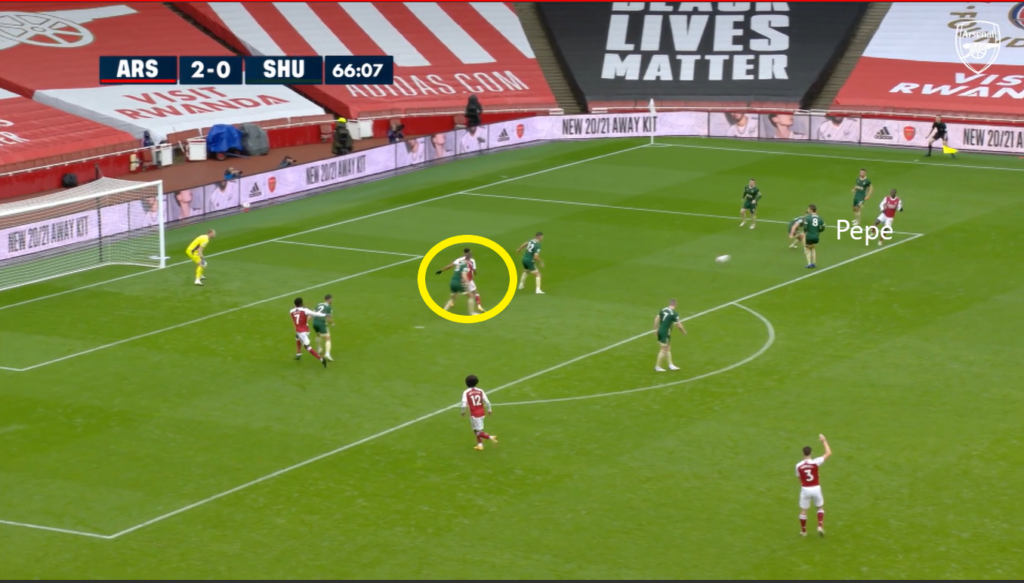 Additionally, a point that often goes under the radar is how much Aubameyang has improved his overall play since joining Arsenal. In that little cameo against Sheffield, he showed for the ball and was happy to get involved, playing a major role in Bukayo Saka's opening goal. This notion that he cannot link the play from time to time when called upon is a myth.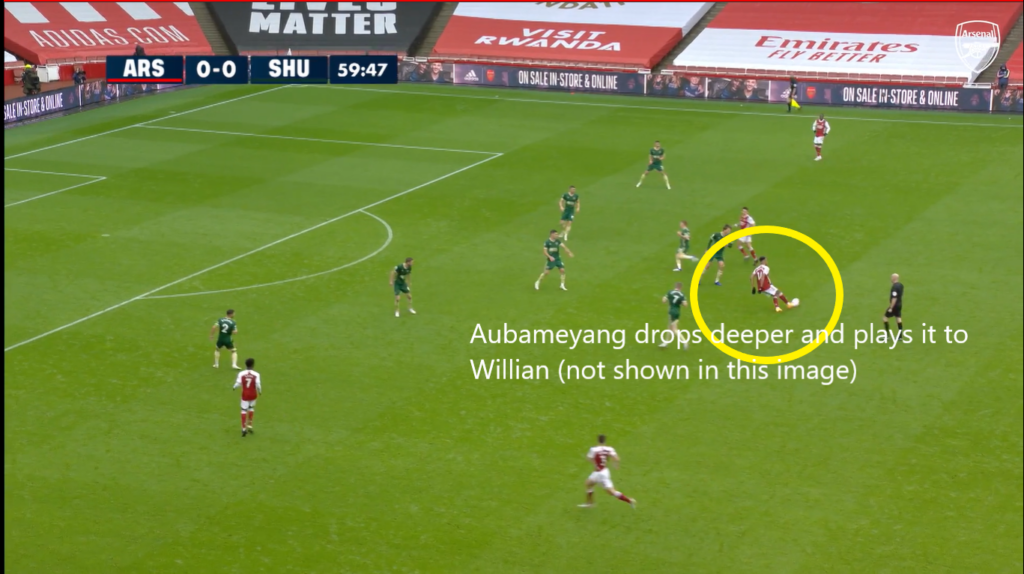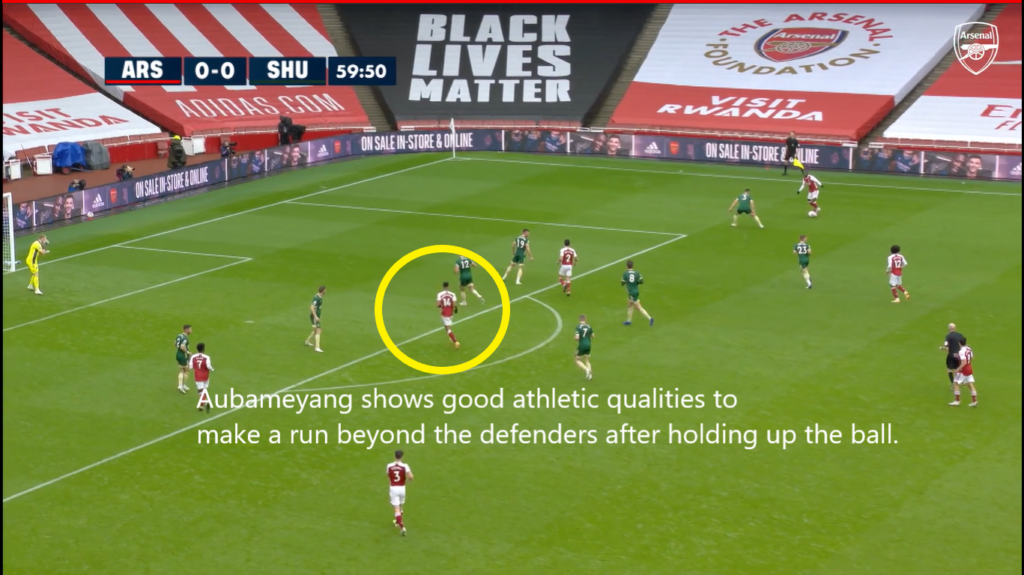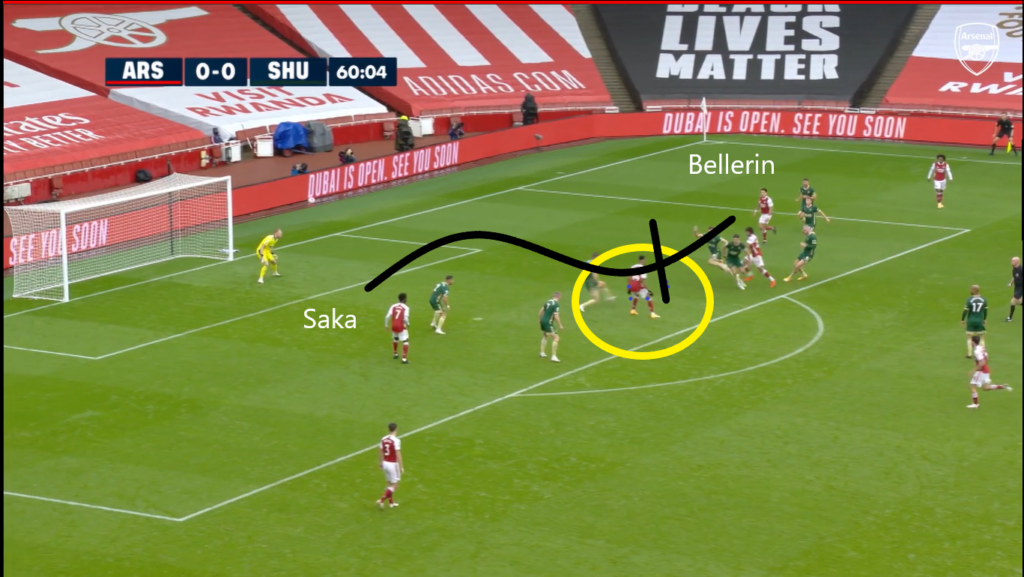 As per understat, here are Aubameyang's league per 90 numbers since the 2017/18 season: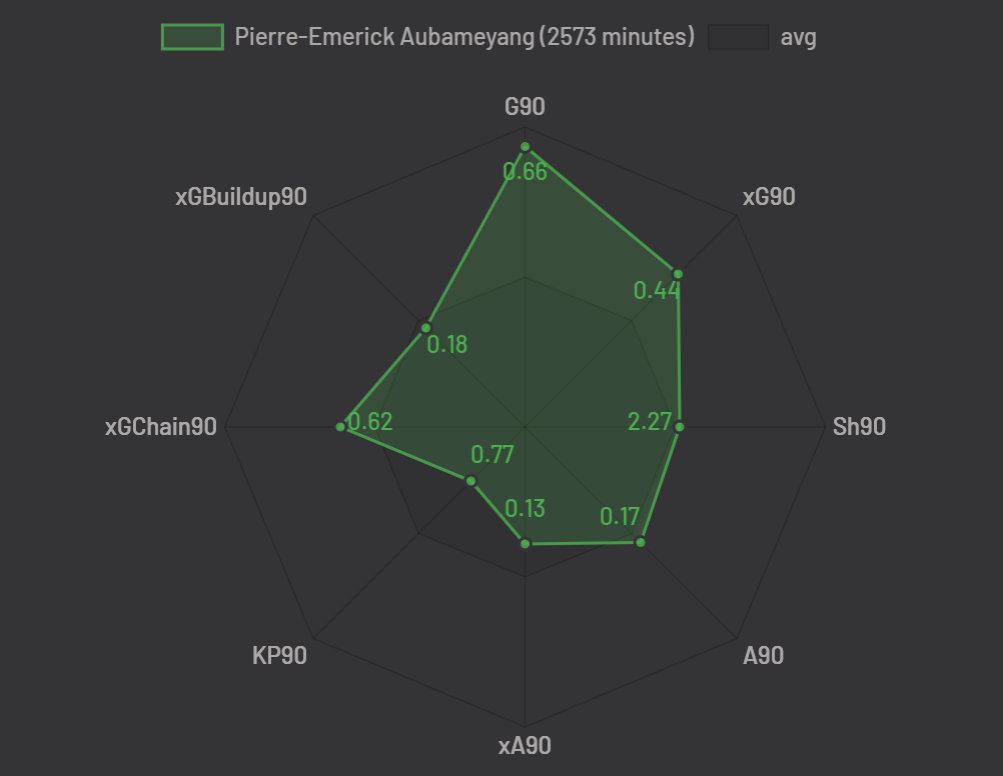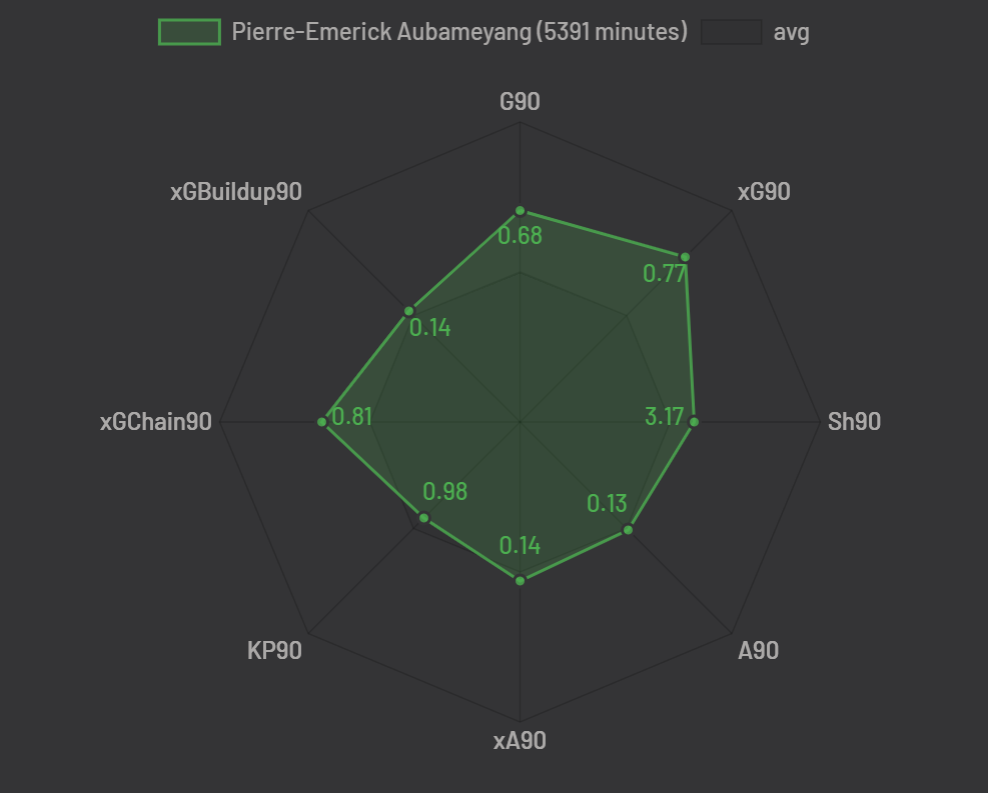 Firstly, Aubameyang gets more goals per game playing centre forward. But the massive difference to note here is the expected goals (xG) per game. From the left Auba has an xG of just 0.44 goals per game and as the centre forward that number is much higher – 0.77 goals per game. Here are a couple important takeaways:
1. Aubameyang from the left hand side has been finishing extremely well. To average 0.66 goals per game whilst only having an xG of 0.44 over 2500+ minutes is truly commendable.
2. Aubameyang gets more chances when he plays at centre forward one way or another. If he can maintain the efficiency that he has shown from the left, expect a 25-goal season at the very minimum.
In the 2015/16 and 2016/17 Bundesliga seasons, he amassed 25 and 31 goals respectively playing as the centre forward for Thomas Tuchel's Borussia Dortmund. The focus for Arsenal must be to create a high volume of chances and Aubameyang's instincts inside the box and on the shoulders of defenders should only make this easier.
In summary, playing Aubameyang at the sole striker allows us having a player with one of the best movements in world football playing on the shoulders of centre backs and inside the box in every attacking situation. It also gives more technical security in the build-up against deep blocks and allows us to play Pepe, Willian and Saka all together. Hopefully, this will be the way forward in the league games. COYG.