It has been a shambles of a season, let's not try and sugar coat anything. Whilst we have a chance to salvage things in an FA Cup final, for a club of Arsenal's size, to finish outside the top 7 is unacceptable, something Arteta strongly agrees with. Sure, there have been times when refereeing decisions have gone against us and you can factor in the instability caused due to having 3 different coaches in a such a short time frame – but having said that, we deserve to be where we are. A huge reason is our failure to create clear cut chances on a regular basis. Let's have a closer look at how we got here in the first place and what we can do going forward to overcome these issues.
There was a time not so long ago when Arsenal were blessed with creative players. And when I am talking about creativity, I'm not just speaking about attacking midfield – a lot of these players such as Tomáš Rosický and Santi Cazorla were adaptable to so many different positions. Santi for example started at Arsenal as a number 10, moved outwide once we signed Mesut Özil and eventually ended up playing deeper in midfield. Despite all of this, he has maintained good attacking output over the years.
When Özil was in his prime, he was a completely different player to what he is now. Towards the end of 2014, when Mesut missed three months with a ruptured knee ligament, he worked extremely hard off the pitch to bulk up more and from early 2015 till about February 2018, he was one of our best players and always amongst the elite creators in Europe.
To add to this, we had Aaron Ramsey who not only was another creative type player, he also coupled this with his intensity off the ball and ability to get into the box and score a goal. The underlying point here is that Arsenal had excellent variety in terms of the creative players – they all had something they specialized in and complimented each other really well.
Since 2018, Arsenal have lost the likes of Cazorla, Ramsey and to add to this, Özil has declined – both fitness wise and in terms of his creative edge. Just have a look at his numbers since Arteta took over. It isn't only to do with him, that has to be said. The fact is Arsenal don't really have any other creator to play with Mesut and ease some of the creative burden off him. Our central midfielders can beat a press and find Özil sure, but then what after that?
The likes of Ramsey and Cazorla were able to find Özil in pockets of space and then make a run beyond him or at least makes themselves available for a quick, incisive combination. When Alexis Sanchez was at his prime, it was yet another option for Mesut to combine with, they played almost telepathically at times. But things have changed since, for both.
Pierre-Emerick Aubameyang is undoubtedly a top player, but in terms of ability ON THE BALL, he isn't anywhere close to what Alexis was, but can you even blame him? He isn't a wide player, he's at his best in and around the box and is a classic poacher. Ideally you want him to be the beneficiary of all the combinations and not part of them himself. Now, I know Arteta hasn't used him at center forward barring those 10 minutes against Leicester City, but there has been reports suggesting Arsenal are interested in bringing in a wide player – judging by the reliable links to Saïd Benrahma and Willian, I think this position is one we are looking to address.
Bar the U-21 players who are still learning, Pepe is our only first team winger. I honestly believe that if the team finds the right balance in central areas and brings in a creative wide player for the left flank, Aubameyang at center forward will work really nicely. You only have to look at Thomas Tuchel's 2015/16 Dortmund side as an evidence of this. Personally, I would still play Aubameyang up top now, but Lacazette works hard off the ball and has an eye for a pass, so I can completely understand why Arteta could be using this as a temporary solution.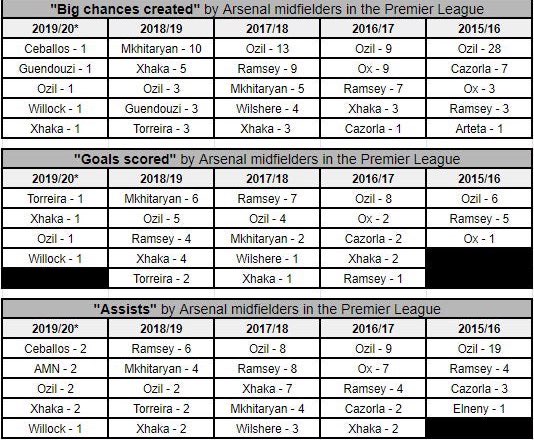 These stats compiled by @touchlinefracas perfectly illustrates our issues. Look at how the likes of Özil/Cazorla/Ramsey are always in and around the top and look at the number of goals, assists and big chances they have amassed over the years. Now compare them to what we have today. You will see a stark decline – it doesn't mean Matteo Guendouzi, Lucas Torreira and Dani Ceballos are bad players, they all have good qualities, but they're a completely different profile to what we had earlier.
And the question remains, have we improved so much defensively that sacrificing this creativity is justified? Absolutely not. In fact, we fail to control games at all. Right through the Emirates era, barring 1 or 2 partnerships, our back four wasn't even Champions league standard. But the midfield and creators in the front three have always been excellent, which resulted in us controlling the pace of games and limiting work for those at the back. We just don't have those profile of players anymore.
As a result of all this, Arsenal sit at a dismal 16th in chances created in the Premier league. While I'm not a fan of 'chances created' as a stat as even a basic action like a corner kick hitting your teammate is counted as a chance, it still doesn't make for a good reading when you realize that the big six clubs are ahead of us in upwards of 100. It indicates at the very minimum that they are creating more attacking situations, something we fail to do consistently at all.
This above graphic from StatsBomb indicates the decline from Wenger's last season to Emery's tenure. There has been a pretty significant fall in Arsenal's non penalty xG. Expected goals aren't something I like looking into too much when it comes to individual games, it can just be a reference point, but over time poor xG will catch up with you and that's exactly what happened under Emery. Additionally, you can also see the increase in the counter attacking shots per game. Unai was definitely the wrong appointment – he had this obsession of playing 2 #6's at the base of midfield and preferred more of a work horse type player at #10.
Arsenal became a reactive side, a stark difference to his 'protagonist' promise. We don't want to be that kind of club, Arteta doesn't want to be that type of manager, that's clear to see. But on the other hand, the personnel we have isn't suitable at all for a team that wants to dominate. Mikel spoke about playing in the opponent's half for as long as possible in his first interview. The 'huge gap' between Arsenal and some of the top sides that he speaks about is largely down to our failure to dictate the tempo and control games.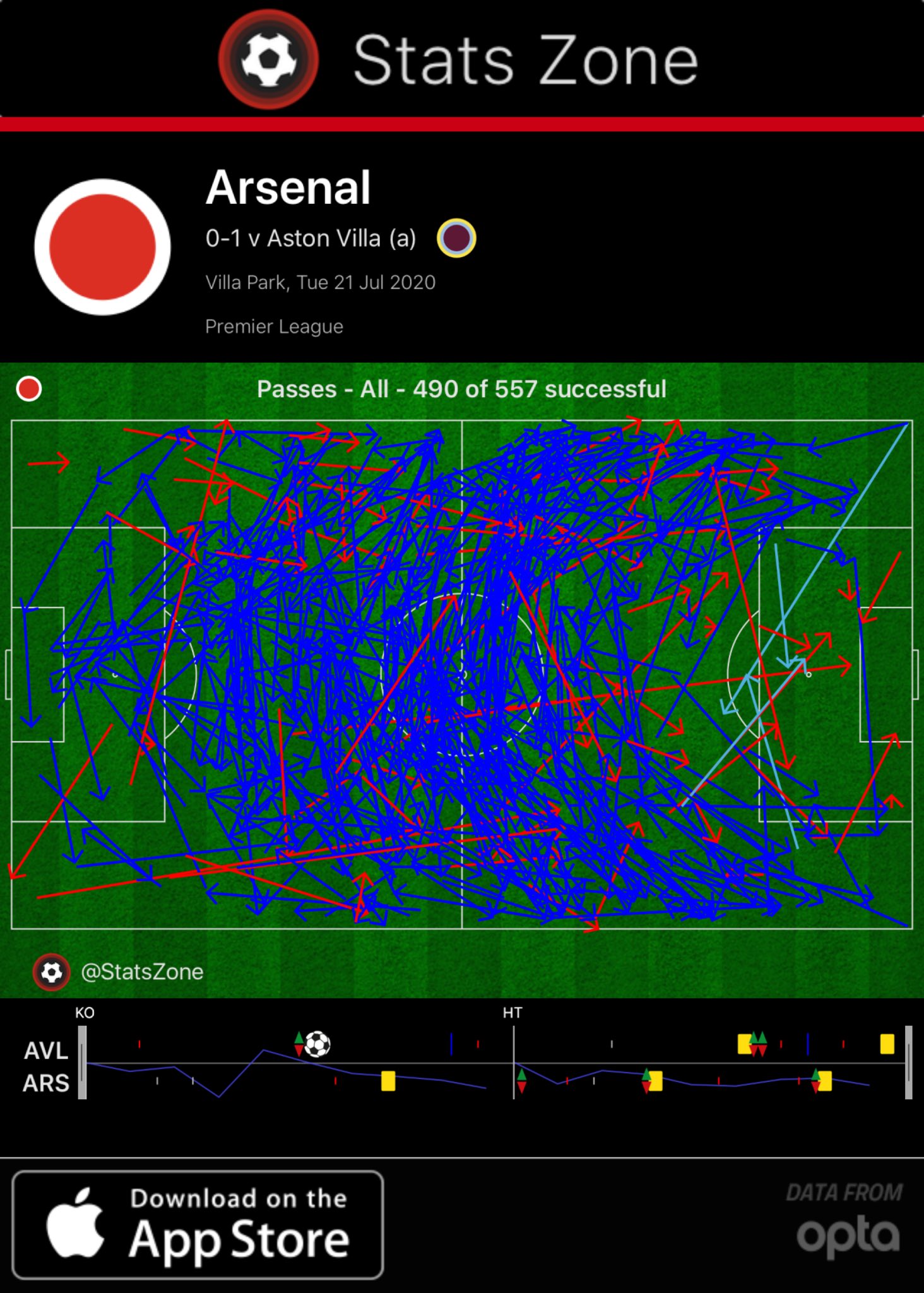 This pass map from yesterday is quite telling, very similar to the ones we've seen under Emery. Everything just going outwide, there is a lack of penetration in the middle, even further exacerbated by the fact that bar Pepe, we don't really have any creative spark outwide. There is a difference between playing out from the back and retaining the ball versus playing out from the back and progressing the ball to create dangerous situations. Yesterday, we saw the former. But against Manchester City, we were able to exploit the gaps well. Remember, City always have a go at teams so there will always be spaces to exploit. But what if teams don't leave too many gaps? Against teams that sit back and are well organized, we struggle to create evidenced by this glaring stat courtesy of the amazing @Stillberto:
Quite simply put, one attacking midfielder alone doesn't solve our issues and this was a sentiment echoed by Arteta who spoke about the 'specificity you need within squad balance'. Additionally, when asked about Özil by @jamesbenge, he said: "We played other games as well, the answer is not just a player but collective patterns that have to happen."
Personally, I think we need a creative wide player for the left hand side, one that can recieve the ball when we play out, retain possession and help progress the play – Alex Iwobi was actually a good player in building up but was never convincing in the final phase. Arsenal need a player who can cut it out in the final third too. We could do a lot worse than Jack Grealish and Diogo Jota, 2 players from within the league who would definitely add value in this area.
Then of course, comes the issues centrally. It is clear that we are interested in Thomas Partey, a signing such as him will give the team a real spine in the middle. To be fair, Xhaka-Ceballos have done a good job together, but Partey would represent an upgrade over both and will compliment either one of them nicely. It also gives us an option of being more expansive in our overall approach, by playing him alone at base of midfield with 2 midfielders of a more attacking profile in front of him, something similar to what Manchester City do. Partey would be a great foundation to build from.
Ideally, the creator we need in the middle is someone who grabs goals and assists but also stays fit and has a good work ethic. Truth be told, there arean't too many players like that out there. In an ideal world where money is unlimited, I would look at the likes of Kai Havertz and Sergej Milinković-Savić. But in this situation where finances could well be limited due to COVID, a potential lack of European football and whatnot, the likes of Houssem Aouar, Dominik Szoboszlai and Lorenzo Pellegrini might be worth looking at – by no means am I suggesting it will be easy to land any of them, but certainly with the right sales/swap deals it wouldn't be beyond us to pull one of these off. These are three players that can fit in well in a 4-3-3 which I think is the system Arteta ultimately wants to play.
In addition, we have Emile Smith Rowe returning from his loan spell – still a raw talent, but epitomizes what we need in the midfield. Look at the impact Bruno had on United, if we bring in the right additions in midfield and outwide, we will see something similar, I am extremely confident of that so its not all doom and gloom.
We are making the right steps under Arteta – more organized defensively, players covering for each other, greater levels of work ethic off the ball, less error prone when we play out and the wins against City and Liverpool for the first time in 3 and 5 years respectively was a step in the right direction. There are also signs of a culture shift led by Arteta's assistant, Steve Round.
With the right additions especially on the creative side, I can see us challenging for top 4 next season. We need to put this league season behind us – it has happened to the best of clubs and hopefully it will remain an anomaly. It won't be easy to bring in exactly what we need, but I think the board will find a way to back Arteta. He has the right ideas and will take us to where we want to be given adequate financial backing. There is plenty to be excited about. Onwards.