And so, after a topsy-turvy season of highs, lows, hopes & promise, despair and disappointment, Arsenal concluded their campaign with a thumping 5-1 win over an AWOL Everton and a 5th place finish.
It's easy, once the dust has settled, to look back and think of 'what might have been'. Arsenal were going into the final lap with the Champions League baton firmly in their grasp, before dropping it at the last exchange. Could Arsenal have reached 4th place? Of course. Do they deserve to? No. This is where Arsenal are right now. For too long under Wenger, stripping Spurs of a Champions League place on the final day was a cause for celebration, but it also masked the flaws of the campaign where the team had ultimately not been good enough. Sometimes, the bitter pill of truth is better in the long term than the sweet taste of false success. It will come as no surprise that in the European campaigns that followed, Arsenal would exit at the Last 16 stage. Proof, if anything, that they simply did not belong at that level. Believing Arsenal merited a Top 4 place would be to airbrush out from the season the disastrous start, the loss to Everton, the 3-run defeat, and the final nail in the coffin away at Spurs and Newcastle.
Thankfully, most Arsenal fans sympathise with the present scenario. Whilst some try to impose on this team the expectations and glories of the Arsenal side that wowed us at the turn of the millennium (you know who they are), the majority accept that this Arsenal are not a title winning side, nor should we expect them to be. Rome wasn't built in a day, and Arsenal's rebuild won't be finished after one season. Transition is the key word, and that comes with the reality that the team will not necessarily end the season in a position we will find appealing. You need only look at events up at Old Trafford to see what happens when a club, its fans, and its ex-players still believe they are in contention for the top order, despite being woefully short. Man United finished 2nd last season out of nowhere, and responded by throwing money at big names which did not fit, signed Ronaldo, went through 2 managers and collapsed into 6th place, 11 points off Arsenal, leaving their season in ruins and their fanbase apoplectic. By contrast, there has been a steady calmness around Arsenal this season, even if the results have at times been somewhat erratic. The fanbase is the happiest it has been for some time, and the scenes during the lap of honour, with fans singing along to 'The Angel (North London Forever)' whilst the club unfurled a banner thanking them for the love they have shown this season, reflected that.
For how this has been achieved, Arteta, Edu and the board deserve credit. Firstly, the board, for staying patient with Arteta. Many would have pulled the trigger midway through last season, and even potentially at the start of the season. But they have persevered, and in doing so are now starting to reap the rewards. Secondly Edu, for showing a ruthless edge in streamlining the squad and disposing of assets long past their sell by date, whilst helping to bring in the young talent who have shined so brightly this season. Lastly Arteta, for implementing an exciting style of football, radically changing the culture of the club (something which had started to rot away during the final Wenger years) and improving Arsenal's league performance season upon season. Here are Arsenal's Final League and Points totals since 2015-16, when Arsenal last qualified for the Champions League. Note the upturn in points since 2019-20, when Arteta arrived, and the improvement in league position this season.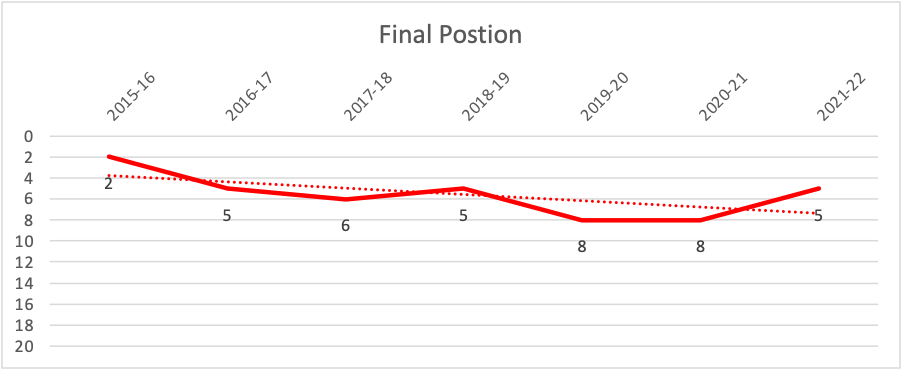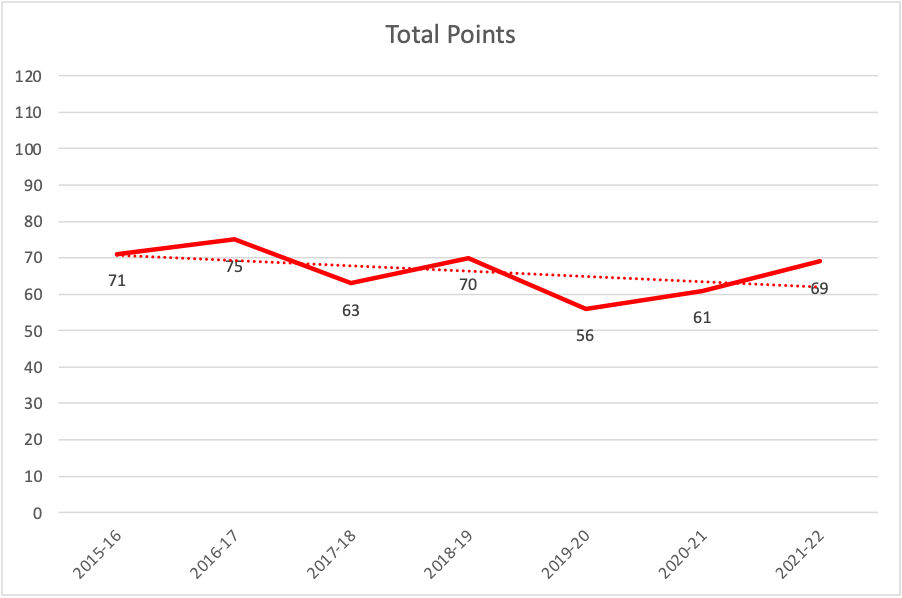 In some sense, Arteta has been unlucky this season. Speaking after the match, he bemoaned the fact that, had he achieved 69 points last season, Top 4 would have been theirs. It's not the first time Arsenal have been stung by moving goalposts. In 2016-17 they improved on their 2015-16 season by accruing 4 more points, yet dropped 3 places to 5th, falling out of Champions League contention altogether. Back in 2007-08, Arsenal amassed a colossal 83 points, yet could only manage 3rd place (It remains the highest points total for a 3rd place finish). However, Arteta also conceded that the table does not lie, and he is absolutely right. Arsenal finished the season with the third highest win total, level with Spurs and only behind Man City and Liverpool. Yet they lost more games than Crystal Palace, Brighton and Manchester United. In fact, Arsenal lost the most games out of all the sides in the Top 6.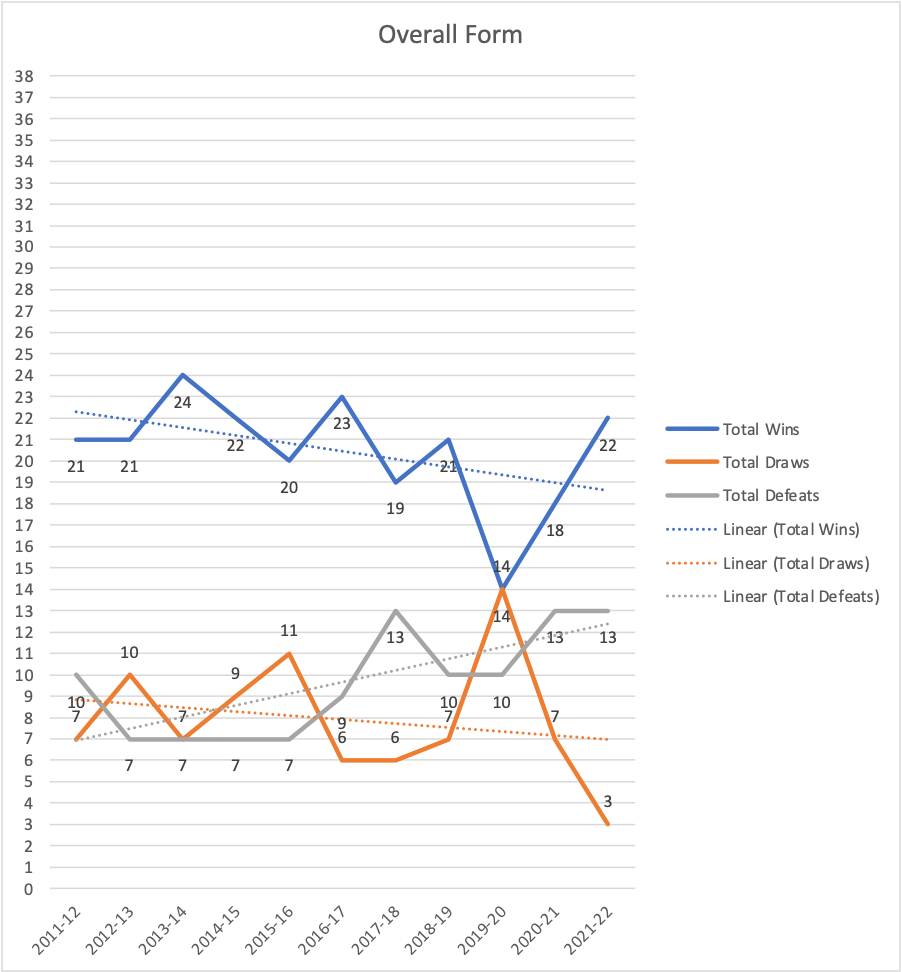 This season, Arsenal achieved their second highest win total in the last 5 years, and the 3rd highest over the last 10, bettering that of 2011-12 (when they finished 3rd) and 2012-13 (when they finished 4th). This has been helped by the reduction of draws, only managing 3, the lowest in the league this season and their lowest in Premier League history. Sadly, the sustained level of defeats, the joint most since Wenger's last season in charge, are what has held the club back this season and prevented them from progressing higher up the table. Arsenal were never any higher than 4th all season, and the fact they spent most of the second half of the campaign bouncing between 4th and 6th due to their erratic form provides further justification that, ultimately, 5th place was the correct place for them to finish.
And so, to next season. Arsenal have no doubt benefitted from being European Tax-Free this season. Under Emery and Arteta last season, league campaigns have been compromised by a long Europa League campaign diverting the focus, to the detriment of the final position in the table. Such a luxury will not be afforded to them next season. Sustaining this upward trajectory whilst juggling the extra workload that comes with competing on the European front will be a stern test of Arteta's managerial credentials. It's up to him and the club to maintain this strong momentum, invest well this summer, clear the decks of the remaining deadwood and lower that eye-wateringly high loss rate.
Thankfully, Arsenal finally have their foundations set. They now have a starting XI that, had they stayed fit, would have almost certainly taken home at least 4th place. The goal now has to be to create the squad depth needed to protect this side and offer strong rotational options, especially with the addition of European commitments. Arsenal binned off most of the stragglers in the winter, but those that remained were still not strong enough to last the course. Goalkeeping looks sorted, with Ramsdale a certain starter, and a deputy identified in Matt Turner, now that Leno looks to be departing stage left. The return of the enigma that is Saliba, who won the UNFP Ligue 1 Young Player of the Year during his loan spell at Marseille, will provide much needed cover at centre-back. Arsenal look ok at fullbacks, but is Cedric good enough? He scored a nice goal against Everton, and whilst he initially deputised well in Tomi's absence, he looked shorter and shorter as the season entered the crunch. Midfield is where Arsenal need to reinforce. El-Neny did a job, and may yet stick around another year, but he is not the future. Sambi is still raw and will need more game experience before becoming a guaranteed starter. The Europa League will do him a lot of good. Xhaka and Partey are the go-to pairing, and when they have played together, they have done very well. However, relying on Partey to stay fit for a whole season is starting to look like a long shot based on the last two seasons. A strong alternative will provide cover and rotation. And then there is the striking department.
A season which started with academy star Folarin Balogun struggling to lead the line at Brentford ended with another Hale End graduate in Eddie Nketiah scoring against Everton and become Arsenal's top-scoring striker this season with 5 goals. And in between, chaos. A striker who lacked discipline off the pitch was sent to Barcelona, whilst another who lacked any semblance of consistent form was eventually relegated to the bench. Auba and Laca have had their moments in an Arsenal shirt, but this season neither of them offered anything that warranted the money Arsenal expended to acquire them. Auba's final kick in an Arsenal shirt, a scuffed miss at Everton to deny Arsenal an equaliser with the last kick of the match, epitomised how far his stock had fallen.
Whereas whilst Laca initially flourished as a link up player, a scarcity of goals undermined the logic of starting him. It is Nketiah, to the surprise of many, who has shown the most aptitude for being Arsenal's lead striker, with his 5 goals almost helping Arsenal mount a successful late charge for 4thplace. With Auba gone and Laca almost certainly going, Arteta faces the dilemma of trying to prevent Eddie from leaving too. The strong late surge hints at a striker finally finding his feet at the club after years warming the benches and struggling to make an impact when coming off them. However, it was Nicolas Pepe who was Arsenal's in form player at the tail end of last season, and this time around he has been atrocious. And will Eddie even want to stay, with new blood almost certainly coming in to be first choice in a position, which at present, is only held by him?
Getting the striking department correct will be the most crucial decision made this summer. Shockingly, since the 2017-18 season, when Arsenal signed Laca and then Auba, Arsenal have not invested in a single out-and-out forward in the transfer market (Academy signings aside). Signing and then persisting with two ageing forwards ultimately led to the endgame we saw this season, and the failure to have a succession strategy in place has led to this current predicament. The acquisition of a star striker is the most high-profile and high-stake of all signings. Arsenal can ill-afford to make a mis-calculation as catastrophic as Nicolas Pepe. Whoever they buy will need to hit the ground running and justify the amount they have invested in them (and that will be a lot). Furthermore, it needs to be a forward that does not over-balance the side.
Too often, Arsenal have built a team that is all surface, no substance, relying on the individual brilliances of the likes of Van Persie, Sanchez and Aubameyang to drive their campaign forward. Such moves are not sustainable, as we saw in 2016-17 and 2019-20. The striker needs to compliment the team, not be the team itself. We all saw what happened at Manchester United this season with the re-signing of Ronaldo. Whilst he was individually superb, the rest of the team went in reverse, undoing the work built the season prior.
This will probably be the biggest signing, and the biggest gamble, of Arteta and Edu's time at the club. Get it wrong, and they risk jeopardising the hard work they have put in thus far. Get it right, and this could be the springboard for Arsenal to reach the next level. You only need to look up the Seven Sisters Road to see the evidence of a good strike force. Spurs were just as erratic as us this season, but that potent forward line of Kane and Son, combined with the mid-season signing of Kulusevski, were what ultimately gave them the edge in the race for 4th place.
So, plenty of work the club to do this summer. This season may have ended with Arsenal falling short this season, but the steps made throughout should put Arsenal in a strong position for next season. Long term planning is good concept, but there has to be a conclusion to it. Arteta is now entering his 3rd year as a full-time manager of Arsenal. The message has been clear, the progress has been obvious. The fans, the players and the club are all firmly behind him. It is now up to him to reward that strong showing of faith next season. Get the summer right. Get the team right. The foundations have been set in place. Now build upon that rock the team that will take Arsenal to that next level.