With the 2020/2021 season of Premier League commencing this week, Arsenal took on newly promoted Fulham at the Craven Cottage. In this piece I will take a look at the tactics deployed by both the teams and how in particular Arteta's tactics both on and off the ball helped Arsenal breeze past Fulham to a convincing 3-0 victory.
Lineups:
Arsenal lined up in a 3-4-3 formation which often morphed into a 4-2-3-1/4-3-3 on the ball. Scott Parker on the other hand, decided to opt for a 4-2-3-1/4-4-2.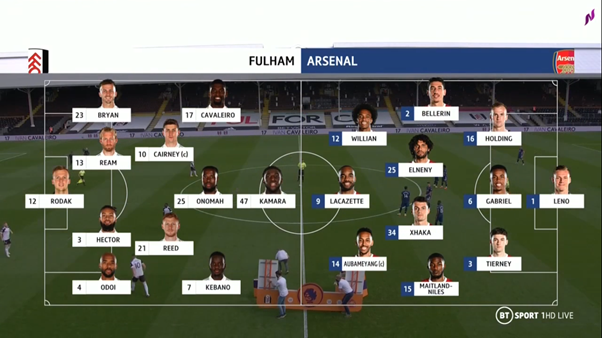 Arsenal's  Typical Build-Up Structure:
Even when lining up with a back three, Arteta has preferred building out with a back four with LCB Tierney moving wide as a normal left-back while the left wingback Maitland-Niles inverts in the left halfspace: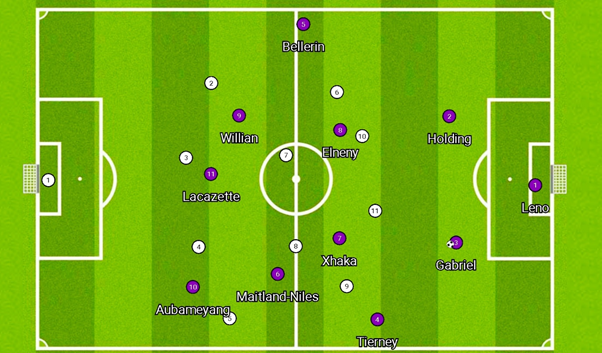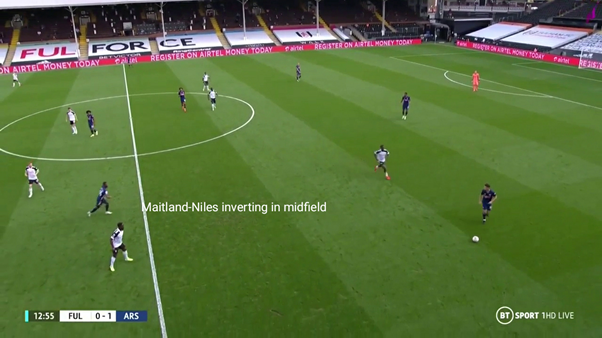 Arsenal Varied Build-Up Structure To Manipulate Fulham's Press And Their Excellent Left Wing Dynamic:
Fulham pressed in a 4-4-2 with the strikers opting to cover passing lanes to Arsenal's double pivot rather than pressing Arsenal's centre-backs. Though there were some pressing triggers on which Fulham's first line decided to press aggressively (trigger for LW to press Holding aggressively when Holding receives the ball etc).
To manipulate Fulham's press, Arsenal created a back three with Xhaka dropping to the left, pushing Tierney wide and high and Maitland-Niles inverting in midfield.
The back three created a numerical superiority against Fulham's front two, also creating a conundrum for Fulham's right winger/midfielder whether to press Xhaka to cover the numerical superiority but leaving Tierney free or leave Xhaka completely free which would allow Arsenal to progress the ball smoothly from the first phase.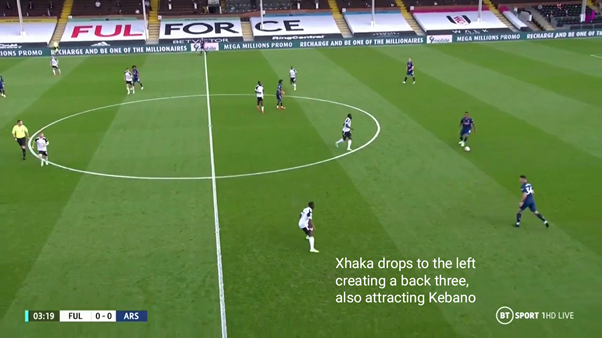 Most of the times, Kebano would often move to press Xhaka but this created a chain reaction: right-back Odoi then had to move up to close down Tierney, this further created space between the centre-back and full-back which Aubameyang can exploit with his nicely timed runs: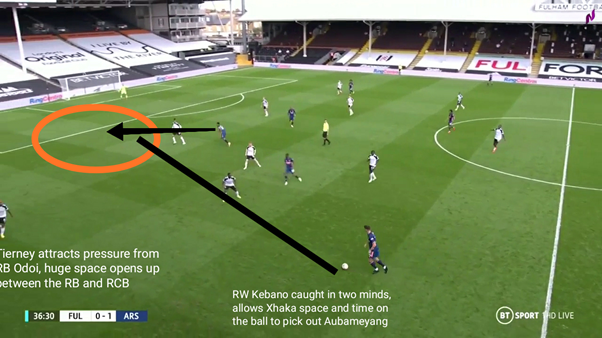 If the right centre-back follows Aubameyang then it creates another huge gap between Fulham's centre-backs which can be exploited by Lacazette or a deep run into the channel by Maitland-Niles: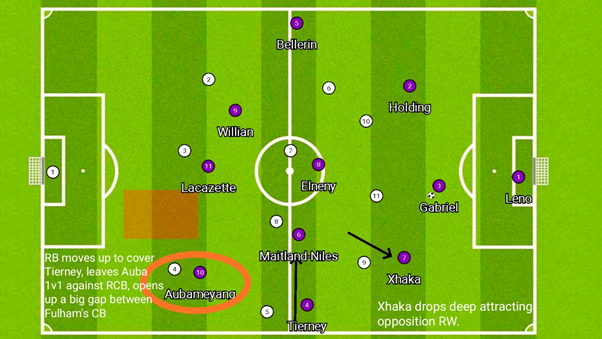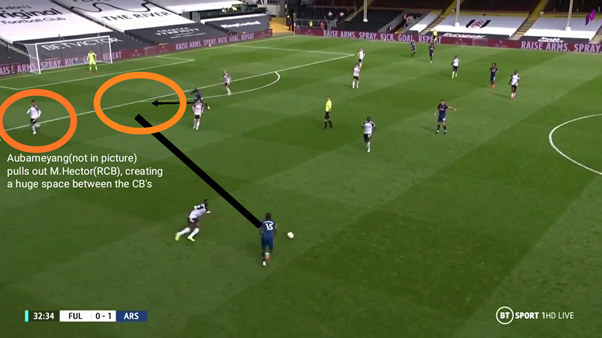 Wide Rotations On The Right:
Some eyebrows were raised when Arteta opted for new signing Willian instead of Nicolas Pepe, but the decision did more than wonders as Willian bagged three assists and put in an excellent display both on and off the ball. Willian rotations with Bellerin were quite noticeable.
While one provided the width the other slotted in the halfspace, following one of the basic principles of positional play: no two players being in the same corridor or in the same zone. This allows the attacking team to maximise the size on the pitch thus stretching the opposition defense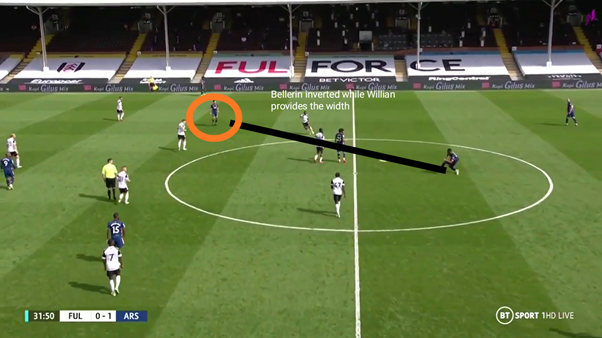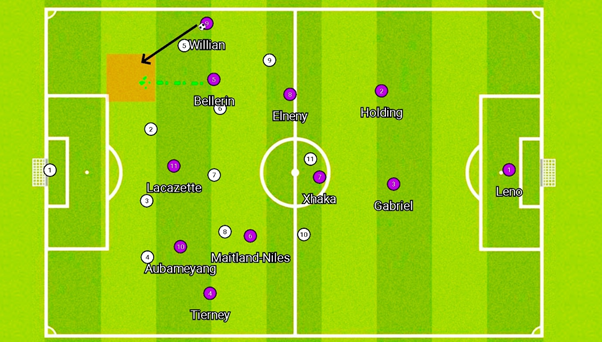 Arsenal's High Press:
Arsenal performance off the ball was as good as on it. The high press worked successfully in preventing Fulham from advancing the ball and on some occasions led to some good chances too by winning the ball high up the pitch.
Arsenal's press was as follows: Lacazette marks the opposition number six, Aubameyang and Willian come in narrow to press the centre-backs, Elneny, wingbacks and the wide centre-back press in a man oriented manner to while Xhaka covers the passing lane to Onomah: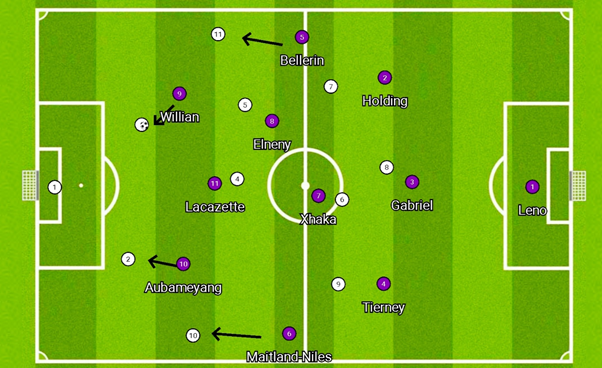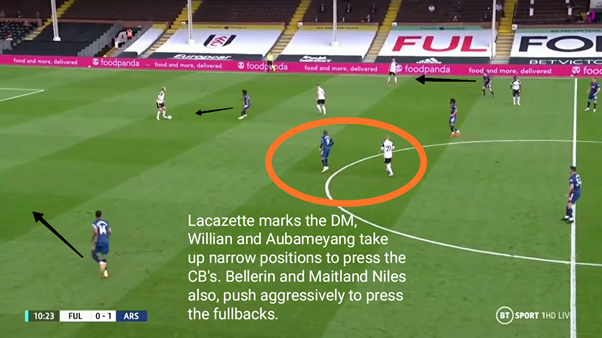 This completely annihilated Fulham.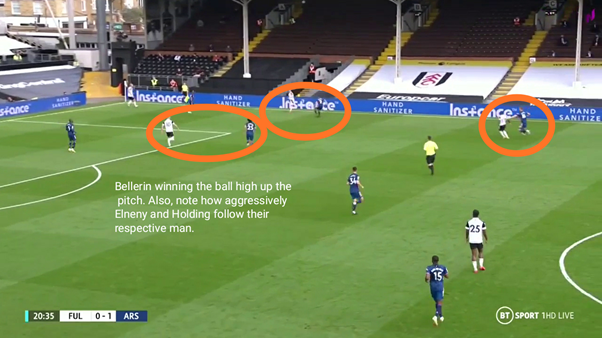 Arsenal's Solid 5-4-1 mid-block:
The back three also gave Arsenal the defend solidly when not pressing by defending in a 5-4-1 mid/low block. This shape allows for coverage of central passing zones plus easy shuttling when the ball moves out wide: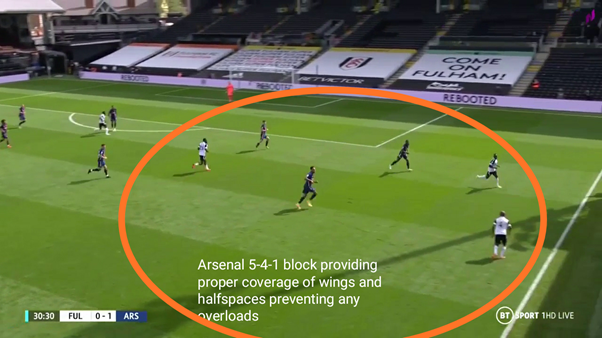 Conclusion:
Arsenal deservedly came out as 3-0 winners with great performances from new signings Gabriel and Willian. Arsenal with take on West Ham next week looking to take maximum points from the fixture before they face the mighty reigning champions- Liverpool.