In the end, was it really a surprise?
As Bruno Guimaraes smashed in Newcastle's deserved second at a rain-soaked St James Park, Arsenal's ambitious, and at times unexpected, push for the promised land of 4th place, came to a crashing, jarring halt. The dream was over. They'd had the games in hand. They'd had the cushion. They were at one point just one win away. And yet, in truth, it was always just beyond their reach.
The instant reaction from fans and pundits is that the charge was lost against Spurs. After all, with 3 games to go, Arsenal were in a strong position, with a 4 point gap above those below them. The loss to Spurs, when a win would have sealed the deal, must therefore be the direct cause. Right? Not exactly. No one game defines a season. In fact, it was all the game prior that put them in this predicament.

To say Arsenal's form this season has been inconsistent would be an understatement. Ahead of the final game of the season, they have won just over half their games, but lost roughly a third. The lack of draws (just 3) has made it a very binary season, with the form yo-yoing constantly throughout. And these are big swings too. Losses are usually followed by further losses, wins by further wins. Only twice this season have Arsenal responded to a sole defeat with a win (both following defeats to Liverpool). The winning runs got Arsenal to fourth, but the losing runs kept causing them to drop out again.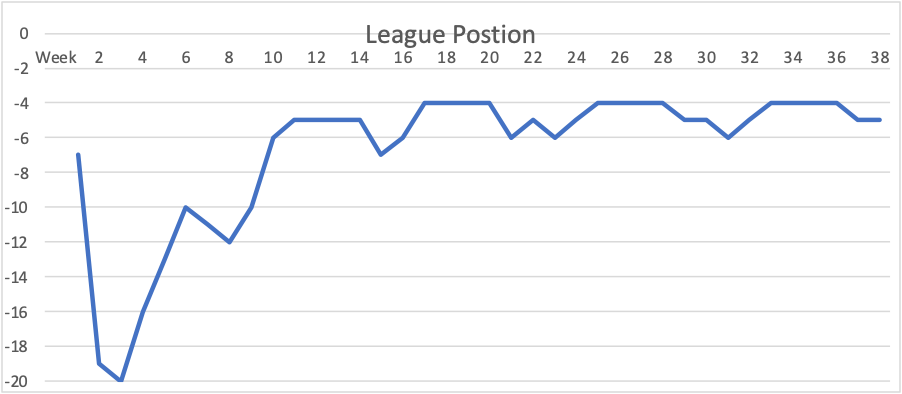 Whenever Arsenal found themselves in 4th place, they would only ever hold onto it for 4 games before losing their form and dropping to 5th or 6th place, forcing them rebuild once again. Like a child learning to ride a bike for the first time, once they realised, they were in control, they promptly lost it, fell, and had to go on another run to get it back.
Against Man City, Crystal Palace and then again against Newcastle, Arsenal ceded the league position they had worked so hard to attain. 4 wins would be followed by 2 games of dropped points. 6 wins in 7 would be followed by 3 without a win.
The inability for Arteta to get Arsenal to stabilise their form throughout the season, as they lurched from superb to shocking, is what has ultimately holed this charge for the Top 4 below the waterline. It wasn't so much the loss to Newcastle or Spurs, as it was the loss to Everton, or the loss to Brighton, or the loss to Brentford, or the loss to Southampton.
Yes, the defeats to Newcastle and Spurs are what finally put us out of our misery, but it was those poor runs earlier in the season that held us back, preventing us from escaping the chasing pack, and put us in the position where we were forced to get a win in two very difficult away fixtures to keep the dream alive.
To use Tennis parlance, our last winning run had suddenly found Arsenal unexpectedly at Championship point on the opponent's serve. Sadly, not only could they not find the break, but they also allowed themselves to be broken in the next game. Now it is us defending Championship Point, and on the opponent's, sorry, Spurs' serve, and on their terms. 
Inconsistent form is understandable with a young side. This is mostly a brand-new side, patched together following last summer's shopping spree. They lack experience in both playing at this high level and playing with one another. When the pressure has been off, they have flourished, such as at Stamford Bridge, when it looked like the season had gone. However, in the high pressure, intense games, like at White Hart Lane and at St James Park, they wilted, they crumbled, they collapsed.
They have also had to build relationships and generate chemistry on the fly throughout the season. As such, some players have started well but faded, whereas others have come to their peak post-Christmas. What hasn't helped is that when players have stumbled, Arsenal have lacked the options on the bench to change this.
When the chips were down against Newcastle, Arteta had no choice but to turn to Martinelli, Lacazette and Pepe to try and change the game. Gabi showed plenty of talent and pace, but the latter two offered next to nothing, as indeed they had for most of the season. The squad depth is shocking, as is the drop-off in quality.
Arsenal trimmed their waist in the winter window to move on players who weren't getting games but chose not to replace them, wanting not to panic buy and instead build again in the summer (Nightmares of Kim Kallstrom and Denis Suarez linger on…). It was a gamble, Arsenal's XI was good enough to get them over the line, and without FA Cup, League Cup or European Football, it was a clear run to the finish. Just win the games, rest, and go again.
After the at first, it worked perfectly, with 6 wins out of seven sending us flying up the table. But then, injuries and fatigue crept in at the vital moment, and the players that had remained to replace the likes of Partey, White, Tomi and Tierney, just couldn't match them for quality. Tavares and Sambi are young, raw, and lack experience at the sharp end of the season. Whereas, whilst Holding, El-Neny, and Cedric have the experience and will work hard for the team, they are now just simply not at the calibre required.
At clubs like Man City and Liverpool, a player coming off the bench can match or even increase what has just come off the field. Whereas at Arsenal, it invariably leads to a drop in quality and a change in formation to compensate (Holding's iconic '5-3-2' shut-out policy). That gulf in class reared its head in the NLD, when an Arsenal side now no longer operating at full strength saw its deputies concede a penalty and get sent off.
To compound the problem, even more, Arsenal now had no more wriggle room for rotation. Since the Chelsea win, the team had pretty much been the same. But against Newcastle, the engine ground to a halt. No more fuel in the tank, nothing left in reserve. Arsenal had run out of options and run out of luck. The performance was slow and laboured, epitomised by Ramsdale's uncharacteristically poor distribution from the back nearly leading to a calamitous goal within the first 10 minutes.
Newcastle were fresher and hungrier, reborn under the new ownership and management brought in late last year. Arsenal, meanwhile, looked like they were running through treacle, the marathon of games finally catching up to them at the tail end. It was the cruellest of ironies that the one player likely to be fittest of all, Ben White, would be the player to stick it past his own keeper to give Newcastle the lead early in the second half.
And then to twist the knife further, it was Bruno Guimarães, the player Arsenal courted during the January window, before electing not twist, who delivered the coup de grace to all but end Arsenal's Champions League dream. Pundits saw it as a negative rebound to Thursday's NLD defeat, when it truth, it was the strain of the accumulation of games an understaffed side was being forced to play through. The gamble to stick in January won them Europa League Football. It also lost them Champions League Football.
The simple truth is, at present, this is not a Top 4 side, nor is it one capable of competing against the very best in Europe. It lacks the quality, mentality, and experience to do so. If you cannot win away at Brentford, Everton and Newcastle, you shouldn't be in the Champions League. Had we somehow got over the line, would we have got out of the group? More likely, we would have scraped second and gone out in the last 16, or finished third and gone into the Europa League, which, barring a Norwich miracle, is where we shall be next season. The talk around the club is that this side would have been ahead of schedule had they reached 4th place this season, and on this basis, I agree with them.
Prior to the start of the season, fans just wanted a return to the Top 6. Top 4 seemed miles away. Yet the manner of achieving this ended up leading us up the garden path, that perhaps more could have been achieved beyond the season's brief. It wasn't on the table at the start, yet after Christmas we were re-writing the brief what Arsenal should be aiming for.
For that reason, not achieving it shouldn't be seen as a failure. It would have been a bonus, rather than the baseline. Instead, it shows that they are close, much closer than we may have originally thought. It shows that there is good stuff happening in that team, stuff to be very excited about.
But more work needs to be done before it can launch a credible assault on the Top 4. Greater squad depth, an actual strike force, and cover for the midfield are a must this summer. A European Tax-Free season helped Arsenal get back up the table, but you cannot rely solely on that to play Champions League Football. You have to earn the right to do so on your own merit. Just like in 2016-17 and 2018-19, fans will look at the final table this season with regret, wishing the team had managed just one more win, one more victory, that would have got them over the line.
The players know this as well. They know they had a chance, a good one, that was in their hands, to make history, and they blew it. Now they must channel that disappointment into next season, to make sure they are well clear when the crunch moments happen, that the need to hang on to a 1-point lead, and the pressures that come with it, no longer exists. If this team does continue to improve, if the club does its business properly, competently and early, then maybe this time next season, we won't need one more win. Maybe, we will have already won.