Mikel Arteta's Arsenal took on Jurgen Klopp's mighty reds on Monday night at Anfield. Despite, taking a somewhat fortunate lead through Lacazette, Arsenal failed to keep Liverpool's attack at bay, shipping in two goals immediately after taking the lead. Liverpool maintained the pressure throughout the second half as well and their new signing Diogo Jota finally sealed the match after scoring Liverpool's third in the 88th minute.
In this piece, we will take a look at how Klopp's tactics caused problems for Arteta's Arsenal.
Lineups:
Both sides lined up in their usual formations: Liverpool in a 433 while Arsenal in their 343. Liverpool made one change from their last match by bringing in Fabinho for Jordan Henderson. Arteta on the other hand, also decided to make a couple of changes by bringing in Maitland-Niles, David Luiz and Elneny for Saka, Gabriel and Ceballos respectively: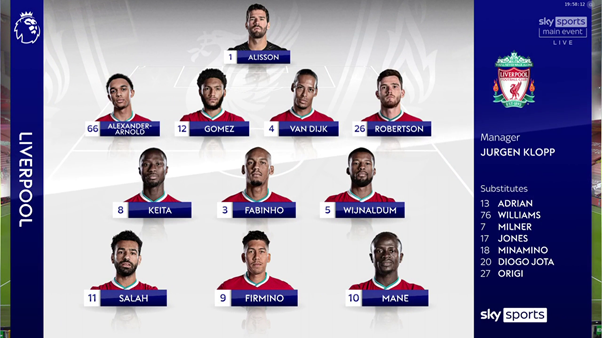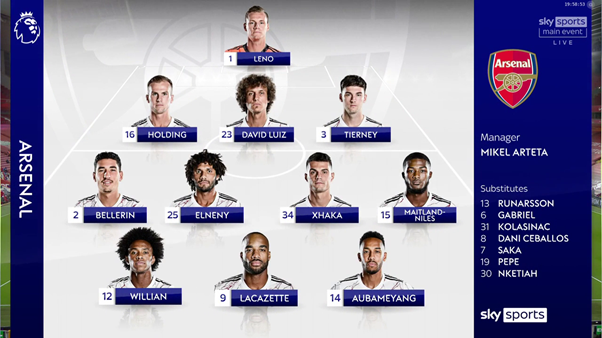 Liverpool's Strategies To Overcome's Arsenal's Press:
Arsenal lining up in a 3-4-3 presses in a 3-4-1-2 structure. Their pressing scheme was as follows:
-Lacazette sits slightly deep and marks Fabinho to prevent midfield overloads.
-Aubameyang and Willian come in narrow and press Liverpool's centre-backs with Willian in particular, pressing from the outside keeping Robertson in his covershadow.
-Xhaka pressed in a man-oriented manner while Elneny was a bit cautious and was slightly deep to prevent Firmino or Mane dropping deep/in the left halfspace.
-Maitland-Niles was tasked with pressing Trent aggressively upon his reception to limit him time and space on the ball (Trent is one of Liverpool's main offensive weapons!)
Liverpool tried to combat this initially by bypassing Arsenal's press directly utilising Van Dijk's excellent long range passing ability.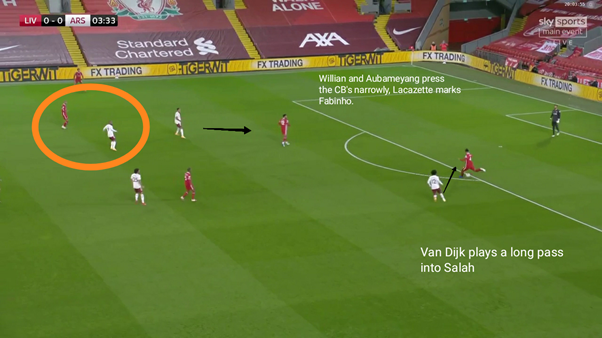 Van Dijk often went long to Salah since Maitland-Niles had pushed up to press Trent. This left Salah in 1v1 situations with Tierney, also pulling him wide and creating space for the likes of Firmino and Naby Keita.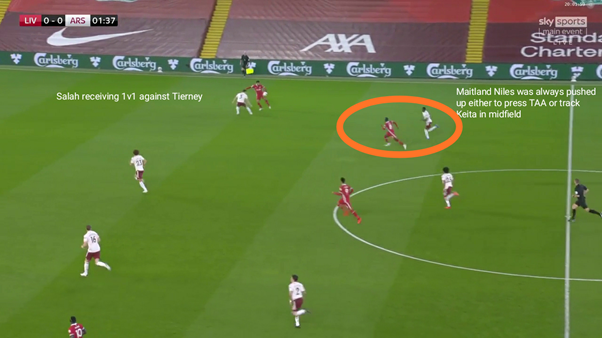 Liverpool Creation Of Midfield Overloads:
Liverpool adopted different build-up structures to aid ball progression and most importantly create midfield overloads. Their first approach was dropping Wijnaldum or Keita from midfield to their respective sides forming a back three. This in turn affected Arsenal's pressing scheme as well since, now Lacazette had to press the middlemost centre-back i.e Van Dijk to prevent him time and space on the ball. This also prompted Xhaka to move up and mark Fabinho.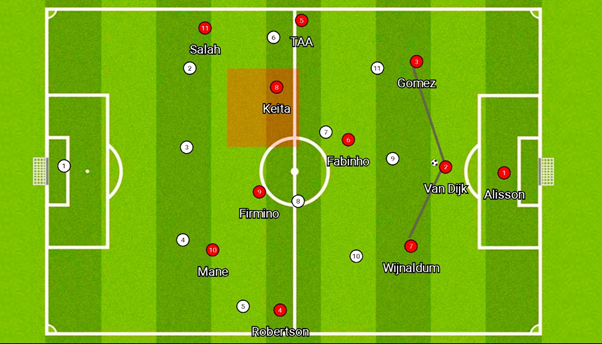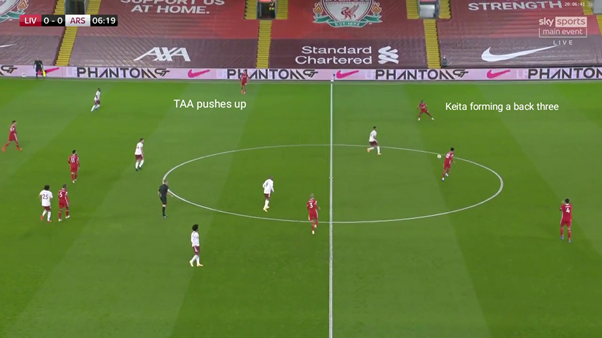 This led to Xhaka being overloaded 2v1 against Keita and Fabinho.
In the example below, Xhaka is marking Keita but this leaves Fabinho completely free(also note that Lacazette had moved up to press Van Dijk).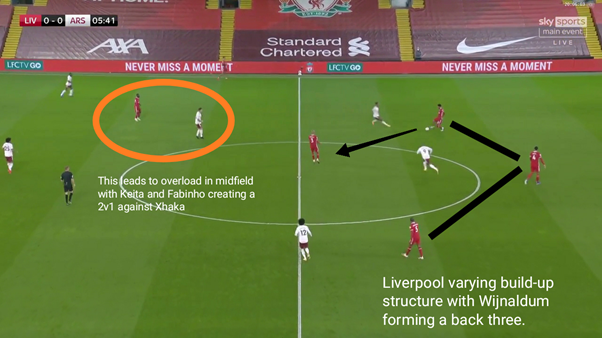 Here is another example where Keita decoy runs towards the touchline takes Xhaka with him leaving Fabinho completely free: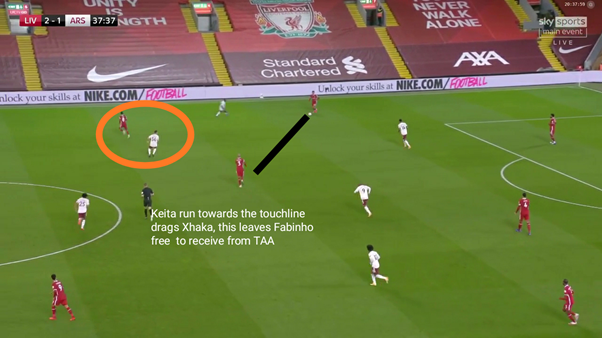 And when Xhaka marked Fabinho, it led to Keita or Firmino being free in the halfspace.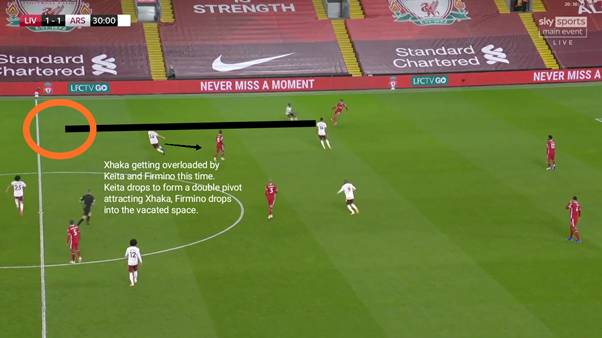 Arteta tried to combat this by having Maitland-Niles narrow in midfield to mark Keita: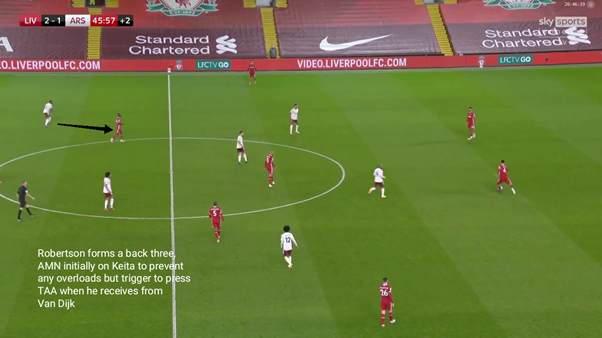 But Maitland-Niles still had to press Trent upon his reception to limit him time and space. But due to Trent's technical quality, he was able to execute long switches of play/crosses even in limited space.
Just before their first goal, Liverpool executed their typical pattern involving Trent, Salah and Keita with Trent positioned deep, Salah wide dragging Tierney with him which created space for Keita to make a run into channel between Luiz and Tierney. Trent played an accurate ball into the halfspace for Keita who laid it back to Salah and the action ended with Mane scoring on the other hand.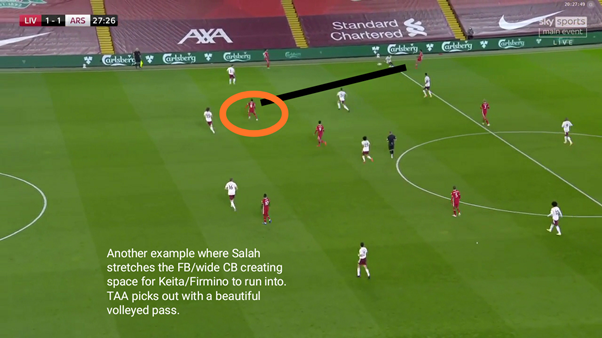 The second goal was also a result of a deep cross from Trent for Robertson on the other side.
Second approach by Liverpool was dropping Wijnaldum in a double pivot. Instead of pushing Elneny to mark Wijnaldum, Willian retreated from pressing Van Dijk to mark Wijnaldum. This freed up the left side for Liverpool. Mane usually dropped deep in the left halfspace/midfield and utilised his dribbling ability to drag Bellerin/Elneny with him, creating space for Robertson/Firmino.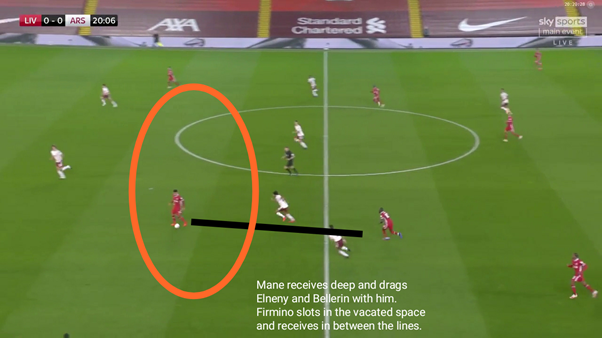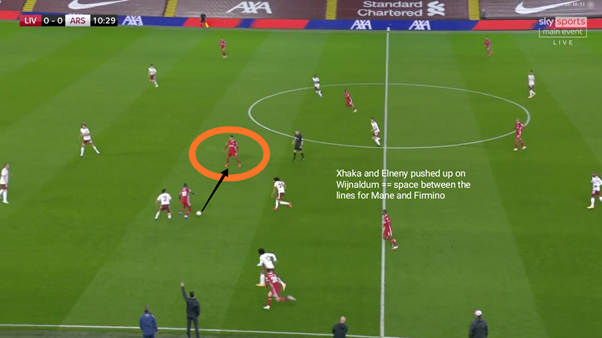 Arsenal's Build-Up And Liverpool's Demonic Press:
One of the most challenging tasks for Arsenal was obviously going to be against Liverpool's well known demonic press. Though Arsenal themselves have mastered the art of playing out from the back under Arteta (especially on goal-kicks), they struggled against Liverpool's press for the large parts of the game.
This was down to Klopp's adjustment from their previous games against Arsenal where Arsenal deployed a double pivot to overload Firmino in the first phase, but this time Klopp deployed Keita to eliminate that overload by placing him alongside Firmino to mark/press Xhaka while Firmino marked/pressed Elneny.
Arsenal succeeded in playing out from the back for their goal, which was a very good example of creation and exploitation of space by pulling Trent and Gomez out of their position and then ultimately exploiting that space later on.
Here is the sequence of play explained briefly: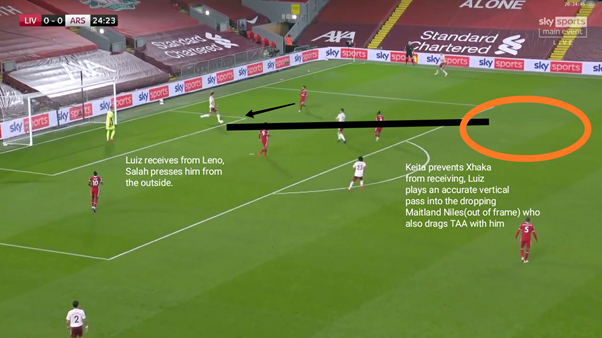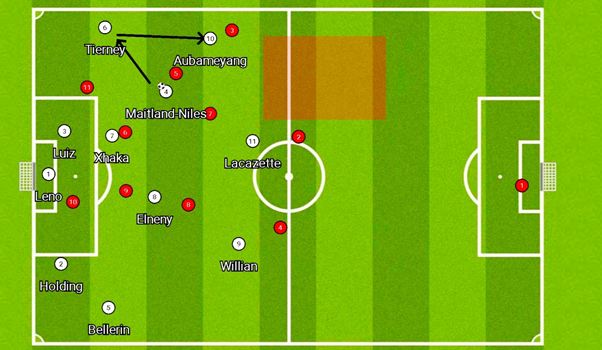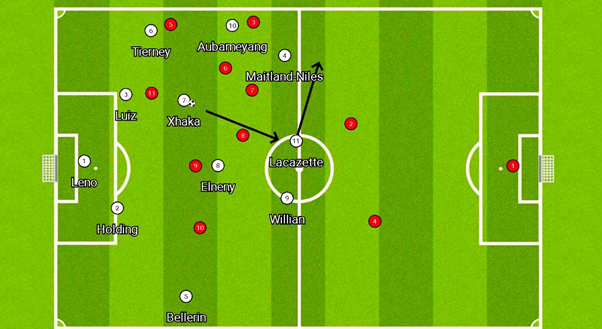 But the problem with this was that Arsenal tried to repeat the same sequence of pattern again and again. Liverpool adjusted their press accordingly after the goal, which restricted space and forced Arsenal out wide to Tierney, who was often forced into playing long balls upfield, which was obviously beneficial to Liverpool who had the likes of Van Dijk and Gomez winning the aerial duels.
Arsenal Exploit Liverpool's High Line:
Firmino often delayed to press Luiz, instead preferring to defend the passing lane into Elneny. This led to some situations where Luiz had ample time and space on the ball to pick runners behind Liverpool's high line.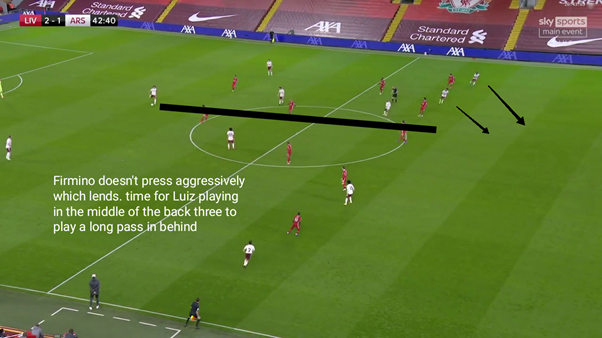 Arsenal's best chance of the game also came through when Ceballos played Lacazette in behind Liverpool defensive line which led to a 1v1 against Alisson. Unfortunately, for Arsenal Lacazette failed to capitalise on the chance.
Conclusion:
Liverpool deservedly came out as 3-1 winners thanks to their combination of tactical plan and individual brilliance. The game was a reality check for Arsenal, who are still way behind to compete for the title. Although with Arteta, they have got a coach that if backed properly can truly bring back Arsenal to the big stage.