Having been inconsistent in the league this season, both Arsenal and United had a chance to make a statement this weekend. Moreover, it was a chance for both the managers to showcase what tactical weapons they have in their locker.
Solskjaer opting for a 4-4-2 diamond instead of 4-2-3-1 made the game more interesting as it created an imbalance: 4 v 2 in the midfield for United while a huge advantage for Arsenal on the flanks due to the narrowness of the diamond. It was upon the managers as to how they maximise the advantages and minimise the disadvantages that their system possessed. And it was Mikel Arteta's Arsenal, who constantly exploited and overloaded the flanks and also nullified, in fact, annihilated United's build-up play via their excellent pressing.
United Fail To Capitalise On The Midfield Overload:
Arsenal's pressing structure reduced the 2 v 4 overload to a 2 v 3 with Lacazette marking the deepest midfielder. Aubameyang and Willian pressed United's CB's, Partey and Elneny man-marked Pogba and Bruno respectively, wingbacks also pushed high to press Wan-Bissaka and Shaw.
This created a spare man in the form of Scott Mctominay. Who dropped deep to form a 2v1 overload on Lacazette.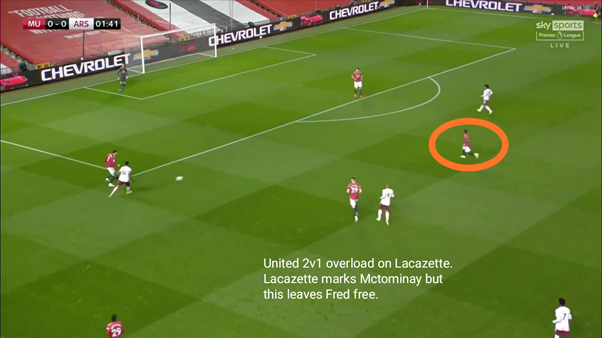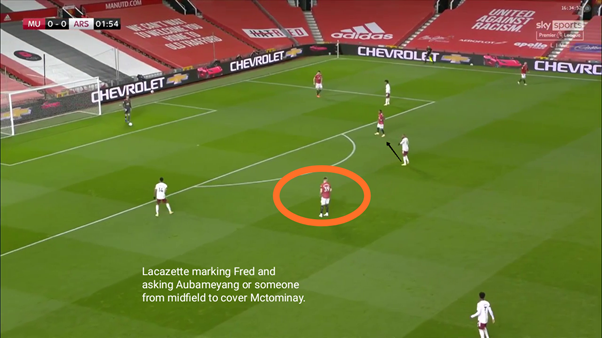 But Arsenal adjusted this after a few mins with them simply having Aubameyang drop deep to mark/cover-shadow Mctominay thus covering the overload.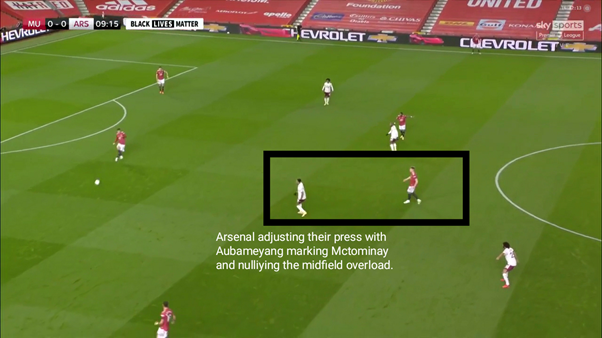 This gave Lindelof time and space on the ball but with all the central passing options, he was forced to go wide to Wan-Bissaka, who was pressured immediately upon reception by Bukayo Saka.
Saka's starting positioning in the press was also a bit peculiar. He started centrally, just like he does in possession, but drifted wide to press Wan-Bissaka covering his inside passing options, and due to a lack of width, there were often no passing options on the outside ahead of Wan-Bissaka, forcing him backwards.
The United centre-backs, who were afforded time and space on the ball couldn't go direct either as Rashford and Greenwood were often narrow and dropping deep rather than running in behind. In short, United's structure was abysmal in the first half.
Arsenal's Playmaker: Their Efficient Pressing:
Arsenal not only prevented the midfield overloads from occurring, but also utilised the situation in their favour by winning the ball centrally and in the opposition half.
Pogba and Bruno were tightly marked by Partey and Elneny, often being forced to receive facing back to goal. Here is an example of Partey from behind and Lacazette in front dispossessing Pogba and starting a counter-attack in the opposition half: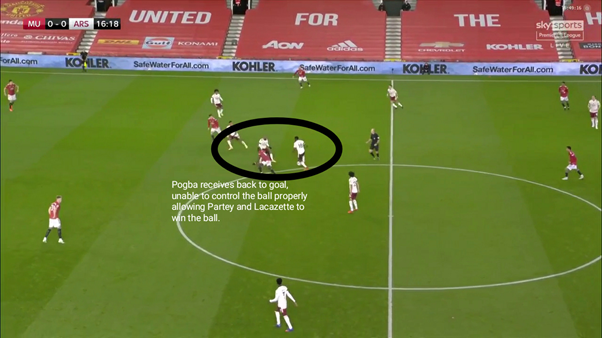 United just like City, tried to exploit the Arsenal double pivot's man-oriented press by often dragging them wide and creating space for Greenwood or Rashford to drop into: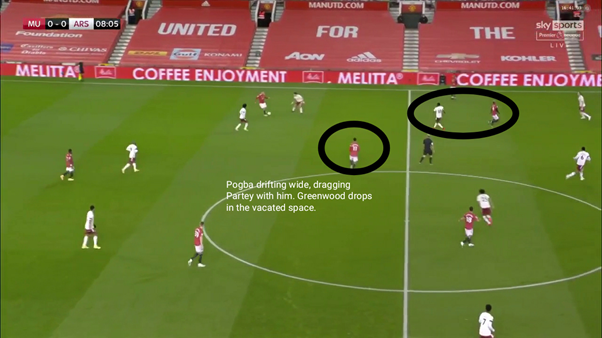 Arsenal also prevented these situations from occurring regularly, with Gabriel or Holding stepping out often to engage in duels with Greenwood or Rashford.
See below how Holding follows Greenwood so deep in United's half.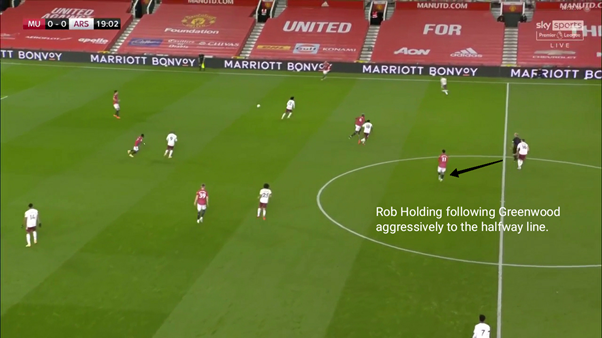 Arsenal were comfortable in committing their CB's high up the pitch since United lacked the width and numbers to exploit space at the back.
United also missed Martial, whose link-up play they missed badly. Gabriel had a really great performance and showed bravery to step out and dispossess Rashford and Greenwood dropping deep, winning the ball in the opposition half.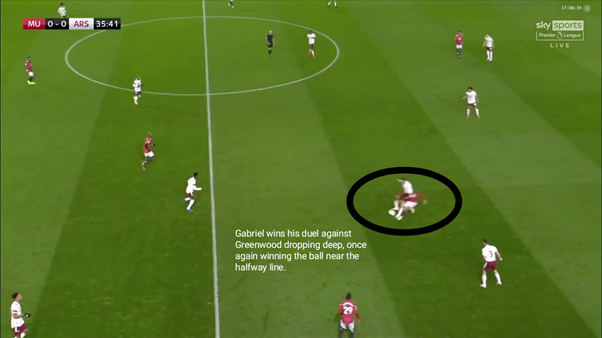 Look at how high Gabriel travels to follow Rashford, winning the individual duel and starting the counter-attack high up the pitch.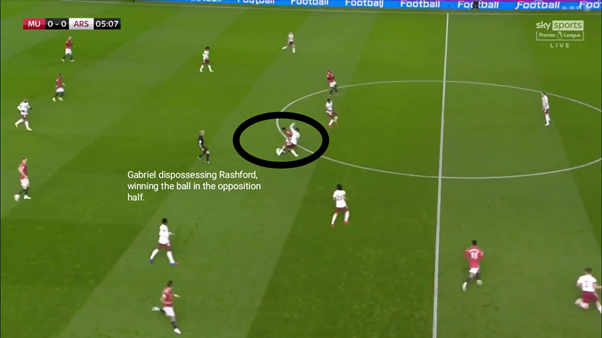 "No playmaker in the world can be as good as a good counterpressing situation" – Jurgen Klopp.
Not only those counterpressing situations helped to create chances but also acted as a sort of defensive mechanism since, United failed to get out of their own half.
2v1 Overload On Shaw:
United faced issues due to having a lack of width in defensive situations as well. This happened a lot on their left flank with Pogba often getting attracted to Partey and leaving Shaw in a 2v1 situation against Willian and Bellerin.
Arsenal exploited these situations relentlessly: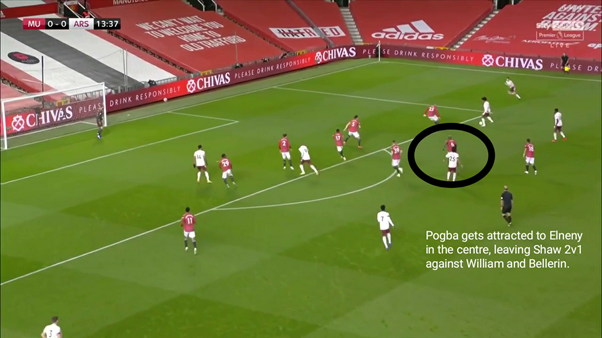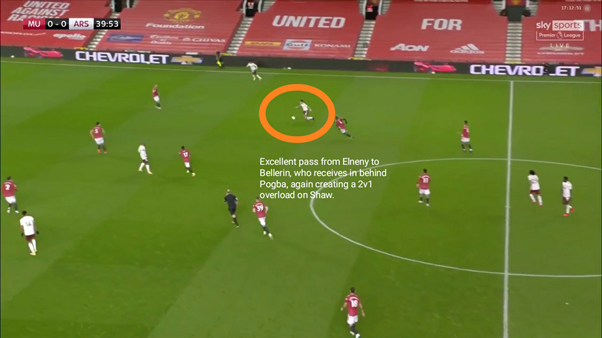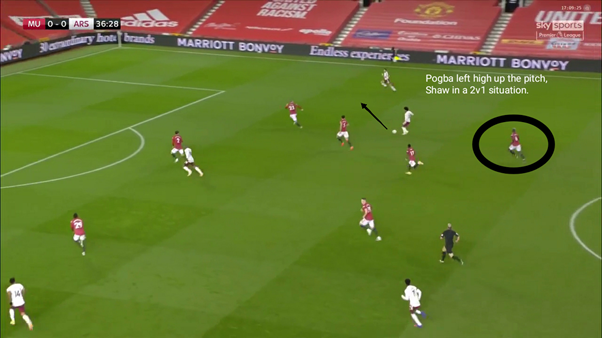 The Difference Maker: Thomas Partey
I don't usually comment on individual performances while doing tactical match reviews and instead, focus on the collective structures/performances of the team. However, in this case, it would be a complete injustice to not talk about Thomas Partey. After all, it's the individuals who make the whole, and help to maximise the collective objectives. If there was no Thomas Partey, would our counter-pressing/pressing have been as effective?
The following example perfectly illustrates what Thomas Partey is all about:
1. Excellent anticipation of the pass from Fred: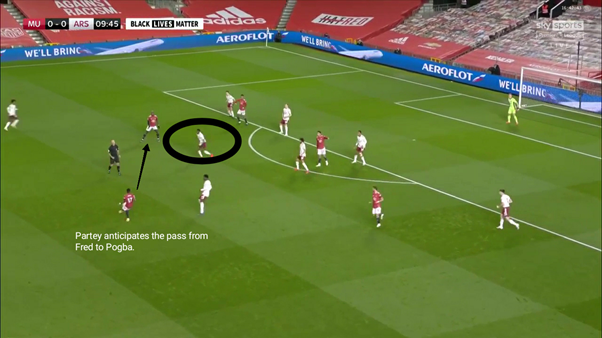 2. Interception of the pass: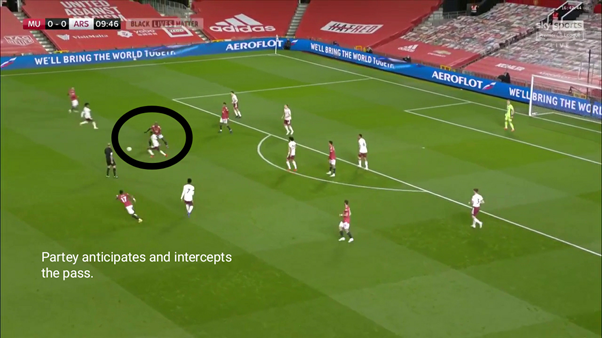 3. Travels up the pitch and dribbles past Fred: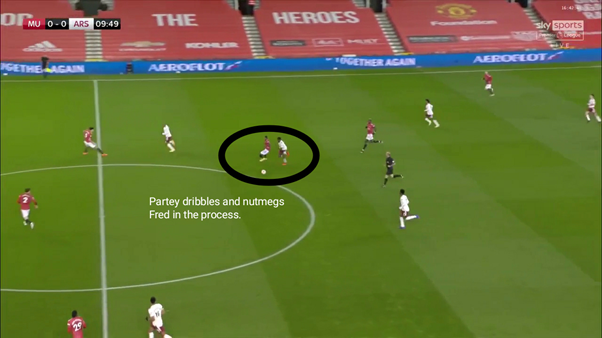 4. Plays it into Aubameyang and makes a run in the box: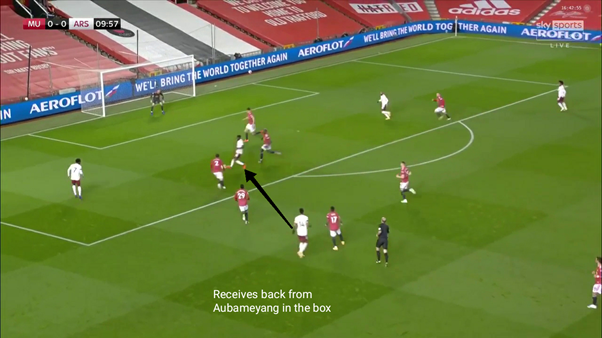 Football is an inherent game of randomness with one interception, one tackle and one pass having the ability to change the entire flow of a game. Partey, with his excellent characteristics in all phases of play helps us to control this randomness.
United Switch To 4-2-3-1:
Ole decided to change the formation in the second half to a 4-2-3-1 by placing Pogba on the left and Greenwood on the right. The problems from the first half were still there, but now they had an option to go direct and attack the channels. It helped them to a certain degree in terms of ball progression, but having said that, there was a negative effect on their pressing, which was significantly better in the first half. It allowed Arsenal to progress through the first phase easily and helped us establish control between the 55-70 min mark when the penalty was ultimately won.
The game was all about having the right balance. Arsenal took some risks but always had the right balance in all phases of play. United on the other hand, despite changing the system were devoid of the necessary balance and their lack of ingenuity in possession meant that they were unable to cause any significant problems to Arsenal.
In the end, Arsenal and Arteta walked out as deserved winners securing the first away win against 'big 6' opposition since 2015 and first win at Old Trafford since 2006.