It is Europa league night once again. Last time around, impressive performances from Arsenal's young attacking trio: Nelson, Willock and Nketiah helped us breeze past Dundalk with a comfortable 3-0 victory.
In this piece, I will take an in-depth look at Willock's performance and highlight how he is the exact profile of player Arsenal are crying out for since Aaron Ramsey left the club.
Arsenal's Attacking Structure Under Arteta (Pre-Lockdown):
When Mikel Arteta was appointed at Arsenal, he decided to implement a 2-3-5/3-2-5 shape in possession and 4-4-1-1/4-4-2 block out of possession.
The main goal with the attacking shape was to create numerical superiority in the first phase (Xhaka dropping deep alongside the CB's), create wide overloads in the second phase (Xhaka,Saka,Auba on the left and Maitland-Niles,Pepe and Ozil on the right) and finally look for cutback/cross opportunities in the final third.
Arsenal typical attacking shape resembled this: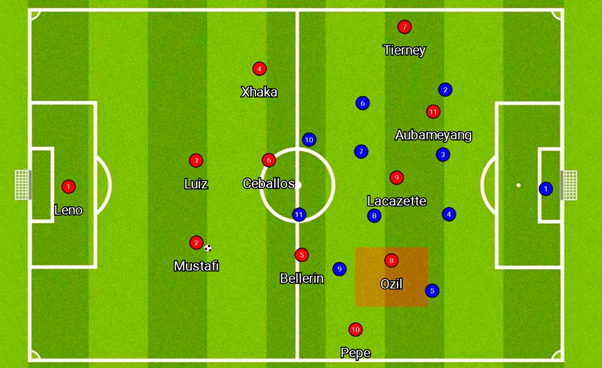 Even though we were more left-oriented, we were still able to use the right hand side to create chances. Ozil, high in the right halfspace connecting with Pepe was a role that suited him very well.
Arsenal's Structure Post Lockdown:
While Arsenal were able to create sufficient chances in their previous attacking shape, there were still concerns about defensive solidity. For this, Arteta decided to switch to a back three and adopting a 3-4-3 formation which still resembled a 2-3-5/3-2-5 in attacking phase with the left centre back often moving wide and the left wing back inverting.
This time around though, our build-up is a lot more left oriented.
For instance, see our typical attacking shape against West Ham: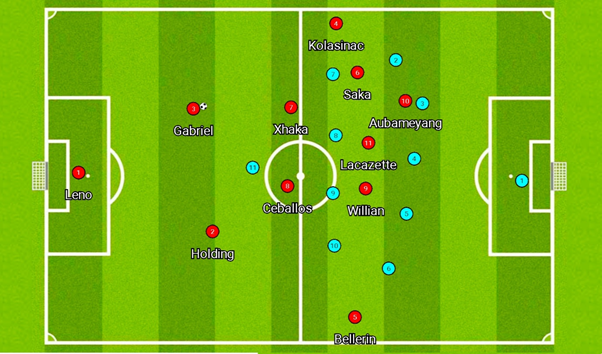 This problem is well highlighted in the picture below with no positioned in between the lines to receive: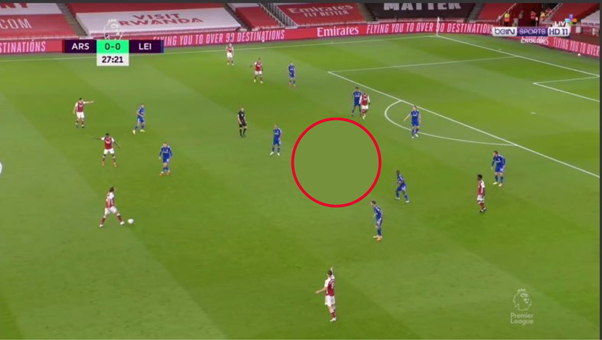 Willock's Performance Against Dundalk:
Now we will take a look at Willock's performance against Dundalk and how he could potentially solve our problems against low blocks.
Intelligent Positioning Between The Lines/ High In The Right Halfspace:
Although Arsenal adopted a back three out of possession, they usually build up in a 2-3-5/3-2-5 shape resembling pre-lockdown attacking shape with Cedric inverted, Willock positioned high in the right halfspace and Pepe hugging the touchline.
Here is Willock offering himself in between the lines: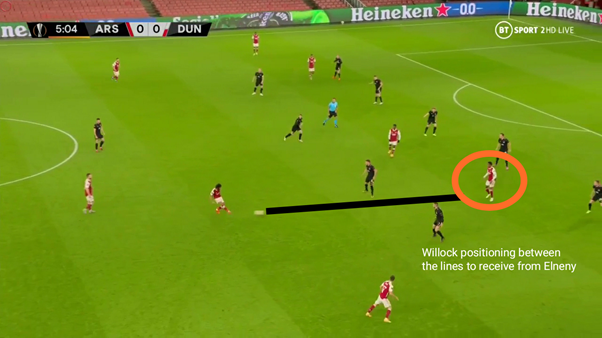 The example below shows his spatial awareness/game intelligence as well: initially positioned himself in the halfspace, he forces the opposition midfielder to shift across and close the passing lane to him: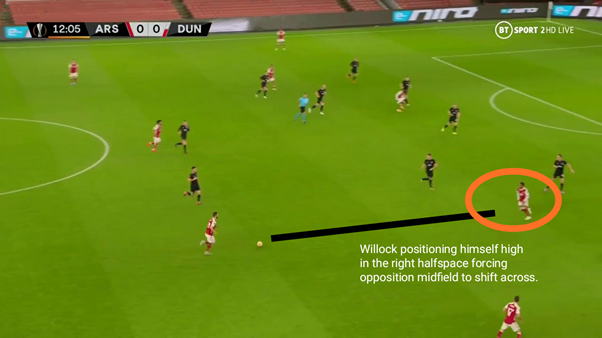 But this creates a new space in the centre, which Willock smartly recognises and moves into: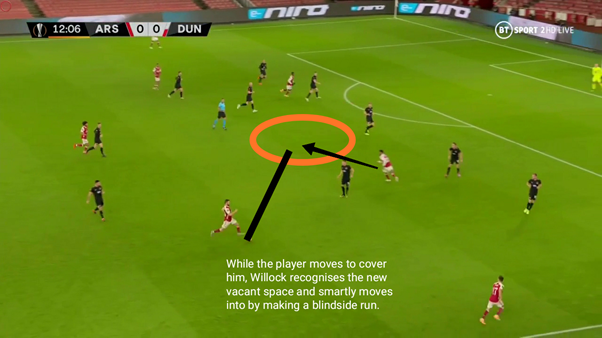 Unpredictable Runs From Midfield/Right Side Dynamic With Pepe:
Another thing we lacked against Leicester apart from positioning was movement from deep areas to disorientate Leicester's low block. Arsenal had no options with Xhaka, Partey and Ceballos all players who prefer to dictate play from deep than making runs in behind.
Willock may not be as good on the ball as the other three, but he offers us something different and something that we need!
Here is a good example of that:
Willock's high positioning attracts Dundalk's wide LCB, then the pass to Pepe attracts the opposite wingback which opens up a huge gaping hole for Willock to dart into: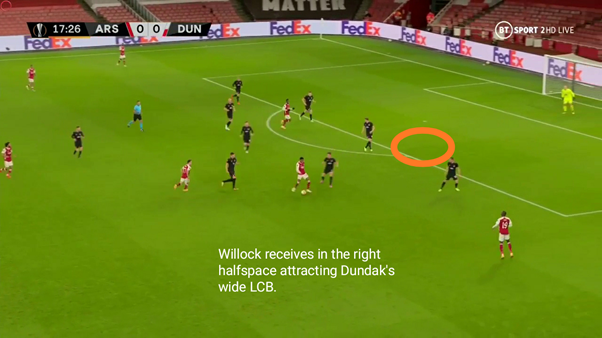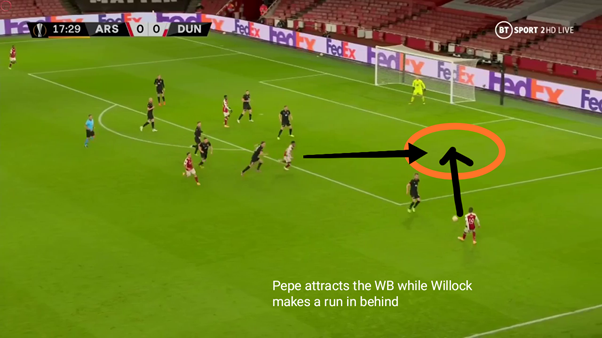 Another example of Willock's run causing havoc for Dundalk – Nketiah dribbles and plays it into Nelson, who furthers finds Willock as the third man in behind creating a dangerous situation for Arsenal: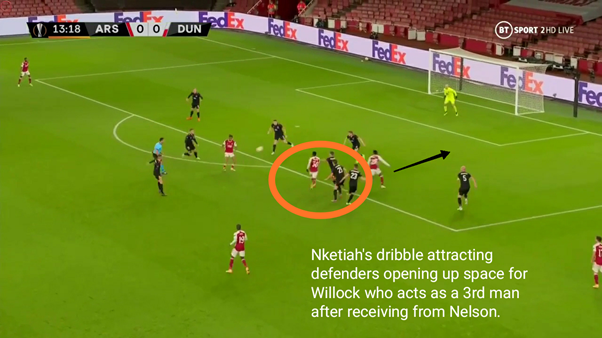 Most importantly, Arsenal were able to create wide overloads on the right just like they do on the left, adding more balance to their play: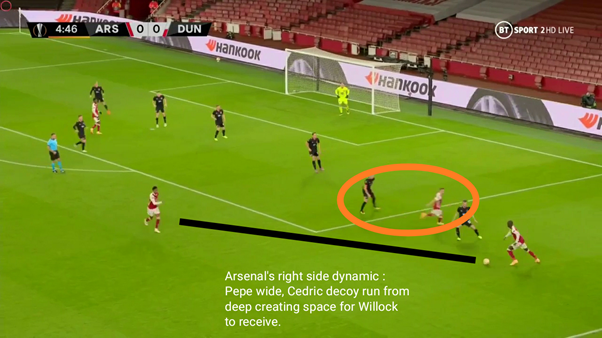 Late Runs Into The Box (Ramsey-Esque):
Ramsey established a very good partnership with Giroud, who often drifted wide or dropped deep, creating space for Ramsey to dart into.
Here is one of many examples of Ramsey's late run from midfield scoring a crucial goal for Arsenal and in this instance, helping secure Arsenal's 13th FA Cup: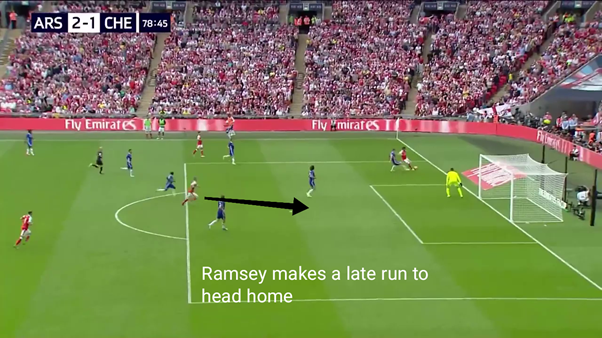 Willock also possesses a similar trait, with him always looking to dart into the 18-yard box and provide options for the player crossing the ball into the box: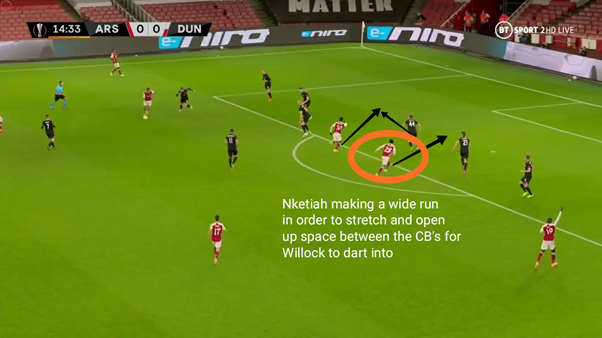 This trait is even much more important to have in our system given that our striker, Lacazette plays as a false 9, which means we need someone who can make movements into the opposite direction and provide runs into depth.
Adding Balance:
Correlating to my last point, here you can see how left-oriented we were against Leicester (1st pic) as oppose to Dundalk (2nd pic), clearly indicating how Willock added more balance to our attacks and helped us utilise the right wing more: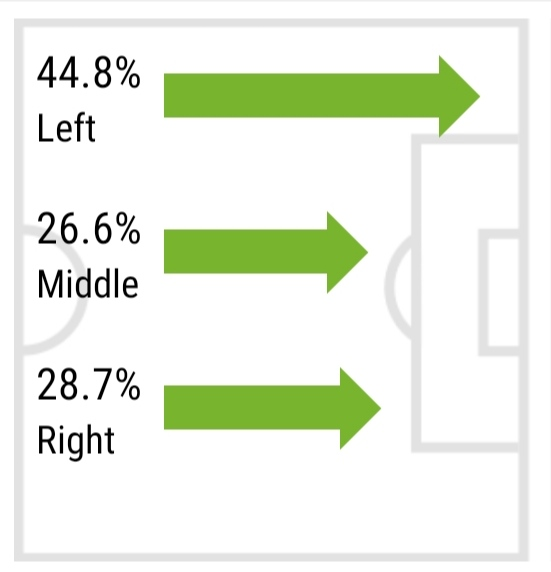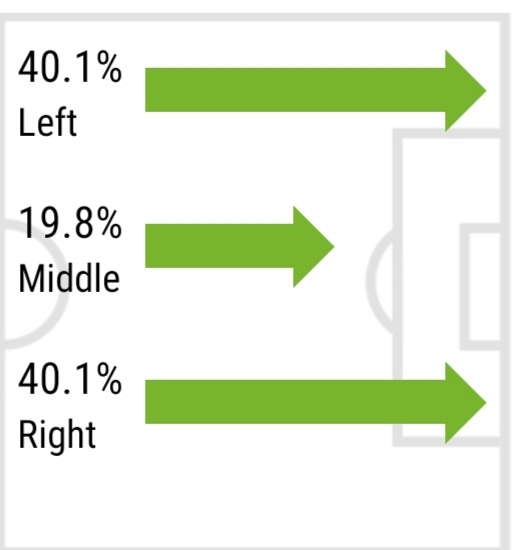 Final Word:
I am sure a lot of fans reading this would be saying "Oh, it is just Dundalk! Show me when he does this against Liverpool or Man City", are just completely missing the point! Willock does not need to do this against a bigger opposition since our system with a Xhaka/Partey or Partey/Ceballos would work fine against these sides as our main goal will be defensive solidity and ball preservation.
It is sides that sit deep like Sheffield, Leicester that we have struggled against with. Willock is young, lacks consistency but is the exact profile our midfield is lacking right now, so it is essential that we give Willock a platform to refine himself (that we are giving him in the form of Europa) and reward good performances with a place in the starting eleven against premier league opposition.