A perfect start to the season also saw a flawless debut for summer arrival Willian, who registered 2 assists. There were question marks raised when he started ahead of record signing Nicolas Pepe, but Willian's selection was justified.
Let's have a tactical look at how the Brazilian international fared, beyond just those 2 assists.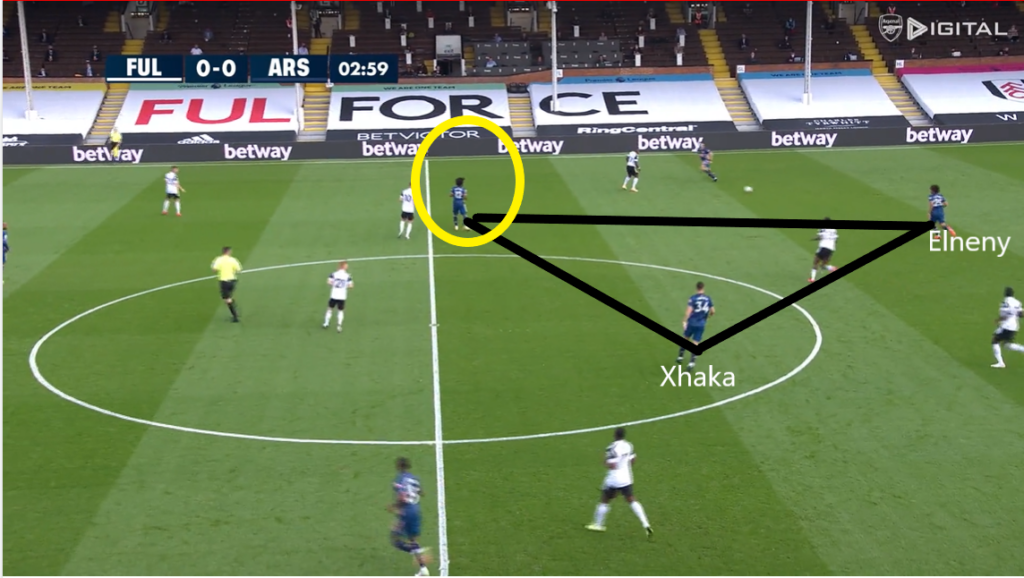 One of the first impressions of Willian is his willingness to make himself available when we build out from the back. If you look at his position here, it is where a #8 would be. He is super press resistant and was being trusted with the ball in tight situations. And little did he disappoint.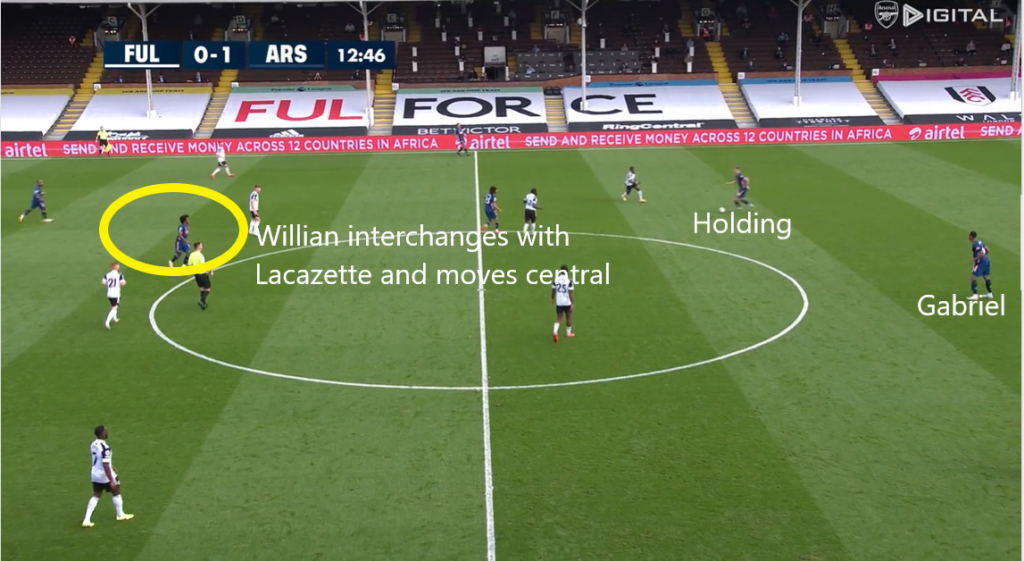 Willian is a very intelligent player in terms of finding space – he is given freedom to drift around, to try and take opposition players out of position. In this scenario, Lacazette is playing as a right forward after a nice little switch of position. Willian, positioned very centrally, is ready to recieve the ball in between the lines to help us progress the play. Bellerin, as you can see is really wide and holding the width down that right-hand side.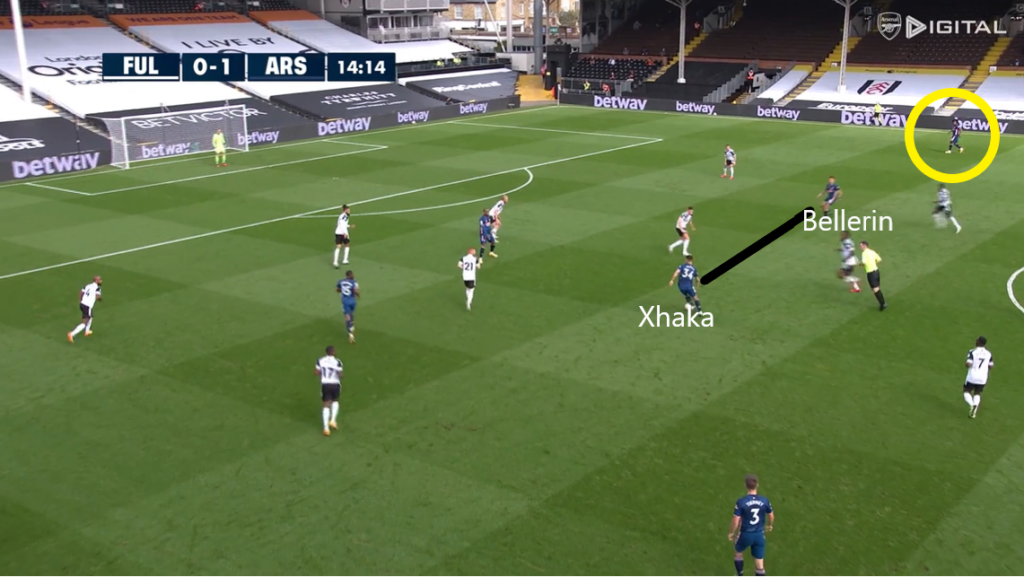 A facet to how we played is always one player outwide and one player in the half space. Bellerin and Willian's combinations were almost telepathic at times – they were aware of each other's movements and caused Fulham all sorts of problems. Here, you can see Bellerin playing in midfield and Willian playing as the winger.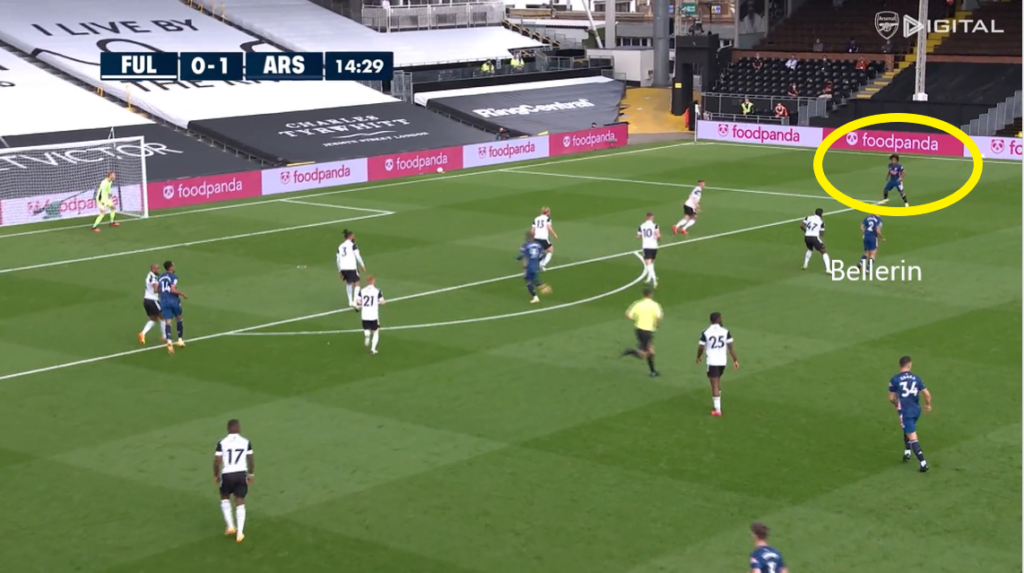 Fulham struggled to mark this side. The play leads to Willian having a free crossing opportunity with Lacazette and Aubameyang waiting in the box ready to pounce should a chance arrive.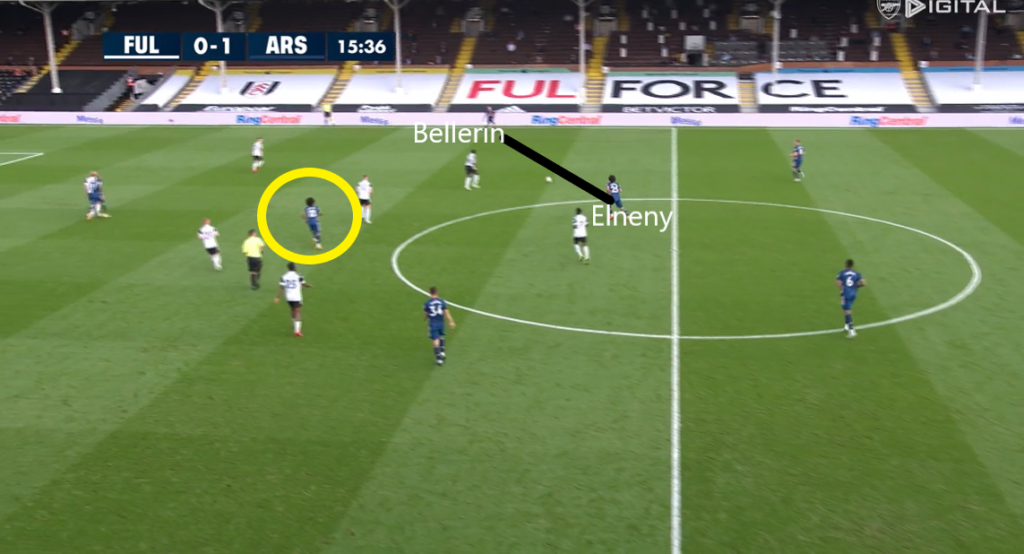 As you can see yet again, Willian is very central. But this time, the play moves towards Bellerin's direction. Willian starts drifting towards the right half space. He possesses excellent reading of situations and can follow tactical instructions to the dot – a reason he was one of Jose Mourinho's favorite players.
In this instance, Aubameyang finds space from the edge of the box. Bellerin recognizes this. Willian makes a decoy overlapping run to take Fulham's defenders away which allows Aubameyang a free run. Unfortunately the cross from Hector isn't perfect, or it would have been a beautifully crafted team goal.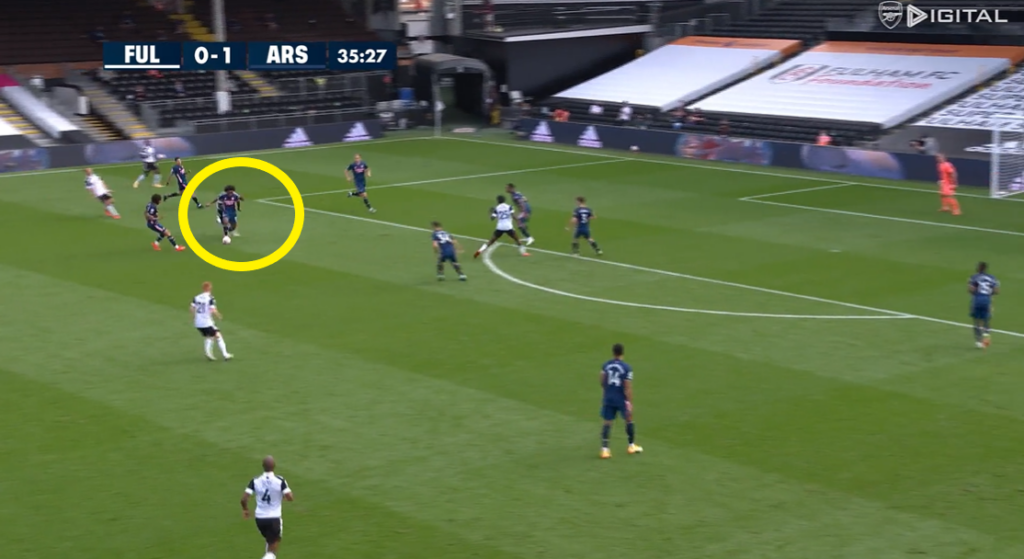 Another impressive aspect of Willian's game is to dig in for the team off the ball. This is a player, despite producing just 4 goals and 2 assists in the 2014/15 title winning season for Chelsea, got considerable minutes for his willingness to put in a shift. Excellent to see a winger putting in this level of effort to win balls back.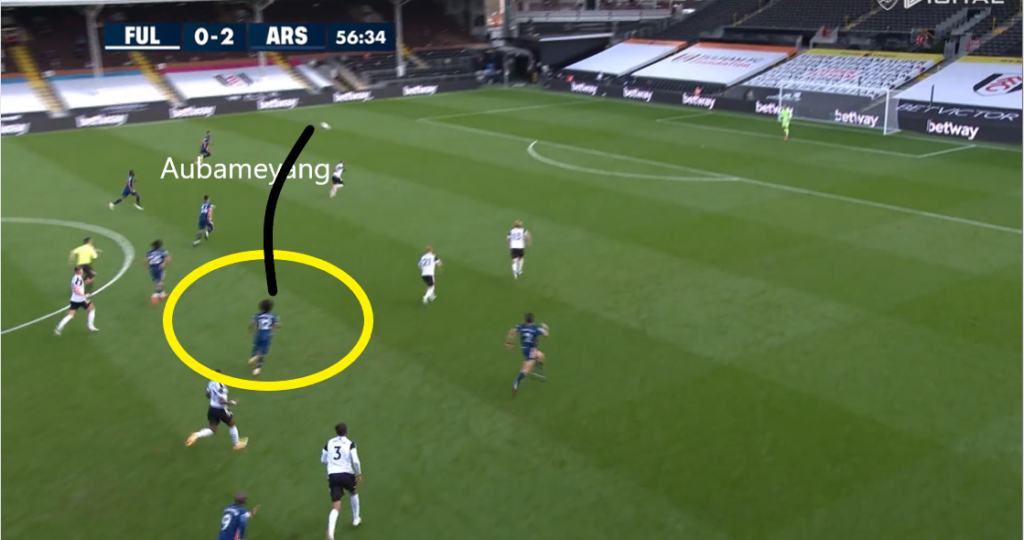 Then, his moment to show his excellent technical attributes arrived. After being alert to a situation where Lacazette was fouled and advantage played, Willian played the perfect lobbed ball across the pitch and after a great touch, Aubameyang scored his trademark far post curler which sealed Arsenal the three points.
Willian was unlucky not to score from a direct free kick which hit the post. Additionally, he assisted Gabriel from a corner kick – a good start for set piece specialist Andreas Georgson.
One of Willian's best qualities for me, is his ball retention. For someone who had 3 key passes, 1 big chance created, he only gave away the ball only once, completing 25/26 passes.
It will be interesting to see where Willian is deployed in Arteta's system – he's definitely intelligent enough to play a plethora of roles. He is a different profile to Pepe, who is more of a forward.
Right now, Arsenal don't have the midfield we need to build-up the way Arteta wants and Willian helps us a lot in this regard with his enthusiasm to get involved. Maybe, should we bring in Thomas Partey and Houssem Aouar, we will see Willian used from the left. One thing is for sure, he gives us plenty of potential solutions.
Competition for places can only be good. Mikel Arteta in his post-match presser Via Arsenal.com , stated that this competition can motivate players who did not feature:
"Well, it's not for Nico, I think it's for the players that were today on the bench and as well the ones that we had to leave at home. If they raise their levels then the performances of the team and club are going to improve and this is what I demand from them."
Thank you for your patient reading – see you in the comments! Interesting times ahead. Onwards.