When Bukayo Saka burst onto the scene with the Arsenal senior team, he played as the left-winger – but with Kieran Tierney getting injured, an 18-year-old Saka filled in admirably at left-back. He has also been utilized in a left central midfield role in a 3 man midfield and impressed.
However, Saka isn't the kind of player who is just a utility 'fill-in' type. His quality shines through wherever he plays – recently he seems to have found his best position on the right-wing.
Let's take a closer look at how playing from the right brings out the best in Saka.
If there is one attribute I have to handpick and say, 'This is what makes Saka special from the right-wing', it is his weaker right foot. He is super confident using this foot whenever required. Most left-footed wingers who play from the right aren't comfortable using their weaker foot.
Take Nicolas Pepe for example – his left foot is one of the best out there, but he is reluctant to use his right. And when he does, he looks off-balance, and seldom do those passes come off. What does this lead to? Fewer dribbling options to make openings.
Pepe is always forced to dribble in such a way he can come inside and whip in a cross or take a shot with that left foot – this makes him and many others somewhat predictable in what they do.
What makes Saka so devastating from the right is the fact that he's also able to play a first time cross or cutback with his weaker right foot. As a result, full backs are always going to be guessing when they are 1 v 1 with him.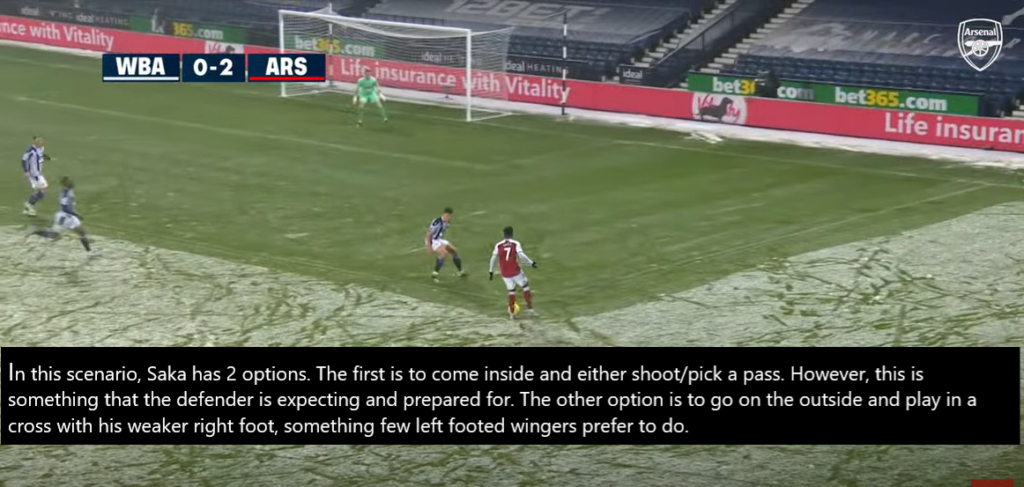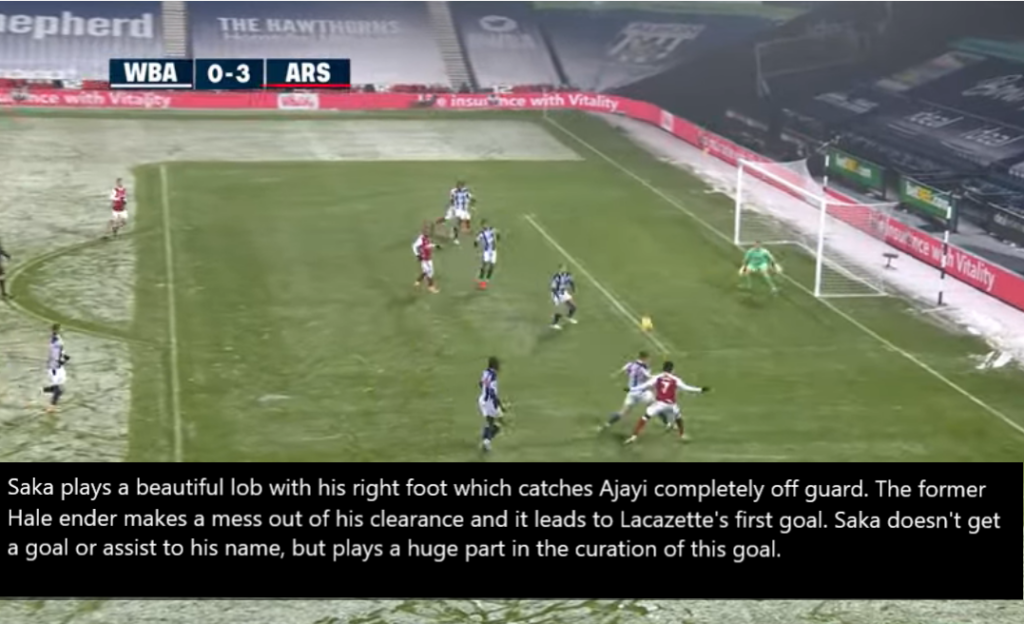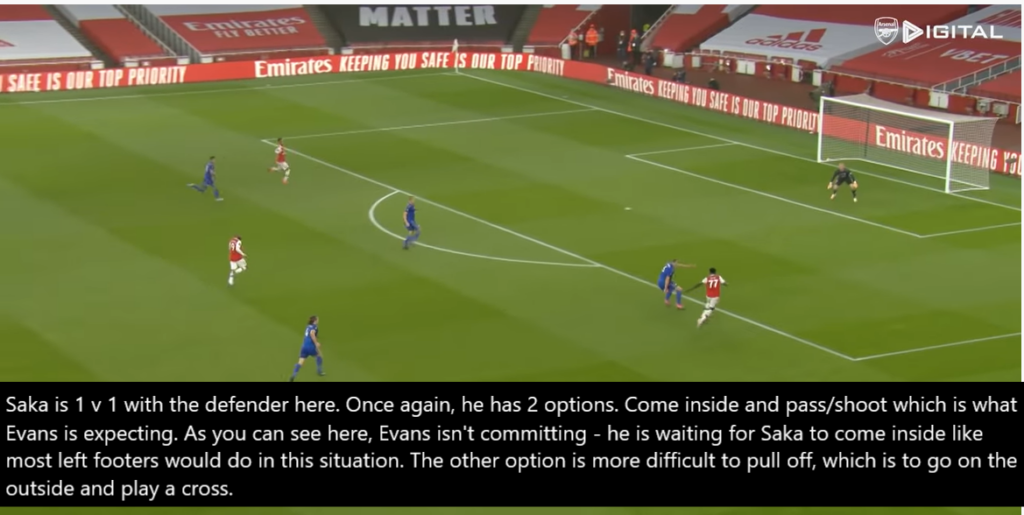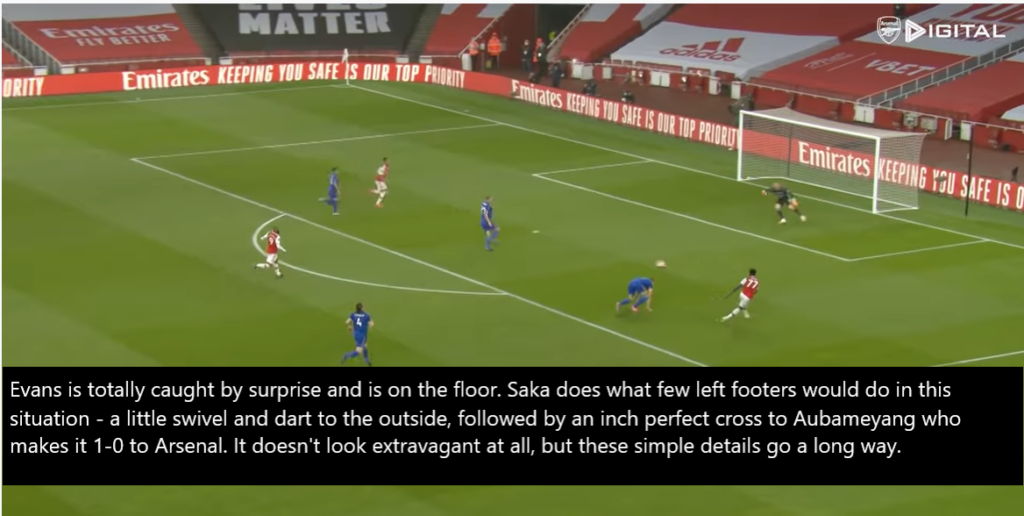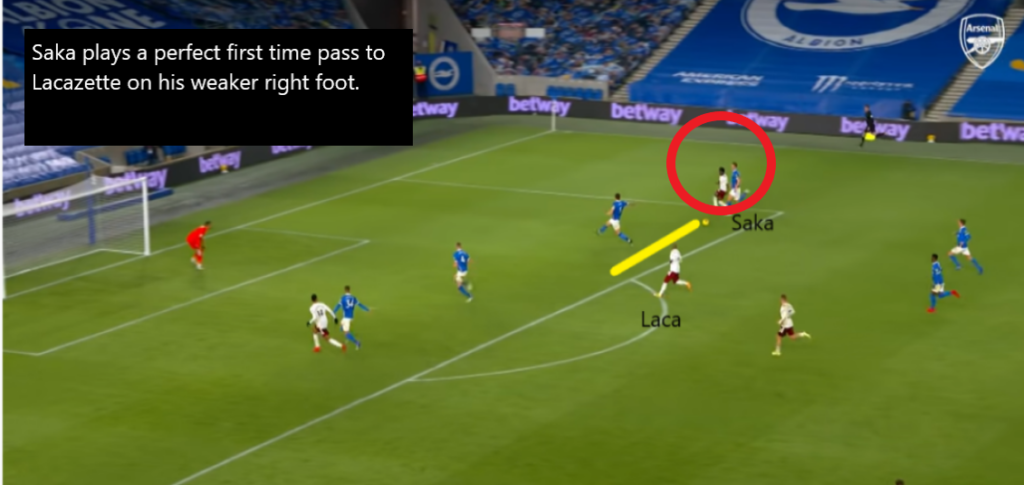 On the other hand, Saka is also more than capable of coming on the inside and whipping in a dangerous ball or having a pop from distance. That skill set allows Saka to be more dynamic in the final third.
Saka's positional awareness is phenomenal. People blamed Bellerin to be the reason why Pepe doesn't touch the ball enough, but I've always believed that one area for Nico to improve upon is to make himself available better.
Bukayo has that mentality. He wants to be involved in everything – from build-up to the final action. That assertiveness has elevated the level of our right hand side.
On the left-hand side, Tierney and Saka are pretty similar in what they do – they both make good overlapping runs, drive at defenders, and have an excellent cross in them.
Having said that, they often came in each other's way and the fact that they're both left-footers means the angles to combine aren't always ideal.
As Arteta himself once said, "Football is about habit & angles." The dynamic between Bellerin and Saka has been a joy to watch.
It also has a huge benefit to the balance of the team – Saka has shown a willingness to work hard in off the ball situations. When Arteta was Manchester City's assistant manager, they were quick to note a lack of willingness on the part of Pierre-Emerick Aubameyang, Mesut Ozil, and Nicolas Pepe to track opposing defenders.
It was noted that Gabriel Martinelli was the only player in our front 4 who showed commitment to the cause off the ball. As a result, Manchester City found plenty of space in our final third to cause damage – they led 3-0 against us at half time!
Back then, Saka was filling in at left-back. It is a position that has made him more well rounded as a player. Hector Bellerin is Arsenal's second joint highest creator this season, but he can be vulnerable at the back on certain occasions. Saka's willingness and ability to do defensive work certainly helps us have a better balance on the right.
Saka has scored and assisted 3 times each in his last six starts from the right flank. Remember, this was a player that didn't look comfortable in his first couple of outings from that side – the angles to dribble are different from those in the left-hand side he was so used to, but Saka, being the intelligent boy that he is, managed to pick up a new position and excel. He just gets better and better.
In what has been a rather difficult season for Arsenal thus far, little chili has proved to be the shining light – the right flank suits him really nicely and his performances here have helped Arsenal turn things around – at least for now! COYG.