Arsenal's win over Chelsea in the FA Cup final mean't that we have now won our 14th FA Cup. It was Pierre-Emerick Aubameyang who led from the front, going on to score the 2 crucial goals, just like in the semi-final. A truly unforegttable day.
Emi Martinez' good form has continued as he looks a serious contender for the No.1 goalkeeping spot next season. The transfer market has opened and one of the priorities for Arsenal would be to tie down talisman Aubameyang who is yet to sign a new contract, although the vibes coming from Mikel Arteta seem to be positive.
I have with me 5 Arsenal fans who will answer their choice of captain and vice captain if Aubameyang were to leave, Leno's future, views on the current state of the club and who is responsible for it, Arteta and a lot more..
The twitter accounts of the fans are linked to their names so feel free to shout them out.
Q1) Who are two players who played for Arsenal at different times, that you wish had played together?
Zuhayr:- Though it may be a typical answer, I would have loved to see Thierry Henry and Mesut Özil play togehter. During Özil's 4 year prime at Arsenal, he really lacked a clinical striker in front of him. As shown by his time at Real Madrid, he has the ability to be one of the best players in the world if given the right circumstances. With a striker like Henry in front of him, I have no doubt in my mind that they would go on to be one of the greatest Premier League duos.
Gally:- Santi Cazorla and Patrick Vieira. Think they would have complimented each other very well, you've got an all round destroyer in Vieira and a press resistent creative demon in Cazorla.
Eddie:- Walcott and Martinelli. I just think they would terrorize defence from both sides. Also think they would be on the same wavelength on the pitch.
Utkarsh:- Bergkamp and Aubameyang. Henry down the middle, Aubameyang left with Bergkamp feeding them all day all night long.
Akhi:- Mesut Ozil and Thierry Henry. Ozil behind a striker with quality is the stuff of dreams.
Q2) If you had to watch 1 Arsenal goal on repeat for the next month, what goal would you pick?
Zuhayr:- Occasions aside, a goal I really enjoy to watch and can never get enough of was Özil's goal against Ludogorets. It was probably one of the greatest goals I've seen live. I can not think of many other players who could replicate it.
Gally:- There's been plenty of goals throughout the years I've really admired, love team goals so I'll go with Jack Wilshere vs Norwich.
Eddie:- Fabregas solo goal against Spurs. Everyone stood and watched in awe as he cut through them with ease. My favourite goal for sure.
Utkarsh:- Wilshere vs Norwich. One of the best goals I have seen. Total football.
Akhi:- The Goal against Olympiacos in the Europa League this season Scored By Aubameyang.
Q3) Who do you think is more to blame for Arsenal's state – The Kroenke's or those who actually run the club?
Zuhayr:- Unfortunately, it always goes back to the top. If the issue was anywhere near the bottom, then the person at the top could have fixed it. That is only if the person at the top cares.
Gally:- It's a mix of both really. The fact we are a self sufficient club and have never seen a cash injection means there's no room for error recruitment wise. Poor recruitment down the years from the previous regime is a big factor in why we have fallen behind our rivals.
Eddie:- We're an asset to the Kroenke's and as much as we want them to, they just don't have the same passion as us fans so I don't blame them as much as I would the one's who run the club. People behind contracts and transfer negotiations more to blame. We should never have let Ramsey go on a free. Also I think someone should have done more to keep Wenger at Arsenal at some capacity. Shouldn't have let someone with that knowledge of the game just leave and probably never return.
Utkarsh:- Kroenke's only took over full control recently, we've been bad with out decisions much before that. Players last their prime/ stop gap signings/ average players on astronomical wages which then become a hindrance in moving them on. Kroenke's may or may not splash the cash but the way we've done our dealings over the recent years has been shambolic. No bigger testament then Ramsey/Sanchez/mkhi and now Auba situation.
Akhi:- The blame goes to the Kroenkes. The ambitions should always come from the top.
Q4) If we were to receive an offer of 30 mil for Leno would you keep him or sell? If not what is the amount you would sell him for or would you reject any offer for him ?
Zuhayr:- I am currently writing this after seeing Arsenal win the FA Cup. During the celebrations that followed, it was clear to see how much this means to Emi. It is not that Leno deserves to be dropped, but rather Martinez deserves to start. I would not sell Leno this summer, but rather see how those two compete for the starting spot. If he were to go, he would have to sell for around £60-70m.
Gally:- I feel 30 million is too low. He's performed consistently at such a high level since his move to Arsenal and is only 28 and in his prime. I would be happy if we were to double our money on him but signing a goalkeeper right now should be the least of our worries. People are quick to forget how crucial he has been for us over the last 2 years.
Eddie:- Keep. Martinez has been brilliant but it's still a relatively short period he's been playing. We don't know yet if he could keep that up all season. Could do! But in my opinion it's Martinez who should be sold. He deserves to play first team football and is definitely good enough for any side right now atleast. Going back to the question I would sell Leno for £47,248,202.
Utkarsh:- Not sell. Emi has been absolutely fantastic since coming in and fully deserves the spot in the final but it'd be premature to sell Leno right now. Plus the competition is good, if they can both sustain this level over the next year, perhaps one of them can then be used in the following summer to raise some funds. Either one will want to leave for regular football too once they know they're good enough for it. But not sell this season for sure
Akhi:- I will keep him. We finally have two good goalkeepers in the team. Will sell him for more than 50 mil but I don't see it happening as the Pandemic has affected the clubs in terms of finances. Not many will be able to spend this much especially on a goalkeeper.
Q5) Who would be your captain and vice captain next season, if Aubameyang were to leave?
Zuhayr:- I really do think our captain should be Granit Xhaka. Many people bring up his incident, but I understand why he did what he did. As for vice-captain, I would love Tierney slowly mould into one. He just has that quality which makes him stand out, and considering he is such a new and young player for us, he can only improve on and off the pitch. Great relationship with the staff as well.
Gally:- Kieran Tierney and Granit Xhaka. Either way around I'm happy. Both show have great leadership qualities and set the bar as professionals for the rest of the squad.
Eddie:- Xhaka seems to be well liked among the players and we'll respected so he can be captain with Tierney as vice because he's a born leader and will be captain for sure one day.
Utkarsh:- Crazy as it is, I still like Xhaka. If he will be accepted as a captain again is a debatable clause.. I'd definitely put Tierney as vice captain. Bellerin seems to be a popular choice but given the injury record/inconsistency recently, not sure if he's the best choice. A flip side is that the captaincy could maybe bring the RB back to his best form too. Xhaka/Bellerin probably. The dearth of stand out leaders is quite appealing.
Akhi:- For me Xhaka should be the captain and Tierney, the vice captain.
Q6) How will Petr Cech be remembered at Arsenal, according to you ?
Zuhayr:- He just will be remembered as the only signing Arsenal made prior to their best chance at at title. The summer we needed a striker, we brought in Cech. In the end, it was a bad transfer. He was a game-changer for the wrong reasons. Wish him nothing but the best.
Gally:- Petr Cech has always been a good shotstopper but at Arsenal he was past his best and ultimately cannot play out from the back. He was one of the older generation of goalkeepers and struggled to adapt to the needs of the coach. Not entirely his fault though as I say myself it's difficult to teach and old dog new tricks.
Eddie:- Did well while at Arsenal. I liked Cech. Getting his 200th clean sheet against Watford with that penalty save from Deeney was a big moment.
Utkarsh:- Not fond of him, never was even when he signed. He was a fair bit past his prime and I know he's a professional and all but wouldn't have started him in last year's final if he was leaving to become director at your final opponent's club. Average/ stop gap signing when we had better alternatives available.
Akhi:- The only things I will remember Petr Cech for is:
1) Winning the Community Shield against his former club Chelsea.
2) The penalty he saved against Deeney and then going on to win his 200th clean sheet in the PL.
Q7) What do you see in other clubs in the Premier League, which you would like to see being implemented at Arsenal?
Zuhayr:- Urgency. The last time I remember Arsenal being on top of something was the Lemar transfer, where Arsenal were ready to through £70m on him. It was pure panic, but it was quite the change. We need to be a lot more aggresive in transfer windows, and with the signing of Pépé, we proved we can be.
Gally:- I'm starting to see it develop slowly but for me it's to have that no fear factor going into games. Teams used to dread playing Arsenal and I feel over the last few years that status has fell off but since Arteta has come in he is beginning to change the culture of the club. It will take time but I already see huge progress made in the last 8 months.
Eddie:- This is a tough one. I don't know a great deal about other clubs. It does feel like a lot of our transfers are centred around Kia Joorabchian at the moment. So maybe we could do what most clubs do and bring in players due to ability and what we need rather than Raul's close affiliation with Kia Joorabchian. I'm sure most clubs train more or set pieces so maybe we could do that more. Don't some clubs have a specific coaching staff for set pieces or something? Maybe we could have that too. I don't think we have one.
Utkarsh:- Ruthlessness, the urge to act quickly and get things done. Chelsea/City have already got the ball rolling. Yes they've got a massive budget and are funded differently but we drag transfers too long, mostly because we're tight on money and we're forced to but still it isn't a healthy practice.
Better transfers and definitely a better grasp on contracts. Avoid a situation like Ramsey Sanchez. We lose too many assets for cheap.
We sell horribly and even the wages some players are at makes it difficult to sell them.
To sum up.
1. Better transfer urgency
2. Handle contracts efficiently
3. Don't sign stop tap over aged players on big wages
Akhi:- In terms of Financial status. Big clubs are signing players to narrow the gap against the likes of Liverpool and Man city. I would like Arsenal to do that, even if we aren't spending a lot, we need to outsmart the market and sign players who are relatively unknown but with a lot of potential.
Q8) If given a choice which player from a rival team (any PL team) would you take and why?
Zuhayr:- Virgil Van Dijk. It's quite simple. Our weak spot is our defence, and with the greatest centreback in the world there, we could not go wrong. I would also love Paul Pogba at our club. I personally rate him highly, and he is probably my favourite rival player.
Gally:- My relatively realistic choice would be James Maddison. I've always been a huge fan of James and I feel him and Arsenal are a match made in heaven. Hard working, creative, dead ball specialist and adaptability/versatility in his game are traits that I think Mikel is looking for in a creative player. The only thing is due to the fact of him being a key player for Leicester and him passing the homegrown quota he would undoubtedly cost a fortune.
Eddie:- Kevin De Bruyne. We need a player who creates chances.
Utkarsh:- KDB/Mane. This team can't create a chance if their life depended on it. That need for a creative outlet is massive.
Akhi:- I would say Zaha. Zaha will improve Arsenal massively. We are in need of a quality player in that LW position. Since Sanchez left, we missed those assists and goals from the left wing spot. Also getting him would move Aubameyang centrally.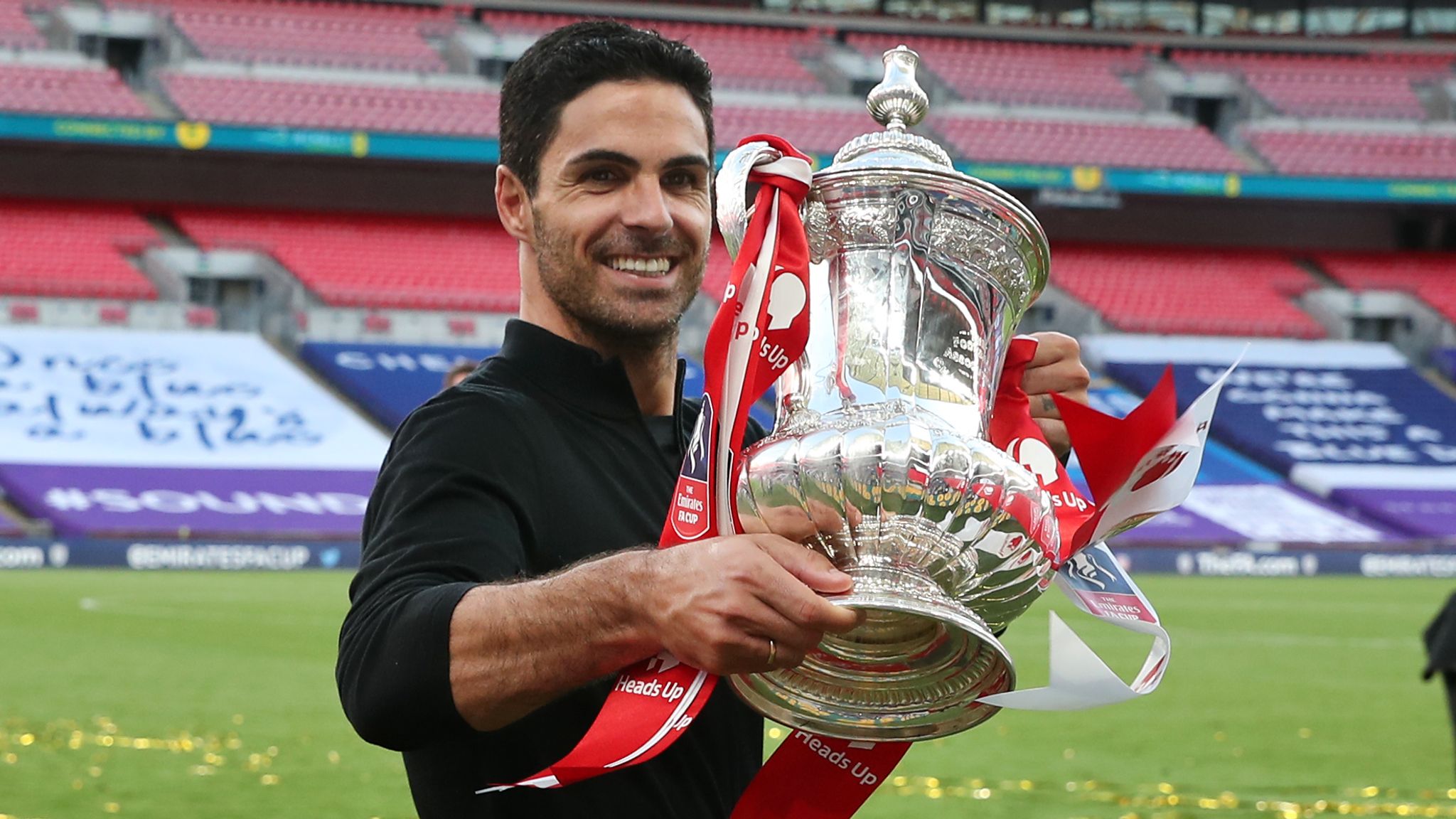 Q9) What are your unbiased thoughts about Arteta so far? Where does he need to improve?
Zuhayr:- Since Arteta's arrival, he has beaten United, City, Chelsea, and Liverpool. The last 3 being beaten within the space of a month. He has done great things with a squad. Compare his accomplishments to Emery's time at Arsenal, and he's done twice as much in a third of the time. I do not think there is Arsenal fan out there that doesn't want Ex-Arsenal man Arteta to succeed.
The one flaw I've seen with Arteta is his in-game management skills. He's already imrpoved on that since the start of his time here as a manager, and it really only can improve. I am excited to see what happens with him as our manager.
Gally:- Where do I start? When it comes to being a fan of Mikel Arteta I'm as big as they come. Originally in 2018 he was my choice to succeed Arsene Wenger and thinking back on that time now I'm glad he didn't. I feel the extra 2 years experience done him the world of good. I can clearly see what he's trying to implement at the club in such little time, playing out from the back, focusing on patterns/combinations, players operating in zones, individual man management making tweaks to players games and his relentless pressing style are some of the things he brings to the table as a coach. It's not rosy however, I think his in game management/subs and lineups have been questionable but will undoubtedly improve over time with experience. I can't credit the guy enough and I'm really excited for Arsenal's future under him but we must be backed in the market. Trust the process.
Eddie:- I love Arteta. Everything he says is like music to my ears. I believe everything his says. He's brought the players together and the fans together. He is saying all the things we fans have wanted to hear for years and it's great that he knows exactly what needs to be done for this club to get back on top. They need to back him with what he needs otherwise there is a good chance he could leave well before his time and who'd blame him. He's done amazing work with our defence and organising it so not to leak goals. The thing he now needs to do is work on our attack and find ways of us breaking teams down and having us create chances and cut teams apart. I believe he can do that but maybe he needs the right players to do so. Right now our midfield looks a little flat and stagnant. Time will tell but I believe in him so blindly that I am willing to give up my life to save his !!!
Utkarsh:- I'm definitely a fan. If nothing else, he's a good orator. He says the right things, he shows the right attitude and he knows what he wants. Whether he gets it or not is a separate issue. How much he'd backed by the board and how well he executes the ideas in his head. He's set the team up with the best of what we have. The formations/tactics have changed big time post Emery. Things take time to fall in place and I'm all for giving him the time. This is a rebuilding project and needs a young manager who can give a few good years to the club. He's perfect in that regard. Really excited to see how he does next season given that he'll have had a window to make some changes.
Akhi:- Too early to judge him. It's a Process. Let's give him 2 more seasons with the players he wants.
So far he looks promising.
I would like to thank all the fans above for their time and the readers for spending their quality time to read this. Stay blessed.