The Premier League finally came to an end on Sunday. Despite picking up three points, it proved to be a melancholic day – not only did our old defensive frailties come to light yet again, seeing Manchester United and Chelsea securing Champions league football with us finishing in 8th was a harsh reminder of the 'massive gap' as Mikel Arteta likes to put it which we need to address. Against Watford, we employed a 4-3-3, with Joe Willock starting deeper, in contrast with the more advanced No.10 role he's featured in predominantly this campaign. However, as has been the case for quite some time now, we struggled to control and create in the middle. Emi Martinez saved us on numerous occasions just like Bernd Leno was doing pre-injury. Our goalkeepers have been the shining lights in what has otherwise been a disappointing season. However, we have an FA Cup final to look forward to on Saturday so let's hope we can salvage the season!
I have with me 5 Arsenal fans to talk on the following: Willock, keep or loan? Bellerin's future at the club, the goalkeeping dilemma, Raul Sanllehi report card and more. Their twitter handles are linked to their names so feel free to shout them out.
Q1) What are your thoughts on Raul Sanllehi ? Rate him out of 10.
James:- It's not easy to say this early on but there have certainly been both good and bad parts since Raul joined the club, despite this I have no doubt that he's an upgrade on what we had in Gazidis before. The main difference I've seen since he came in has been the contacts led approach. Jorge Mendes being used as an intermediary certainly helped us get the Pepe deal over the line and Kia Joorabchian allegedly helped pitch the sale of Alex Iwobi to Everton but with this there is also the question about whether players we sign are genuine targets or just out of convenience, due to a good relationship with the players agent. Overall 7.5 but could go higher once he's been given time.
Dr Rajpal:- He's at an 8/10 for me. There's a lot of noise around Sanllehi and is an easy scapegoat (as all new Football Directors tend to be for the fans) but if you objectively look at what he's done thus far, it's quite remarkable. Transfer wise, he got Ceballos via loan which turn into a bargain buy deal at 20m, Pepe in installments, Tierney (may go down as one of the best transfer deals in team history), Luiz (up & down yes but the team needed some senior leadership which he's shown in spades). He hired Edu who had a direct hand in acquiring Martinelli and Mari and by all accounts, he works very well with Arteta and contract negotiator Huss Fahmy as well; being in communication but trusting them to do their jobs.
Further, there's a lot of talk about Sanllehi's deals being driven by agents to the changing of the team. Firstly, if you're not working and building relationships with agents in the modern day, you're going to fall woefully behind – it's a reality of today's transfer system. Secondly, when you actually look at the facts released by the FA, Arsenal were 7th in agent fees behind even Liecester City and Everton. Percentage wise, the team spent less on agent fees compared to total spend during the 2019 "agent driven" summer than in the year prior. This narrative has been completely disproven.
He may rightfully get some stick for staying with Emery for too long – although I empathize with his position there considering he had less than a year sample size as Football Director to gauge Emery and there were multiple new additions into the squad along with key players missing with injury – but he certainly made up for that by picking Arteta. More so than just the choice, Sanllehi showed that he had a very disciplined process throughout that coaching hire which speaks to his level of organization and though process.
Shaun:- I think the Jury's still out on him, he's hardly set the world alight if we're being honest. A couple of average signings and a couple of quality ones. Definitely talks the talk, so its time to walk the walk this summer. He has 5/10 so far according to me.
Eddie:- Honestly don't feel like we hear enough to have an opinion him. If we're talking about his involvement in transfers etc then I'd give him a 7. He's doing a better job than Gazidas in terms of player sales and how we sign players these days.
Hammad:- Ever since Sanllehi came in at the club there's been a mixture of good and bad from him. The pinnacle of good was the Pépé deal and the pinnacle of Bad was the sacking debacle of Unai Emery and writing up a new contract for him.
But in fairness, Raul Sanllehi over all has done well. We as Arsenal fans need to accept that doing business through agents is NOT a bad thing if they help us get the players we need.
Everytime I see us be linked with an older player it is Sanllehi's fault and when we're not it's the chief scout and Arteta. There's no consistency in criticism. You can't be a top team in the modern world without getting agents involved in these discussions.
They run football and I have not seen anything truly bad that's made me think Sanllehi should leave. You can't sack executives due to morality, football lost its morals years ago.
I would give him 7/10.
Q2) Thoughts on Willock ? Do you think he will feature heavily next season ? Does he need a loan spell ?
James:- The jury is still out on this one for me. I see moments where he's excellent but rarely see the consistency to demonstrate he should be starting games. He's definitely got the natural ability but for me he needs a loan spell and consistent game time to develop his game. Preferably I'd like to see him playing in a first division team, likely either the Bundesliga or the Premier League (if possible) but ultimately I feel consistent playing time will do him good.
Dr Rajpal:- I believe he will feature enough to not justify a loan spell – Arteta certainly seems to trust his work rate and understanding/positional sense, evidenced by his introduction for Pepe vs Man City – but the biggest issue is whether he can find his nerve in the final 1/3. It's hard to say why he has trouble with the final ball but considering his talent level, age and Arteta's penchant to already calm and focus players, I still have to bet on Willock finding it.
Shaun:- I'm a big fan of Joe, still a bit rough around the edges, but there's a lot to like about his game, needs to improve on his desicion making and final ball quite a bit tho. I'd definitely keep him at the club next season.
Eddie:- Willock for me is interesting, you can tell he's a workhorse and wants to fight for the club at all cost, I think he's one of those players that need a loan spell. He needs that loan out what he's actually good at, we've seen him in different positions this season and I think a loan will help him find a position he's actually good at. Other than that I like him.
Hammad:- Joe is one of our own. He's come through the ranks and provides something which the current team lacks, runs from deep. He has excellent spatial awareness and knows when to make those runs in behind. While something that he can work on is his defensive awareness and taking the chances he does get. He's turning into a success for the academy, and whether he makes a name here or elsewhere Arsenal will be pleased.
As for a loan spell, if the club have enough bodies in midfield for next seasons I can see him being loaned out. Should we do it? Depends on who's available to us and what Mikel wants to play. Different roles in the squad are a necessity. He fits that mold.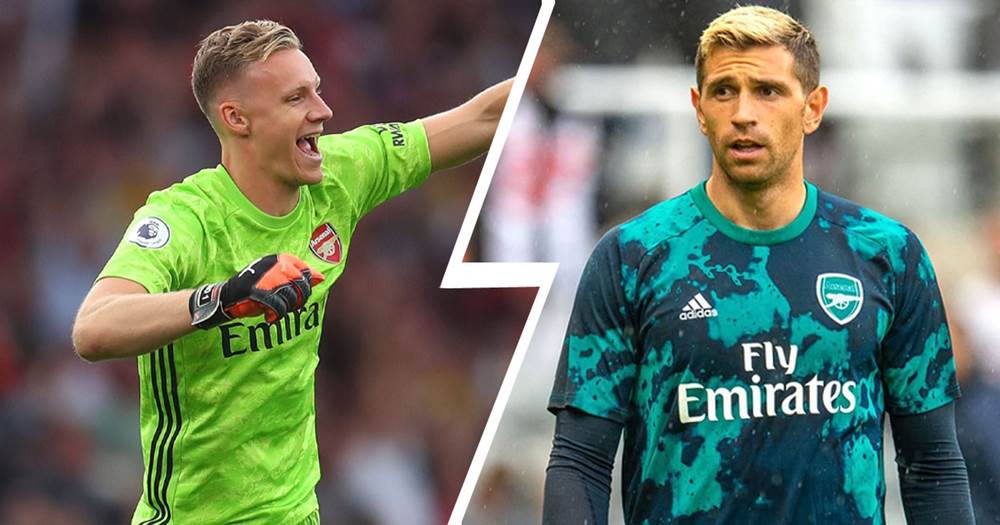 Q3) If an offer comes in for both Leno and Martinez, would you keep them both ? If not, who you would sell, for how much and why ?
James:- Personally I'd keep both. Martinez has very little selling value so if we were to sell one it'd have to be Leno but then we would still need to sign a replacement that's reliable. Leno has been world class for us this season and there's no need to do anything with our goalkeepers otherwise it causes an extra problem to be resolved. I'm grateful we have 2 top goalkeepers and I hope neither of them go anywhere anytime soon.
Dr Rajpal:- I would keep them both for multiple reasons. Emi has been incredible but it's also a small sample size thus far whereas Leno has proven it time in and time out. Further, the mentality and approach that Martinez represents within the club – 10 years yet always prepared, never gave up – is irreplaceable. That kind of player and veteran is critical for turning around a culture, especially as teammates are now seeing his hard work pay off. Lastly, both players push each other to be their best. That collective mindset underlies a true team.
Shaun:- I'd keep them both, but it would be harsh on one of them if we don't get Europa, because both are good enough to be starting every game.
Eddie:- At this current time yes I'd keep them both, arguably both of them are in the top 10 best keepers in the league. Had our financial situation been different then maybe I'd think of replacing Leno for £60m +.
Hammad:- Having two top keepers is a great asset that Arsenal have. Leno is exceptional and a success since he's signed while Martinez has developed into a reliable and dependable goal keeper?
We haven't had this in over 2 decades, even Lehmann didn't have a reliable no. 2 so it's a really big deal.
If you ask me about a possible sale, I'd only entertain the fact if two conditions are met
fee of over £50m for Leno.
Martinez refuses to extend.
These are the only conditions I'd back in selling one of our keepers otherwise if they're happy with their position in the club.
Keep them, they're valuable assets and should be appreciated not looked at to make a quick buck
Q4) Make your 5-man Arsenal team.
James:- Bernd Leno, Kieran Tierney, Dani Ceballos, Alex Lacazette, Nicolas Pepe.
Dr Rajpal:- Leno – Saliba – Tierney – Ceballos – Pepe – Auba
Shaun:- Seaman, Adams, Vieira, Bergkamp, Henry.
Eddie:- Leno, Tierney, Xhaka, Saka and Aubameyang
Hammad:- Pépé, Ceballos, Luiz, Saka, Nelson
Q5) A player who made you fall in love with Arsenal.
James:- Cesc Fabregas for sure. He made his debut shortly after my 4th birthday but growing up with Arsenal he was the player I always based my game off and idolised, he was also arguably our best player and as captain of the club was everything I looked up to. When he left in 2011 it was probably the worst I've ever taken a player leaving, I was genuinely gutted.
Dr Rajpal:- Thierry Henry. No further comment needed.
Shaun:- I wouldn't say any player made me fall in love tbh, but Merse was the first player that stood out, because of his mad dribbling and celebrations, but Wrighty was the first player I loved.
Eddie:- Thierry Henry. One of a kind player. When I watched football with my dad when I was young, he stood out the most. He wore 14 which is also my birthday.
Hammad:- If I had to pick a player that caught my eye, it was Thierry Henry. The Vision, the swagger, the confidence, the belief that he is the best… Because he was… That is what Arsenal was for me.
Q6) Thoughts on Hector Bellerin ? What does his future hold at Arsenal?
James:- Hard to say at this moment, he's had some shaky games of late but seems to be improving game by game. Clearly it's going to take time for him to fully recover after an ACL injury so I'm hesitant to judge him from recent performances and he's adapting to different roles Arteta is asking. Whether he has a future at the club or not depends on whether he can recreate previous form at the club and what type of offers come in, he's not unsellable but I'd only get rid for the right price.
Dr Rajpal:- I've spoken at length about him on social media and multiple videos but we know via the research on players after ACL rupture that it can take upwards of 2+ years to return to pre-injury levels, with the last challenge often being overcoming fear of reinjury/movement (kinesiophobia). That timeline may be even longer for Bellerin with the COVID19 delay when he was just starting to get consistent games.
Since the Brighton match when Arteta finally showed the trust in him to overlap and still get back on the pitch, we've seen a different Bellerin. His pace is coming back, his confidence in the final 1/3 is returning (he's had some wonderful moments in recent games – the wonderful run and centering ball to Auba in the NLD, the great chip ball to Laga vs Leicester), and his positional/tactical awareness are improving. He's a player who relied in pace and then had it taken away, there's a learning curve.
I believe he stays for multiple reasons – 1) Arteta seems to very much trust him, on and off the pitch; 2) The financial market will be depressed after the COVID19 delay; 3) He's clearly a leader in the locker room
Shaun:- Looks like he's still in the process of recovering from a big injury, he's been pretty hit and miss, but hopefully he can turn it around under Arteta. I think he'll still be here next season.
Eddie:- His injury has made him look a different player, of course doing your ACL has a major impact on you, I know this from experience. Since the restart he's had a slow start but gotten better each game, next seasons a big one for him because he'd fully fit and should start looking the player he once was if not better. He's got Arsenal DNA so I don't think he's one of the players the club would be looking to sell.
Hammad:- When Bellerin first broke into the first team I was excited. He was an excellent fullback with the U23s and it was my dream to see him replace Sagna and he did just that when he came in.
Lightning quick, eye for a pass, defensively underrated and improving every season in attack we had a fullback who was here for the long run and it was one of our own.
I couldn't be more thrilled, even in the seasons he dipped I always saw him on the right. Patrolling the ENTIRE RW himself with no wide player for support. Relentless running, but then he got that knee injury.
Since then, he's been sluggish, afraid to make the dangerous pass and his body position when receiving the ball always puts him on the back foot by the touchline.
We as a club, now have a decision to make if the Spaniard doesn't extend. We'd all love him to succeed but…Arsenal comes first.
Q7) A player from a rival team (any PL rival) you would love to see in our starting line up? What do you like about him?
James:- Tanguy Ndombele. The obvious choice would be a player like Van Dijk but Ndombele is someone who I think would significantly improve us. Quite similar in profile to Thomas Partey I think he'd bring our midfield some much needed physicality and I think Arteta has the man management skills to bring the best out in a player that I feel has huge potential and we're yet to see it.
Dr Rajpal:- VVD, easy choice. A leader and absolute foundation of the spine of the team who always bring a sense of calm and composure along with his immense defending ability and great with the ball at his feet. He'd also be able to tutor younger CBs, particularly Saliba.
Considering what Arteta is doing with the current backline group, imagine if he had someone with the ingredients of VVD.
Shaun:- VVD. Put him in front of Emi/Leno and we've got a great base to build from.
Eddie:- The rival player I'd love to have in our team would be none other than KDB, simply the best in the league and the best MF in the world. He's be able to play anywhere in our midfield, he's offer us so much and maybe we'd see our midfield getting more goals.
Hammad:- If there was a rival player I'd love to have in our side, it's Marcus Rashford.
That RW spot is begging for someone like him to take. Rashford's underlying numbers are that of a slow emerging world class player who is equally capable of playing centrally while being comfortable out wide and in the half space when receiving on the turn.
His goals and assists tally keep improving and he's now become a reliable match winner for Manchester United. He can score from free kicks.Long range. Short range. Incredibly hard worker off the ball and very quick off the last man.
Huge asset. Easily a 100m forward.
Q8) Without any signings in the summer, where do you think we will finish in the league next year ?
James:- 5th/6th. I see improvements in every game under Arteta but with our direct rivals strengthening significantly in the window I don't think we'd be able to keep up with United or Chelsea. I believe it'd be a close battle with Spurs and depending on who they brought in, in summer would determine whether we could finish ahead of them or not.
Dr Rajpal:- Barring any major injuries and the improvement we've already seen thus far without even having a dedicated training camp, I could see the team challenging for 4th/5th (also depends on who other squads bring in). LFC and City are clearly the class of the league, Chelsea is building a deep, powerful squad. From there, it gets murkier.
Shaun:- Tricky question, because we don't know how much the other teams will strengthen, if we go off the basis of how Chelsea have started, top 6 would be a bit of a struggle.
Eddie:- Currently with the squad we have now if everyone were fit I think we'd finish 4th. You can see since the restart (after the Brighton game) we look a completely different team. We've played and beaten the two most dominant teams in our league and won convincingly. It's possible to finish 4th with the squad we have.
Hammad:- Let's go over the squad here a little: Arsenal have square pegs with round holes basically.
We have players that are not atheltic, not technical, not capable of playing multiple roles, limited and weak mentally. The only redeemable areas of the squad are the goal keeper, fullbacks and Aubameyang.
We need work everywhere else. Our deep midfielders are slow with the ball at their feet that can't get it to our attackers in transitions or space. Our attacking midfielders are non existent with Özil massively declined (he should be sold) and our wide players are not actually wide players bar Pépé and he's not being supported AT ALL.
Our CBs are a walking mistake who will continue to cost us games because they're simply not good enough. Saliba alone will not change that. Its a grim situation for the club, who are looking to rebuild and require it on a large scale in key areas.
1. Midfielders that can pass the ball quicker and defend well
2. CBs that aren't a liability and can defend wide areas
3. attacking midfielder that can receive in the middle and in the final third on the half turn (8/10 hybrid)
4. A more balance front 3 with one striker.
If we don't get these profiles, we'd be lucky to finish 10th next season
Q9) Thoughts on Arteta? Where does he need to improve?
James:- I've been incredibly impressed so far and not just from a footballing standpoint. Everything I've read surrounding him has been positive, from the first day joining the club where he introduced himself to every single member of staff until now where he is putting pressure on the board to support him financially. The way he has improved us defensively has been nothing short of remarkable and our most recent wins against Liverpool and Man City are some of the best results we've had as a club in a long time. In terms of improvements I feel his in-game management has room to improve, with us dropping such a significant amount of points from winning positions but as time goes on the players will become fitter and hopefully our squad depth improved which will help him achieve this.
Dr Rajpal:- I've been thoroughly impressed from day 1. He has a clear vision to where he wants to get and a clear plan to how he wants to get there, in the short medium and long term.. That plan includes clear, organized play and roles on the pitch (when Arsenal released footage of him at practice with the players, his tactics and direction were devastatingly simple: On offense, control space with triangles and take defenders out of the play via the dribble or via the pass; Defensively, understand what the opposition wants to do and take that space away, all the while applying a smart, organized press to apply pressure). Further, that plan – even more importantly – comes with changing the culture of the club in terms of fitness, in terms of defining roles and expectations of players, and establishing communication with all links through the club – from players to staff to management. He's an immense mix of both quantitative (understanding data and tactics) and qualitative (the softer skills such as relationship building).
The one thing he needs to improve on is his in-game management with his substitution timing but honestly, that's one of the hardest things for new managers to acclimate to especially when they don't know their players that well. He's extremely humble and self-critical so if anyone can learn it quite quickly, it's Arteta.
Overall, there's so many positive indicators of how he's shaping the team. We have to understand that it takes an extended amount of time and everyone pulling in the same direction to turn a tanker around.
Shaun:- He's getting 100% out of them, the squad looks united, everyone's playing for each other, fighting for every ball, there's been a massive transformation in the attitude. He's given us structure and a work ethic, but I feel he's lacking the players he needs to take us to the next level. With more quality in the squad, I'm convinced he'll produce more quality on the pitch. The players trust him, so its time for the board to put their trust in him this summer and back him heavily.
Eddie:- Arteta is a unique manager. He's not like many other younger managers. Very well and outspoken, offers a lot of our club going forward. A problem I've noticed with him is his game management is a bit questionable sometimes in terms of substitutions specifically. Other than that, he's going to go on to be one of the best.
Hammad:- My thoughts on Arteta is that I have no thoughts.
Why? I haven't seen his philosophy in action at all apart from a few games. He's been pragmatic in his approach to drag us to a respectable position in the table with wins and I commend him for it.
Staunch philosophies require investment which he doesn't have at the moment. He's shown he can coach now its his turn to show if he can manage us. He's an exceptional thinker and understands squad roles very well with the fan in me saying we have to back him and his ideas.
But what I think of him, I need to see HIS TEAM for me to make a concrete judgement which I think we will over the next few years. The only criticism I have of him is his substitutions which have been hit and miss, but that's something expected of a novice coach who hasn't managed a team in his life.
Show us what you want to do, Mikel…
Hammad runs a football site called Crossbarhub. You can check it out here: CrossBar Website
Dr Rajpal Brar has his own Youtube channel where talks about injury prevention & rehab, stress management, athletic development, and sports performance. You can check it out here: 3CB Performance
I would like to thank all the panelists for their valuable time and opinions. Thanks a lot for reading. Have a great week ahead everyone! Big final coming up on Saturday, so fasten your seat belts.