Following the dramatic events of the last few days in the world of football, involving the Super League's rise and subsequent fall all in the space of 48 hours, everything appears to be back to normal. While most football fans have rested in their feeling of relief that Florentino Perez's master-plan fell through, many others have raised their voices and have been calling out for reform.
Despite UEFA being painted as the 'good guys' by the media, with a bit of research it is evident that their monopoly over European football has not operated as smoothly as it seems like. It is fair to suggest that despite winning his battle with Perez, president Alexander Ceferin got very lucky in this instance, and he can be sure that this will not be the last time Europe's elite clubs will try to break away from UEFA, unless significant change takes place.
The issues with UEFA are long term, which needs to be stressed. They have continued the use of a broken system for decades and without meaningful reform, the beautiful game will become the dead game.
Money, money & more money
First off, by all accounts, the main reasons the 12 clubs wanted to break away were financial. While UEFA's thesis in the whole matter was that their European competitions are meritocratic unlike the Super League, money distribution in football definitely isn't. As Perez stated in his interview with El Chiringuito, "This project began after the clubs started to suffer from the lack of revenue". Essentially, while the plans were in the works for years, the effects of COVID-19 accelerated the negotiations, and so an agreement was reached between the 12 clubs, on joining a new competition which would guarantee the shareholders significantly more money than UEFA. Other than greed as everyone was quick to point out, some of the clubs like Barcelona and Inter Milan are in huge debt, and that made the decision to sign on very easy. The deal would guarantee all clubs equal and greater revenue from TV rights, something which is not the case as of now, as reportedly, the 20th placed Premier League team last season, made more money from TV deals than the team that won the Italian league.
Some would argue that this was a win-win situation for the 12 clubs, as even though the Super League failed to materialise, UEFA responded with an investment fund of up to 7 billion euros according to Mohamed Bouhafsi, that will be shared among teams that qualify for European competitions.
Current problems with UEFA competitions
One of Florentino Perez's main points regarding why the Super League had to happen, is the need for more competitive games. According to conventional wisdom, in the past few years, the Champions League has only been interesting from the quarter-finals stage and onwards, and the same can be obviously said about the Europa League. What was UEFA's response to these concerns (aside from the new UCL format which will be discussed later on) was the creation of a third tier European competition, the Europa Conference League.
While the ECL provides good opportunities for teams that are not competitive enough to qualify for the Europa League, there are hardly any other reasons that anyone within the football world would consider it a good idea. It will definitely not attract the number of viewers UEFA would hope for, and the zero historical prestige associated with this competition will not incentivize clubs of large stature, to compete in it, if qualified. For example, this season there is a decent chance that any one of Tottenham, Liverpool and Arsenal, part of the 12 elite clubs that signed on for the Super League, will finish 7th in the Premier League, giving them a spot in next season's Conference League. It is highly doubtful that any of these teams would take the competition seriously, and would most likely use it as an opportunity to play their fringe and youth players, therefore undermining it
Furthermore, if you look at smaller leagues like the Greek Super League, teams that finish in second and third place would be guaranteed a Europa League spot, but from next season onwards, they will only be given a ECL spot. This is a problem as it does not only mean decreased status in European football for these teams, but it will also provide much smaller TV revenue as well, to clubs that truly need every penny of it.
The Europa Conference League will also lead to less fairytale European runs (which is what the Anti-Super League fans used as a justification for its closure.) In 2018/19, Wolves finished 7th in the Premier League, earning themselves the right to play in the Europa League through winning a few playoff rounds. They ended up reaching the Quarter-Finals of the competition in 2019/20, losing out to eventual champions Sevilla. Under the new UEFA guidelines, Wolves would be in the Europa Conference League if they finished 7th & their fairytale run in the Europa League would never have happened.
Financial Fair Play
By far the most controversial guideline that UEFA has introduced for teams that participate in their competitions is the Financial Fair Play Regulations, also known as FFP. Its aim is to prevent clubs from spending more than a certain amount of their revenues. This was supposed to achieve two things:
Prohibit clubs with billionaire owners to have a competitive advantage by limiting their spending on transfer fees and salaries.
Prevent clubs from overspending that would result in debt and potentially bankruptcy.
UEFA failure to implement the FFP guidelines correctly has resulted in teams like Manchester City and Paris Saint-Germain emerging as European powerhouses out of nowhere after being purchased by billionaire investors, as well as clubs like Barcelona having an 80% salary to revenue ratio and putting them under massive debt. In addition to that, teams that operate on a self-sustainable model (spending only what they make without cash injections) and adhere to these rules, like Arsenal, have been left behind by their European and domestic rivals. The financial advantage richer clubs have secured has made the Champions League less competitive and unpredictable than ever, as nowadays it is extremely rare that a club outside Europe's elite wins it.
The Super League's counter-proposal to that was a 'Salary Cap', that would allow teams to have only a 55% salary to revenue ratio. While we cannot know whether this would have actually been enforced, and by whom it would have been regulated, this sounds like a better plan than FFP. It is fair to assume that this topic will be revisited by the football elite in the near future, as the current model is simply not sustainable, as Florentino Perez stated this week.
Problems with the proposed Champions League reform
Amid all the Super League chaos, UEFA quietly announced their proposed Champions League reform, which has not been met by much excitement from the football world.
The proposed format will start in the 2024/25 season and includes the following:
The ten games that each team plays will be decided based on a seeding system, which will be ranking clubs by their historic performance.
This format is confusing, non-traditional and the only thing it guarantees is increased revenue because of the amount of extra games each team will play. Furthermore, while most people's opposition with the Super League was the closed league system which abolishes meritocracy, UEFA will be giving CL spots to two elite clubs that failed to qualify through their domestic league and qualifiers, from 2024 and onwards.
The fact that UEFA announced this system the same time the social media world was focused on the Super League plans, as well as reports that have stated that UEFA have discussed creating their own Super League in the past, make this story even more amusing.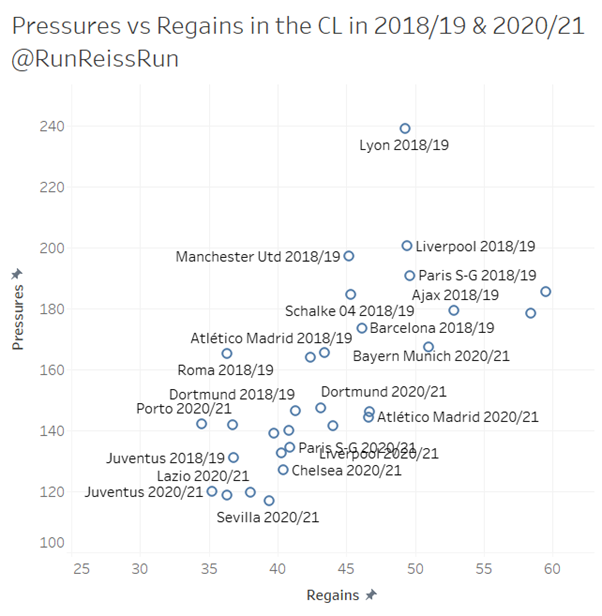 To look at one footballing problem that's caused by the new Champions League reforms, they want to increase the amount of football games that are being played by each football club. In the above graphic which shows the amount of pressures & regains that were attempted/completed by the teams that got into the knockout stages for the 2018/19 + 2020/21 Champions League, you can see that the 2020/21 group generally attempt less pressures per game than the 2018/19 group, showing a drop in intensity during the games played. This highlights one of the negative implications that will occur with the Champions League reform, teams will have to play too many games in quick succession.
There will be the increase of injuries in these games as they would look to tire teams out, unless they can gain the financial resources to build squads that are big and good enough to rotate players without suffering a drop in the quality of their performances.
Takeaways from the Super League
While the Super League failed spectacularly inside only two days, in part due to the backlash it received from football fans worldwide, some of the proposals made by the involved parties are definitely worth considering. As media all over the world have been celebrating the "saving" of football over the last few days, big issues still exist and plague the sport we love.
The aforementioned Financial Fair Play Regulations, that have been extremely unsuccessful in their implementation, headline these issues. We are yet to see what the effects of Super League's proposed 55% Salary Cap would be, however, it likely cannot be a worse solution than the FFP.
Another popular feature that has been debated so much over the last three years is FIFA's Video Assistant Referee, commonly known as VAR. It has caused massive time delays in football matches, and it is impossible to argue that the number of refereeing mistakes have decreased because of it. Florentino Perez suggested that a new and improved version of VAR would be used in the Super League, and also, the referees would be equipped with microphones, in order to explain to the viewers their decisions in real time. At this point the question is not why, but why not should that not be looked into as a possible solution to the controversies that surround VAR weekly. After all, football is an ever evolving sport, and the