After their convincing 3-0 win against Fulham last week, Arsenal faced West Ham United at the Emirates in their game-week 2 clash. In this analysis, I will examine the tactical setups opted by both the managers and in particular the advantages and disadvantages Arsenal had with their peculiar attacking shape.
Line-Ups:
Arsenal made three changes from their previous game with Ceballos coming in for Elneny, Kolasinac coming in for Tierney who was ruled out due to injury just before the commencement of the game and young Bukayo Saka replacing Maitland-Niles at left wing-back: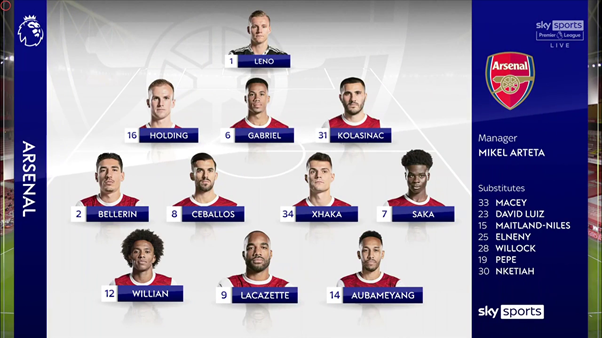 West Ham on the other hand, lined up in a 3-4-3/5-4-1 shape but they build in a back four (like Arsenal) with Cresswell moving to left-back and Masuaku to left wing when in possession: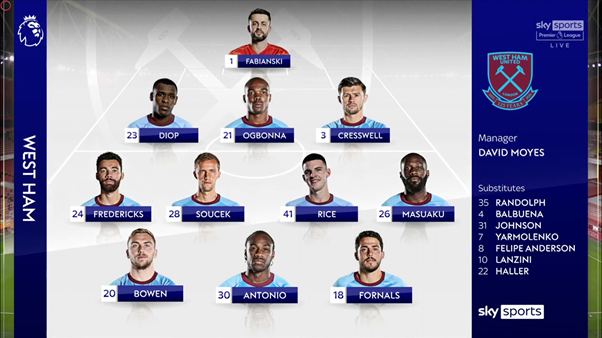 Arsenal Peculiar Attacking Shape And West Ham Press In A 5-4-1 Mid-Block:
As I pointed out in my previous piece, Arsenal build in a back four with LCB moving to LB while the LWB inverts in midfield. This helps to create overloads on the left wing. Arsenal adopted a similar shape against West Ham as well but with a slight difference: Lacazette was dropping between the lines a lot more, almost looking like a no.10 most of the times, Aubameyang was a lot more narrower and higher while Willian on the wing drifted central (not in the right halfspace! but CENTRAL) almost looking like a no.8 at times, overloading between the lines: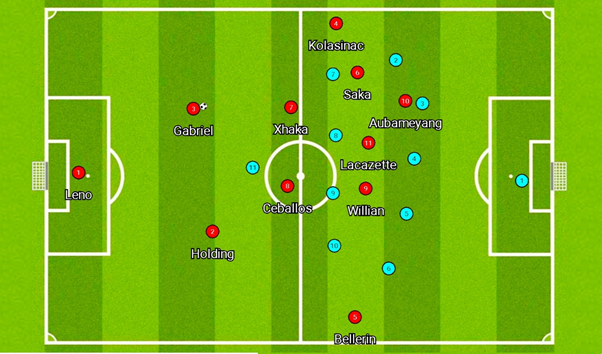 West Ham defended in a 5-4-1 shape, with the midfield line of four very narrow. They decided not to press Arsenal's CB's but pressed actively when the ball was played into Xhaka and Ceballos. But this often created space in between their defensive and midfield lines, which was smartly exploited by Arsenal throughout the first half: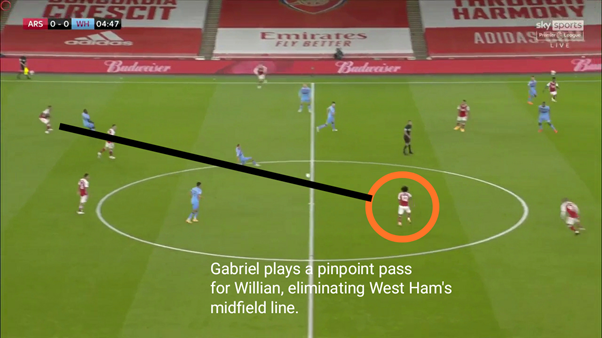 West Ham's defensive line failed to step up and cover the gap simply because of the likes of Aubameyang pinning their backline. This is exactly how Arsenal scored their first goal: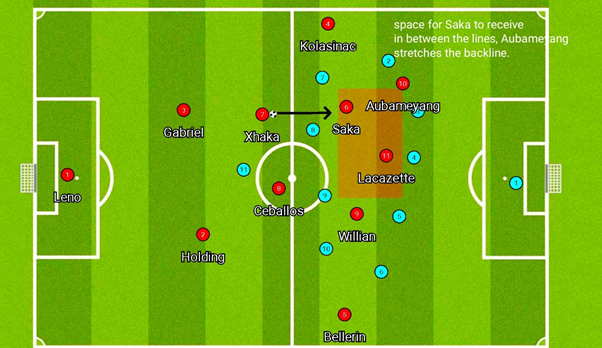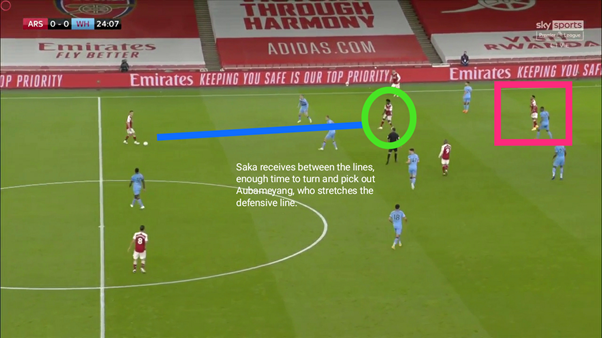 Saka was then able to pick out Aubameyang successfully whose cross back into Lacazette gave Arsenal the lead.
Here is another example, this time Lacazette decides to slot in between the lines, contrary to the previous situation, the West Ham CB decides to take the risk and press but this leaves a gaping hole in behind, which is exploited by Saka this time.
Although Saka was just an inch offside, it was a good example of how Arsenal created decisional crisis for the West Ham backline.
Arsenal's Over-Reliance On Left-Wing And Lack Of Threat From The Right:
Although this attacking shape gave Arsenal an advantage in overloading the left wing and the space in between the lines, this shape led to too much predictability.(whose effects were felt largely in the second half)Arsenal had a highly disproportionate players on the left as oppose to the right where Bellerin found himself isolated on most of the occasions.
West Ham 5-4-1 block also gave them an advantage in this regard as they had their left wing-back Masuaku ready to press Bellerin as soon as Bellerin received the ball, limiting him the time and space he received last week against Fulham's back four. The back three also allowed the left centre-back, Cresswell to cover Willian: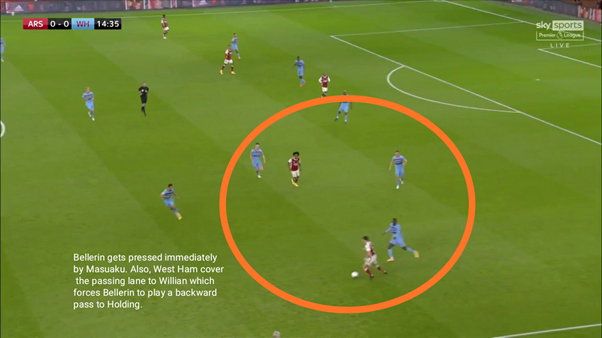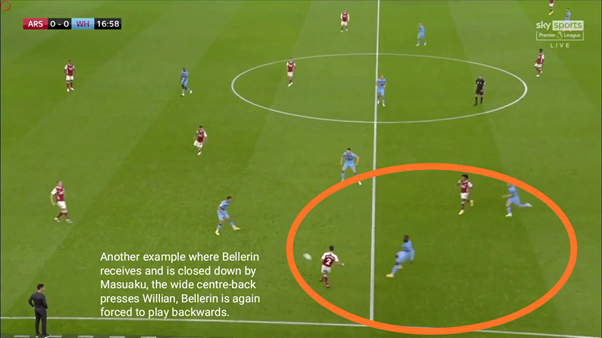 This was also reflected in stats, with a large percentage of Arsenal attacks coming down the left and through the centre but very little from the right: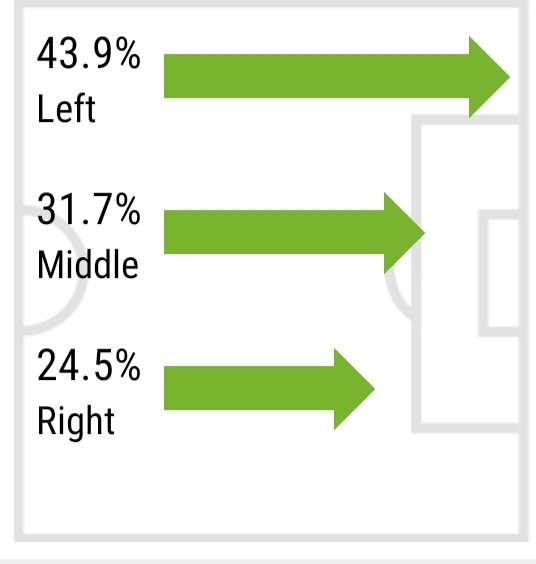 In the second half, West Ham were much better at covering the gaps arising in between the lines with the defensive line pushing up. Arsenal tried to exploit this with a direct ball in behind for the likes of Aubameyang, Saka and Willian.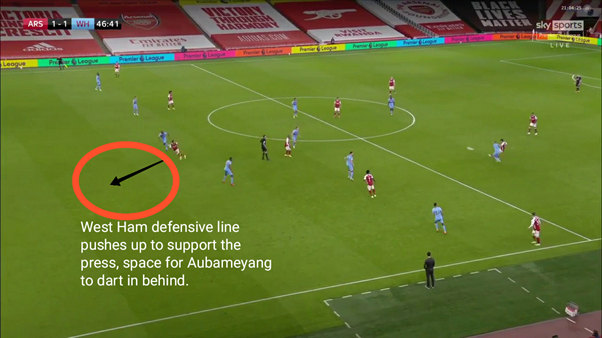 Granit Xhaka took the initiative to find the runners with his excellent passing range. In fact he completed 14 long passes with a 75% accuracy: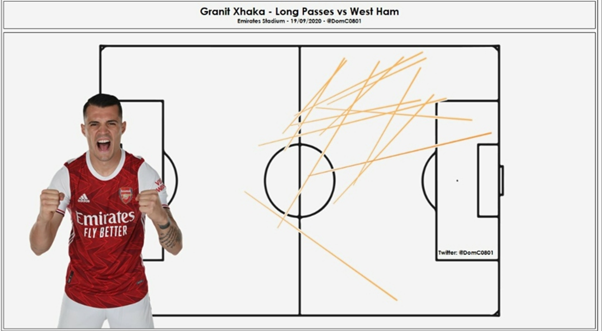 Despite constantly getting in behind Arsenal's final ball was missing in the second half with many overhit and underhit crosses.
West Ham On The Ball And Arsenal's Press:
West Ham, just like Arsenal starting with a back three shifted to a back four in possession, with Chilwell taking up the left-back position while Masuaku moved high almost like a left-winger.
But Arsenal were able to adjust their press accordingly which led to West Ham hardly creating any threat from settled possession play. Aubameyang and Lacazette pressed the CB's, Willian pressed Cresswell(LB) whenever the ball was forced wide, while other players supported the press by properly cutting off near-side passing lanes.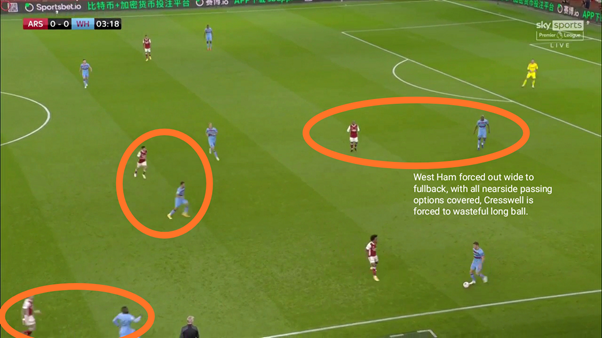 It was actually in offensive transitions where West Ham caused Arsenal some problems. Although, Arsenal's counter-press was well structured but there were times when West Ham able to bypass the press and created some dangerous situations by utilising the ball carrying ability of Bowen and Antonio, who in particular was crucial for West Ham counter-attacks. His hold up play, dribbling ability and drifting wide in transitions created space and time for central runners: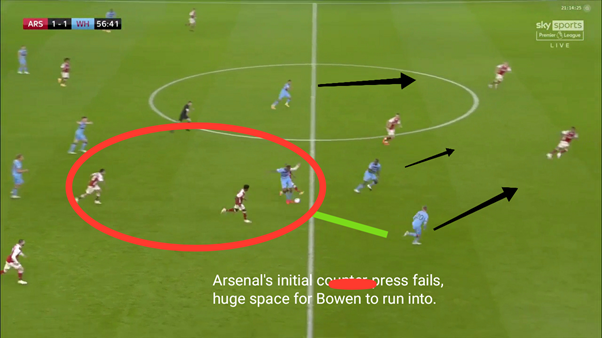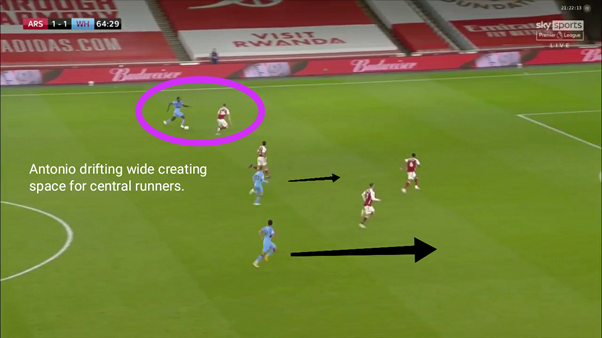 Conclusion:
A deep run from midfield by Ceballos who cut it back for Nketiah sealed the three points for Arsenal at the end. By no means was it a perfect performance and there are a lot of improvements to be made as Arteta himself said in his post-match interview but the three points were much needed especially to provide the players with confidence before next week's big clash against Liverpool.